"Twenty years from now, you will be more disappointed by the things that you didn't do than by the ones you did do." These words by Mark Twain are one of the many reasons why you should choose to sail in the new Ferretti Yachts 450. Because it was designed and built specifically with the idea of inspiring new owners and taking everyone else by surprise.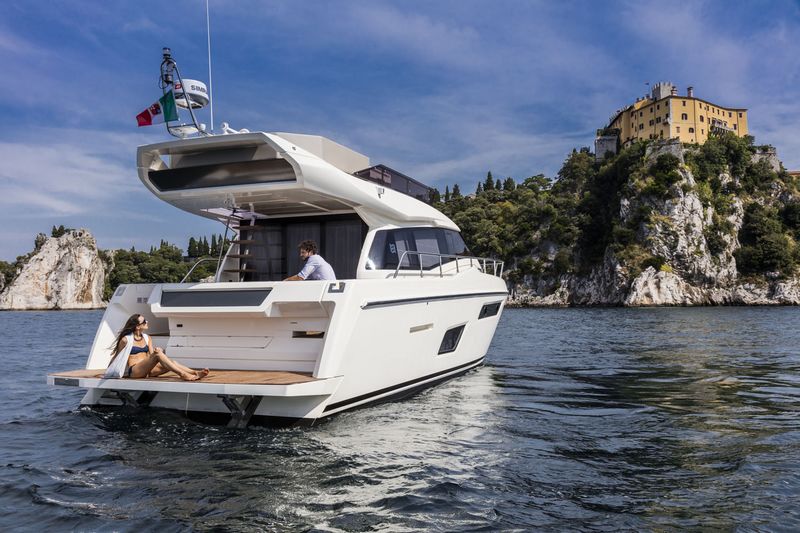 Ferretti Yachts made its comeback in the range under 50 feet with the new flybridge yacht, on display at the Cannes Yachting Festival 2016. Presented in late July at the private preview in Portopiccolo Sistiana, an exclusive marina a few miles from Trieste, Italy, the yacht was created to captivate enthusiasts and owners from all over the globe and it has all the right tools to do so. The flybridge yacht features dynamic lines which give this 45-footer the sporty feel that embodies the latest generation of Ferretti Yachts.
According to Ferretti shipyard, their new creation for the world's oceans embodies features like "style, comfort, class, performance, brightness, lounge areas out on the sea and sporty DNA" at the very height of excellence.
Ferretti Yachts 450 is the result of the collaboration between the Ferretti Group Product Strategy Committee, the Group's Engineering Department, which supervised the technical and naval engineering, and the Studio Zuccon International Project, which handled both exterior and interior design.
The three decks let you enjoy every moment on board, thanks to comfortable and extraordinarily bright interiors with glazed surfaces on main and lower decks. The furnishings were developed by the Ferretti Group Engineering Department interior designers to create a refined, playful contrast between the variety of materials and colours.
This produces a sophisticated combination of woods, lacquered surfaces and fabrics that fuses a contemporary living style with a traditional marine design, a hallmark of the brand. It is a combination which, in almost 50 years, has captivated owners all around the world, from the USA to China, where Ferretti Yachts is synonymous with Italian yachting.