Brabus 850 6.0 Biturbo Coupe to be unveiled at Geneva Motor Show 2015.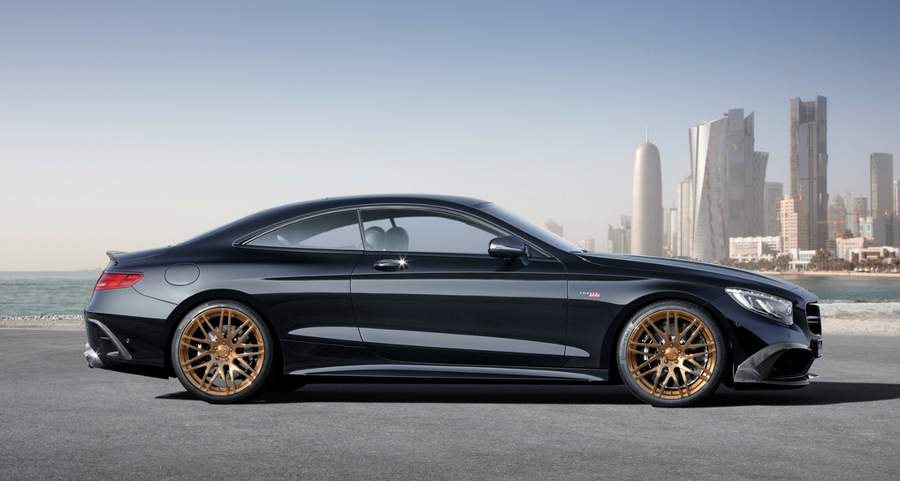 Famous for taking the best from Mercedes and pushing it even further, German tuning expert Brabus (founded 1977 in Bottrop (Ruhr Area), Germany) is set to unveil at 2015
Geneva Motor Show a Mercedes-Benz S63 AMG turned into a 850hp (838bhp), 350kph supercar. The new Brabus will be lining up alongside the Alpina B6 xDrive Gran Coupe,
the fastest accelerating Alpina-badged BMW in thetuning company's history.
The Brabus 850 6.0 Biturbo Coupe delivers 625 kW / 850 horsepower, a peak torque of 1,450 Nm, 0 – 100 km/h (62 mph) in 3.5 seconds, and an electronically limited top speed of 350 km/h (217 mph).
The two-door car is not only captivating on account of its unrivalled performance, but above all thanks to its sporty and elegant design with clear-coated carbon-fiber aerodynamic-enhancement components, 21-inch high-tech forged wheels and an exclusive BRABUS fine leather interior.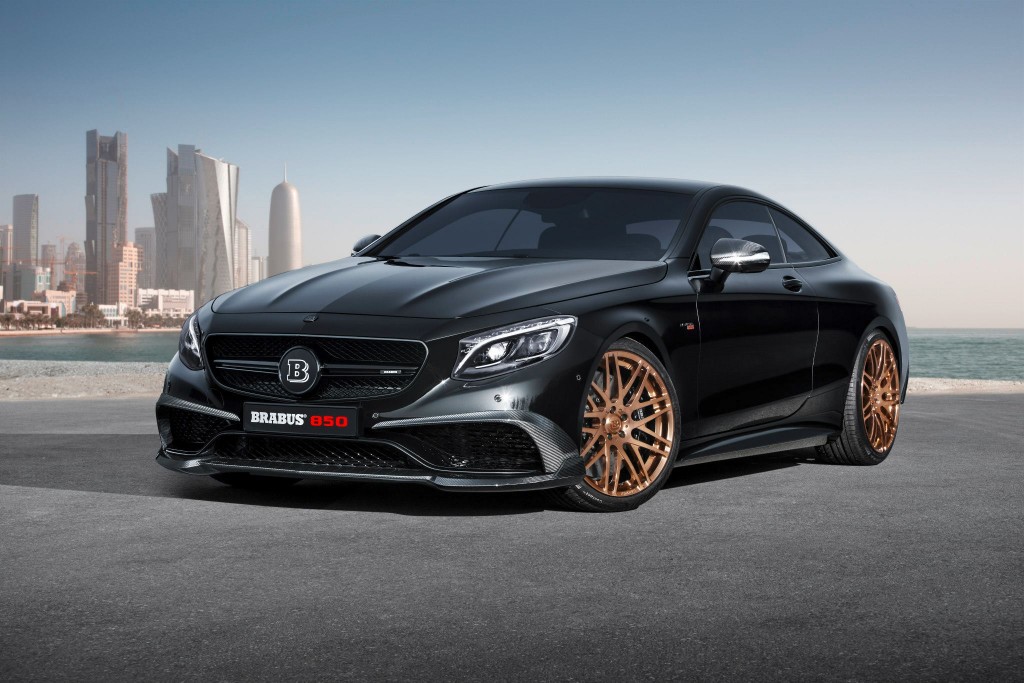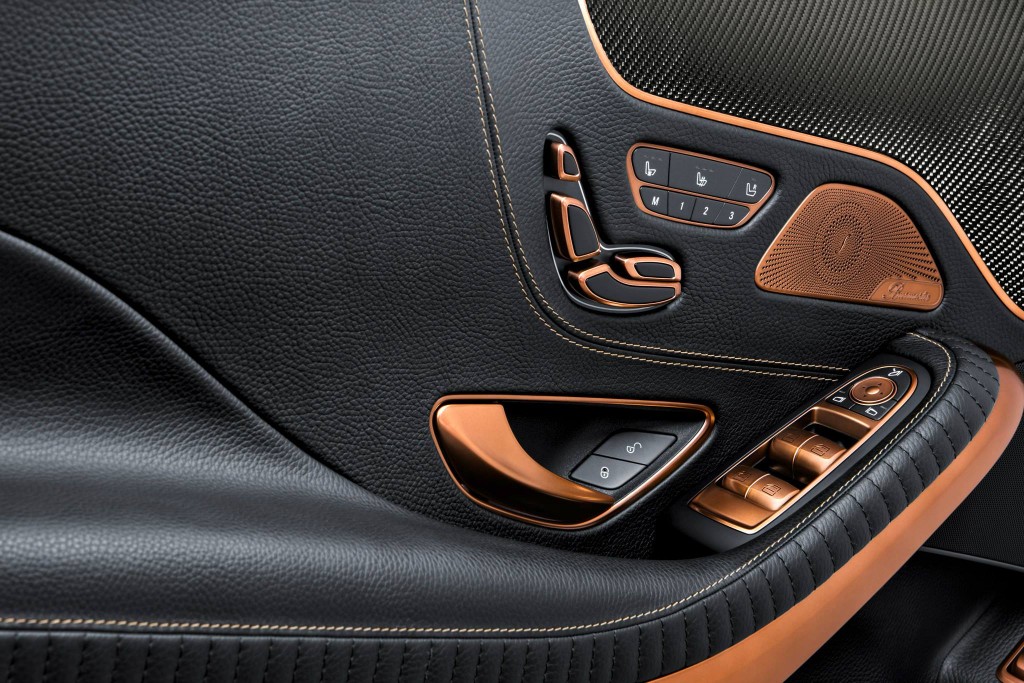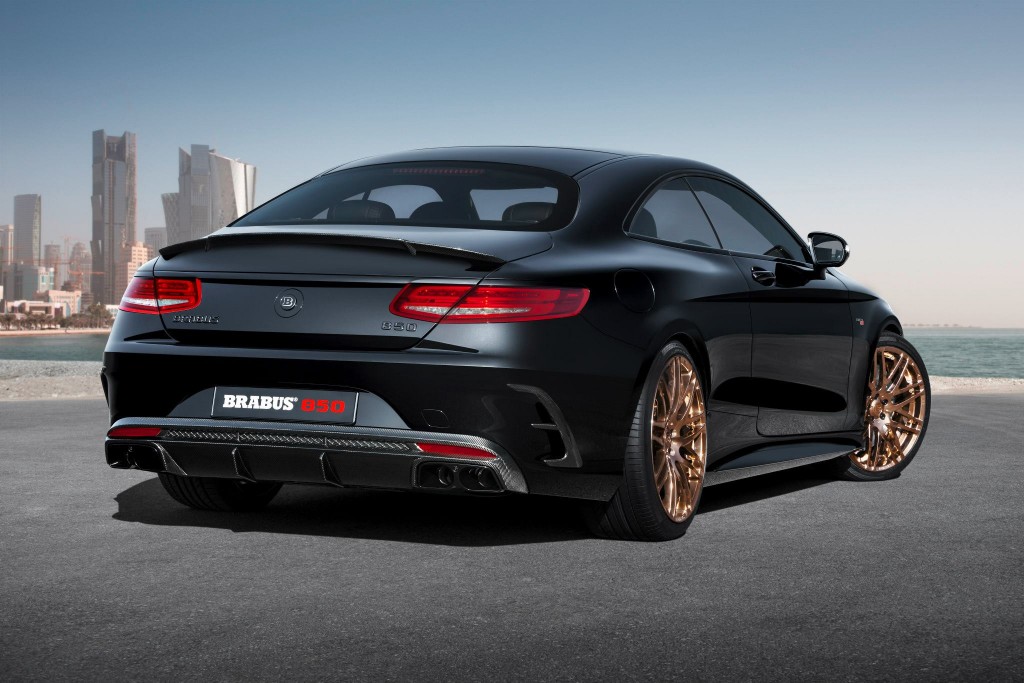 The two special BRABUS turbochargers with larger compressor units and modified exhaust manifolds that replace the production turbos also play a major part in the enormous
increase in power. As part of the engine conversion, special metal catalysts with 75-mm thick down pipes and the BRABUS stainless-steel sports exhaust system with actively
controlled butterfly valve are installed in addition.
The power unit in the bow makes the BRABUS 850 6.0 Biturbo Coupe the world's most powerful and fastest four-seat all-wheel-drive coupe. From rest, the exclusive two-door car is catapulted to 100 km/h (62 mph) in just 3.5 seconds. A speed of 200 km/h (124 mph) is reached after just 9.4 seconds. Due to tire limitations the top speed is restricted electronically to 350 km/h (217 mph).
These enormously fast speeds naturally also place especially high demands on the aerodynamic-enhancement components, which the BRABUS designers developed in the wind tunnel.
To be able to make full use of the enormous performance of the BRABUS 850 6.0 Biturbo variant, the high-performance coupe is equipped with BRABUS Monoblock "PLATINUM EDITION" 21-inch forged wheels. The use of state-of-the-art forging technology results in an optimal symbiosis of maximum strength and low weight. The show car for the 2015 Geneva Motor Show sports Monoblock F cross-spoke wheels in Shadow Gold Chrome design.
To complement the black paint finish, the interior was exclusively refined. With meticulous precision and master craftsmanship the BRABUS upholsterers transformed especially soft and breathable black Mastik leather into a BRABUS fine leather interior in a class of its own.
The BRABUS genuine carbon-fiber elements add markedly sporty highlights in the cockpit. Their surface is finished with a glossy sealant, and they replace the production wood inlays. Aluminum components such as the BRABUS RACE paddle shifters, pedals and door pins further boost this effect.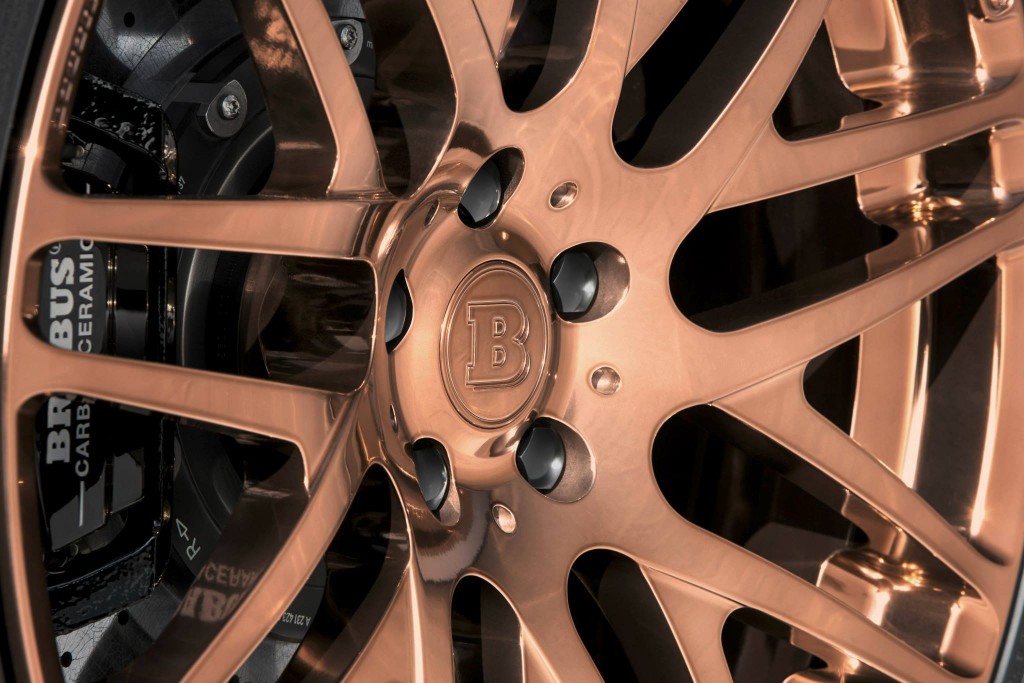 The BRABUS 850 6.0 Biturbo Coupe is available as a complete vehicle and can also be built on the basis of any existing current Mercedes S 63 Coupe.
Fuel economy, CO2 emissions and efficiency class:BRABUS 850 6.0 Biturbo based on the S 63 Coupe: city 13.8 l/100 km, highway 7.9 l/100 km, combined: 10.1 l/100 km. CO2 emissions, combined: 237 g/km, efficiency class E.
The high-performance aftermarket tuning company is specialized also in Smart, and Maybach vehicles.