Not for the faint-hearted: The St. Regis Abu Dhabi Unveils Monthly Sunset Supper on Middle East's Highest Active Helipad.

Bespoke butler service is just part of the "St. Regis Helipad Sunset Supper Experience" announced by St.Regis Abu Dhabi. The St. Regis Abu Dhabi will open their helipad, once per month, for 20 members of the public to experience an exclusive Helipad Sunset Supper, 255 metres in the air.
Each guest will be escorted behind the scenes through the hotel's secret back hallways and elevators to the
rooftop helipad. Here they will be met by the team of hotel's chefs, butlers, mixologists, waiters and other personnel ready to begin the show.
In addition to possibly the most sensational views in the city, guests will be treated to a live saxophonist performance and the signature St. Regis Champagne sabering ritual.
"A plenitude of world-class culinary luxuries such as premium caviar, fresh oysters and extravagant canapés will be served along with internationally acclaimed beverages," announced the top-end hotel.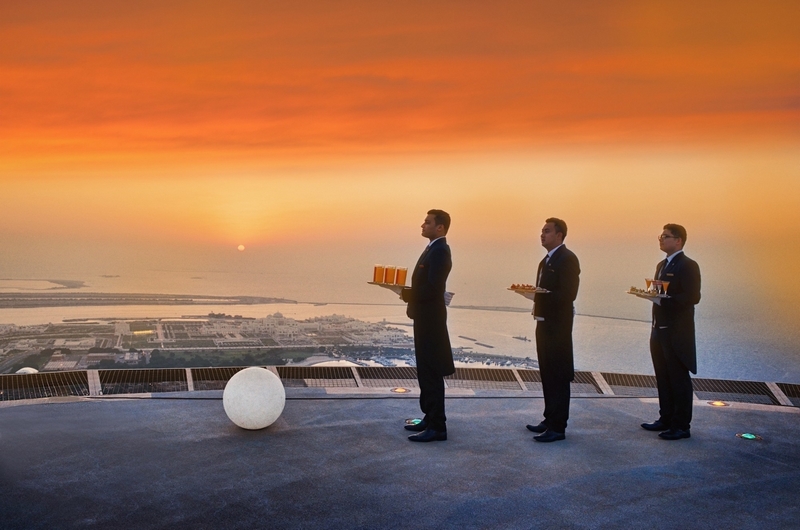 "Our aim was to create a truly unique experience that gave the public a look behind the scenes of The St. Regis Abu Dhabi. We wanted something that people would really find engaging – perhaps because it excited them, perhaps because it scared them – but either way, something they would want to talk about," said Moustafa Sakr, the General Manager Helipad Sunset Supper.
The Helipad Sunset Supper will take place on the second Friday of each month throughout winter.
The time of the experience will change each month depending on the time of the sunset with the first event taking place from 5:00pm – 6:30pm (with sunset at 5:37pm) on Friday 11 November 2016.