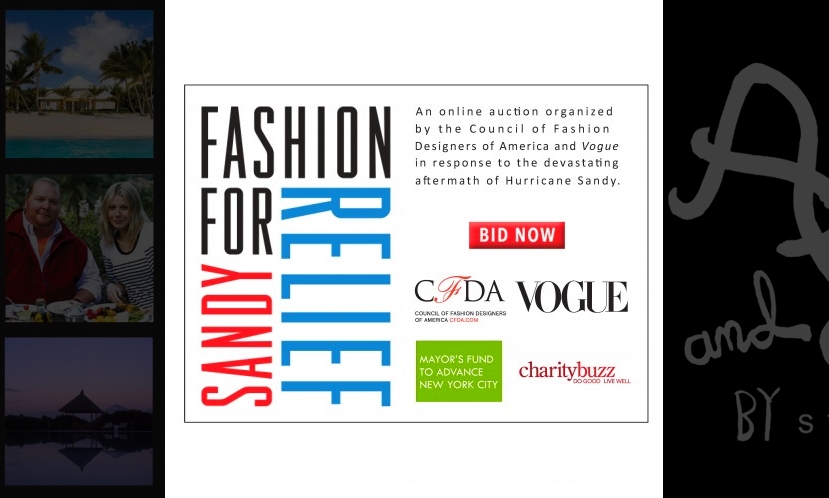 After Haiti and Japan, the US fashion industry raises money to help rebuild storm-struck homes. FASHION FOR SANDY RELIEF initiative was launched by CFDA and Vogue in response to the devastating aftermath of Hurricane Sandy.
FASHION FOR SANDY RELIEF launched on Tuesday, November 13, with an online auction at luxury charity-auction site Charitybuzz.com. Through an outpouring of support from the fashion community, the CFDA has secured auction items including a week long stay at Diane von Furstenberg's Harbour Island home, a week long stay at Tommy Hilfiger's Palm Beach estate on the island of Mustique, lunch with Gwyneth Paltrow and Mario Batali, tickets to the US open and a meeting with Maria Sharapova, escape to the slopes with a weeklong stay at W Verbier in the Alps plus business roundtrip Airfare for 2, and attend a fashion show with Anna Wintour and the Vogue editors.
"Sandy has hit us hard here at home," said CFDA President Diane von Furstenberg. "It is devastating to see so many friends and neighbors affected. As we did for Haiti and Japan, our industry has come together to raise funds with Fashion for Sandy Relief."
All proceeds from the auction and the designer sale will benefit the Mayor's Fund to Advance New York City and other relief organizations in the tri-state area.
FASHION FOR SANDY RELIEF Participants include:
alice + olivia
Opportunity to spend an afternoon in the alice + olivia design studio, meet with designer, Stacey Bendet, and receive a custom alice + olivia dress.
One winner will receive a summer-long internship at alice + olivia's Meatpacking headquarters.
Alessandra Ambrosio
Meet Alessandra Ambrosio at the Vogue offices in New York City.
Amazon.com
Spend the day with Style Icon and Fashion Authority, Julie Gilhart including a Fashion Week Experience and a $2,500 gift card form Amazon Fashion.
Anabelle by Marcia Sherrill
TEEN FASHION DREAM. 6 Lucky teenagers will be invited to join the Anabaelle By Marcia Sherrill Teen Board along with its roster of Manhattan teens. The invitation includes a years' worth of free bags and accessories as well as input on design and your very own video shot in your home with you presenting your groups passion for fashion.
A Day at Royal Ascot in the Royal Enclosure with a travel set of Anabelle by Marcia Sherrill accessories.
Andrew Rosen
Play gold with Theory founder Andrew Rosen at the exclusive Sebonack Golf Club at Friar's Head Golf Course.
Anjelica Huston
The winner and a guest will visit the set of NBC's SMASH during season 2 in New York City and meet with Anjelica Huston.
Anonymous
2 Tickets to see Saturday Night Live in New York.
Bobbi Brown
Win a makeup lesson from Beauty Guru, Bobbi Brown.
Bravo TV
4 Tickets to Watch What Happens Live and a toast with Andy Cohen after the show.
Brian Atwood
Win a personal shopping experience with Brian Atwood.
CFDA
Receive 2 Tickets to the CFDA Fashion Awards.
Intern for a Day at CFDA.
Charlotte Ronson
Styling session with Charlotte Rosson for 2 people, two front row tickets to her show and an invite to the after party.
Christian Siriano
Tour Christian Siriano's studio when you have a custom fitting with the designer and attend his Fall 2013 Fashion Show in February.
Coco Rocha
Win a modeling session with Coco Rocha.
David Kirsh
Get in shape with fitness guru David Kirsch in New York City and take home a DKW supplements starter kit.
David Yurman
Lunch with David Yurman and a custom piece designed for you.
Diane von Furstenberg
Spend a Week in Paradise with a Stay at Diane von Furstenberg's Fabulous Harbour Island Beach House, complete with a $1,000 shopping spree at any DVF boutique.
DKNY
Win a 1-week internship in the PR Department with DKNY PR Girl.
Enjoy an exclusive DKNY VIP Experience at Yankee Stadium for 4 guests with Legends seats to the Yankees vs. Balitimore Oriels game on July 6th and a meet and greet with Joe Girardi.
Erin Fetherston
Spend a day with designer Erin Fetherson plus get your hair done by Edward Tricomni of Warren-Tricomi Salon in New York and lunch for 2 at Marea.
The Elder Statesman
A Custom Made Cashmere Blanket by The Elder Statesman. Winner will be able to choose a custom pattern on this one-of-a- kind blanket.
Elettra Wiedemann, James Marshall, Mickey Boardman, Michelle Harper and Monique Pean
Have a fun dinner with Mickey Boardman, Michelle Harper, Monique Pean, Elettra Wiedemann, and James Marshall at the wonderful Whitehall Restaurant in the heart of NYC's West Village.
Fenton Fallon
Win a VIP photo shoot with Fallon Wardrobe, a behind the scenes headquarters tour with Dana Lorenz and take home a piece from the Fall Winter 2013 collection named after you.
Garren New York
Have a day of Beauty at Garren New York.
Graydon Carter
Graydon Carter of Vanity Fair will be your waiter for dinner at the Beatric Inn.
Gwyneth Paltrow
Lunch with Gwyneth Paltrow and Mario Batali.
Helmut Lang
Win a summer long internship at Helmut Lang in New York City.
Herve Leger
Take home 5 dresses from Herve Leger by Max Azria.
HSN
An HSN cooks on-air experience with one of HSN's celebrity cooks including Wolfgang Puck, Cat Cora, Emeril Lagasee, Curtis Stone or Todd English.
IMG Fashion
The ultimate Mercedes-Benz Fashion Week experience including a private hospitality event for up to 12 guests in the IMG Fashion VIP Lounge, invitations to a runway show, backstage hair and make-up experiences, a guided VIP backstage tour, and a VIP gift bag.
Jennifer Fisher Jewlery
Win a shopping trip at Jennifer Fisher with Jennifer herself.
Judith Leiber
A Judith Leiber custom crystal monogram minaudiere.
kate spade new york
The winner will receive an exclusive tour of the kate spade new york headquarters, followed by a trip to the kate spade new york store for a private styling session with kate spade new york's President and Creative Director Deborah Lloyd, and brand stylist Brad Goreski – with a $2500 shopping spree.
La Mer
Pamper your skin with a 16.5 oz jar of Crème de la Mer. Born from the sea, the legendary Crème de la Mer has the power to transform the skin. In a short time, firmness improves, lines, wrinkles and the look of pores become less visible, skin looks virtually ageless. Even the driest complexions are renewed and rejuvenated. With the nutrient-rich Miracle Broth™, the heart of La Mer's profound powers of transformation, skin is immersed in moisture, sensitivities soothed, radiance restored.
Lilly Pulitzer
Visit the studio of American Fashion Icon Lilly Pulitzer including travel and accommodations, lunch with the designer and a $1000 shopping spree.
Mara Hoffman
A 2-week internship with Mara Hoffman and $1000 in designer apparel.
Marc Ecko
Meet Marc Ecko at his NYC office for a behind the scenes tour of Complex
Media + Marc Ecko's top ten issues of Complex from his personal archive–hand annotated and signed by him.
Maria Sharapova
Meet Maria Sharapova at her all access pre US Open Nike event plus 2 Suite tickets to the 2013 US Open and a signed tennis racket used by Maria during the 2013 US Open.
Moda Operandi
Win a tailored wardrope by Moda Operandi's Taylor Tomasi Hill.
NEXT Management
Win a 2-week Internship at any of the world-wide offices.
Organic by John Patrick
$1000 Shopping Spree.
Olivier Theyskens
The winner will receive a week long internship with Olivier Theyskens.
Parrot Cay
Parrot Cay's three Bedroom Private Beach Villa and Butler. The package includes 5 day 4 night stay and breakfast.
Prabal Gurung
A style consultation with Prabal Gurung studio tour and 2 tickets to the Prabal Gurung runway show.
Project Runway
Meet Heidi Klum at the Upcoming Project Runway finale show on February 8th in New York City.
Rachel Roy
Lunch with Rachel Roy and a Personal Shopping Experience.
rag & bone
Win 2 tickets the show, backstage access and a $10,000 shopping spree.
Ralph Lauren
A Ralph Lauren experience in Paris-Hotel and Roundtrip Airfare included.
Randall Poster
Enjoy a featured extra role in Kristin Wiig and Bill Hader's new movie Skeleton Twins.
Have coffee with Grammy winning music supervisor Randall Poster and receive a curate iPod.
Robert Rodriguez
Win a $5,000 wardrobe.
Rodarte
Take home a signed copy of Rodarte, Catherine Opie, Alec Soth.
Shopbop.com
Experience a day of fashion with Shopbop! Including breakfast with blogger Kelly Framel of the Glamourai, behind the scenes studio visit designers of DANNIJO, showroom visit with designer Rebecca Minkoff, lunch with blogger Blair Eadie and a $10,000 Shopbop.com gift certificate with an afternoon styling session with the Shopbop Fashion Director.
Susan Zirinsky
Tour CBS with Executive Producer Susan Zirinsk.
Teen Vogue
Come tour the Teen Vogue offices with a pal! See how the magazine is created on the editorial floor, meet the editors, raid the beauty closet, have lunch in our industry famous Condenast cafeteria–and meet Amy Astley, the Editor in Chief.
Theysken's Theory
2 Tickets to the Theysken's Theory Fall 2013 fashion show including a backstage meet and greet with Olivier and a $5,000 shopping spree.
Theory
This package includes the opportunity to attend business meetings with Andrew Rosen for a day plus $1,000 a month every month for a year to spend at a Theory store or Theory.com.
Tibi
Two Front Row Tickets to the Tibi Fashion Show in New York Plus a $1,000 Gift Card.
Tommy Hilfiger
Relax and Unplug for one week at Tommy Hilfigers private Mustique Estate.
Tuleste
Win a solid petal necklace.
Vogue
Attend a fashion show with Anna Wintour, tour the Vogue offices, lunch with a Vogue editor, and a Vogue goodie bag.
Win 2 tickets to the 2013 Costume Institute benefit press conference, cocktails and exhibition viewing, a private tour of the exhibition given by Andrew Bolton and Anna Wintour, and a gift bag from the Met gift shop.
Meet and greet with models.
W Hotels Worldwide
Escape to the Slopes with a Week Long Stay at W Verbier in the Alps Plus Business Roundtrip Airfare for 2.