ElectriCity initiative available in Rome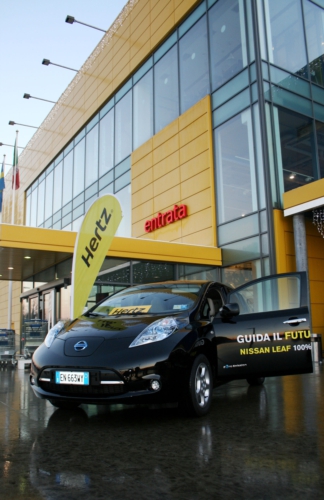 Milano is taking a leading role towards a low carbon society. Hertz, one of the world's largest general use car rental brand, has launched an ElectriCity initiative in Milan to provide Nissan LEAF electric vehicles for rent by the hour or day. The Nissan LEAFs can be rented from Hertz Milano Centrale railway station location, and are also bookable online.
The electric vehicles also have free access to Milan's ZTL congestion zone (C area), with free parking in pay and display parking spaces marked by blue stripes. The ElectriCity Milan launch follows the success of Hertz's electric vehicle offerings in other major cities including Rome, Paris, London, New York City and Washington D.C.
Nissan LEAF is a highly popular all-electric vehicle and features a 4 star Euro NCAP rating. It comes with a compact electric engine, with 80 kW power and 280 NM torque, powered by a 24 kWh lithium ion laminated battery which guarantees efficiency, great performance and range. While travelling downhill or braking, the special brake system converts the Nissan LEAF's kinetic energy into electric energy, helping to recharge the battery. A dashboard display indicates the efficiency of the driving. A complete recharge is enough for a distance of 175 km. In addition, with the ECO option drivers can reduce the electric energy consumption, increasing the driving range per recharge.
"We're proud to be involved in this innovative electric mobility project along with Hertz and IKEA, who – like us – have always been committed to developing sustainable solutions that combine nature, people and vehicles," stated Bernard Loire, Manager of Nissan Italy.
"With ElectriCity, Hertz and IKEA customers can experience the innovative driving experience of Nissan's LEAF. Thanks to its electrical range, customers will be able to drive the Nissan LEAF from Milan to IKEA stores within the Milan urban area," added Alberto Sabatino, Corporate Sales Manager of Nissan Italy.