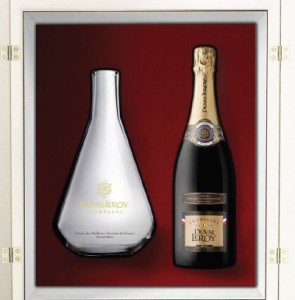 The work on luxurious gift set for the holidays is in full swing. Luxury crystal and champagne are excellent friends, as Duval-Leroy champagne house unveiled a new exclusive Baccarat crystal carafe. The luxury gift box presents the Meilleurs Ouvriers de France Sommeliers champagne, an exclusive Duval-Leroy champagne, alongside a high-end Baccarat decanter. In the red and silver packaging the happy owner will find an example of French art de vivre – a Baccarat crystal carafe etched with the Maison Duval-Leroy monogram and the new cuvée launched last April.
Launched in Paris on April 22nd at Jacquemard André Museum, this cuvee has been elaborated in association with the Meilleurs Ouvriers de France Sommeliers (MOF). Duval-Leroy is often recognized as the Champagne House of the sommeliers thanks to its partnership with the Grandes Tables du Monde and its recognition by more than 250 Michelin stars restaurants.
Based on the exceptional vintage 2008, this cuvee is a blend of 60% chardonnay and 40% pinot noir from Premier and Grand Cru villages. The perfect balance between the purity and elegance of the chardonnay and the forthrightness of the pinot persists in mouth. The dosage is below 3.5 g. Three sizes are availbale: bottle, magnum and jeroboam.