A new horizon. U-Boat Worx Unveiled New Deepest-diving Tourist Submarine.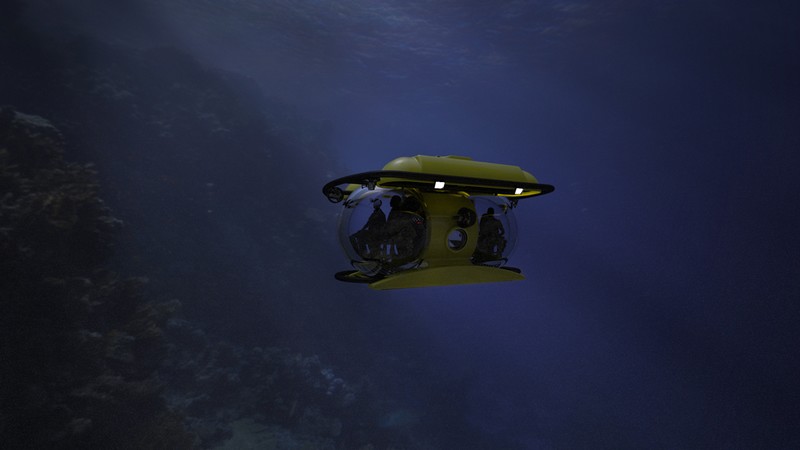 More luxury cruise ships give their passengers the chance to explore some of the most beautiful and exotic places in the world. Being able to offer the experience of discovering the world beneath the ship in those same places, is a natural extension of their operations. With several ships already carrying U-Boat Worx submersibles, they have already become a must-have addition to a cruise ship's leisure activities.
The Dutch submersible construction firm U-Boat Worx has developed a new and unique range of submersibles specifically designed for use aboard cruise ships, yachts and from leisure resorts around the world. U-Boat Worx has launched three new luxury submarine models: the Cruise Sub 5, Cruise Sub 7 and Cruise Sub 9. The submersibles are designed to international standards and can be operated non-stop for up to 12 hours. The submersibles are battery-powered and therefore have no impact on the marine environment in which they operate, so diving in a U-Boat Worx submarine is an ecologically sound activity.
High passenger capacities of 5, 7 or 9 persons including the pilot and with the possibility of depth ratings to 1,140 meters, these submarines are truly unique in the world. The 'double sphere' design offers a field of vision for the passengers NEVER BEFORE achieved. In all models the passenger seating can revolve to ensure everyone can experience the best possible view.
After the first success stories of submersibles operated from luxury Cruise Ships like The Taipan from Star Cruises and the Crystal Esprit, the Netherlands-based submersible manufacturer is seeing increased demand from the industry.
"Our operations on cruise ships inspired the development of the Cruise Sub series" says Bert Houtman, Founder and Chairman at U-Boat Worx. "Whether the operator focusses on exclusive deep sea exploration in remote destinations or on doing numerous subsea excursions on coral reefs, the Cruise Subs are optimized for maximizing the guest experience".
These submersibles provide the same design and engineering excellence as all other U-Boat Worx models with unparalleled reliability, safety and passenger comfort. Very low maintenance requirements, simple 'plugin' power recharging systems and comprehensive but rapid pre-dive preparation and checklist procedures, ensure these submersibles are always ready to dive with minimal personnel involvement, says U-Boat Worx.