Brikk Launches luxury version of Apple Watch in Gold or Platinum with Diamonds.
Before the expected official launch of the Apple Watch in April, luxury technology- driven brand Brikk announced the first batch of Lux Watches, a high-end version of
Apple Watch in Gold or Platinum with Diamonds.
Brikk Lux Watch is built in both 38mm and 42mm sizes and is available in 24-carat yellow gold, 18-carat pink gold, and 950 platinum. Customers have the ability to select from three different versions: The Standard, The Deluxe, and The Omni. The Lux Watch Standard offers a single row of diamonds totaling .50 carats around the face, and comes with a leather strap. The Lux Watch Deluxe has 2.3 carats of diamonds in multiple rows around the face, diamond encrusted buttons, and a leather strap with diamond studded clasp. For the ultimate in exclusivity, the Lux Watch Omni has a fully diamond-wrapped case and band of over 12 carats of diamonds.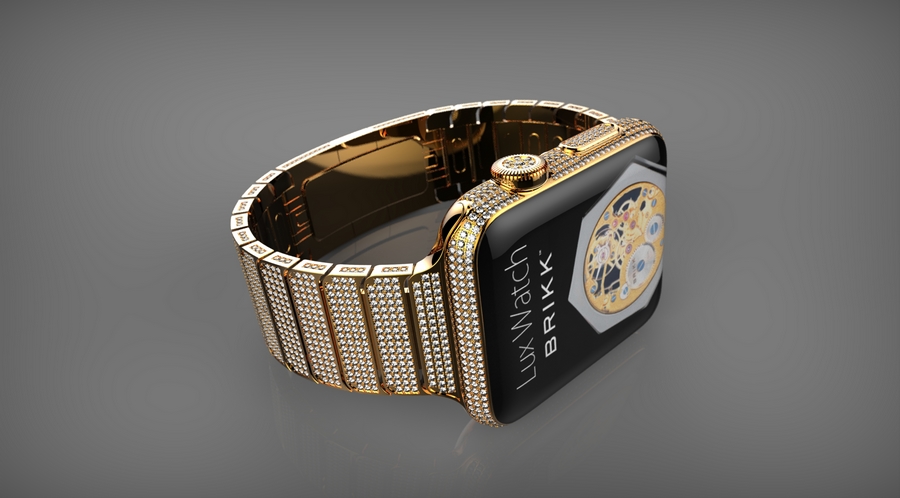 Brikk Lux watches are hand polished, then plated with five layers of diverse metals before their final plating in either two layers of gold or platinum. High quality diamonds (color D, clarity VVS1) are set with a microscope in a custom-machined bezel. Each piece is then reassembled and tested before shipping.
Prices range from $7,495 for the Lux Watch Standard, to $11,995 for the Lux Watch Deluxe, to $69,995 for the Lux Watch Omni. All models are packaged in a Zero Halliburton aluminum case with carbon fiber interior. Each Lux Watch also comes with all standard accessories, a user manual, a diamond-embedded certificate of authenticity, and an exclusive 1-year warranty.
Alongside the luxury Apple Watch, Brikk announced the launch of the conflict free Heptagon Diamond and Heptagon jewelry collection, Brikk's tribute to the number seven. The Heptagon jewelry collection which houses the Heptagon Diamond consists of men's and women's rings. In the works for five years, the specially designed Heptagon Diamond has seven sides with special sparkle and refraction. Designed by award winning designer John Bailey, the custom geometry includes 77 facets as well as 3 seven-point stars.