Polaris revealed New Limited-Edition Slingshot. The new bold three-wheeled roadster available for a Limited Time.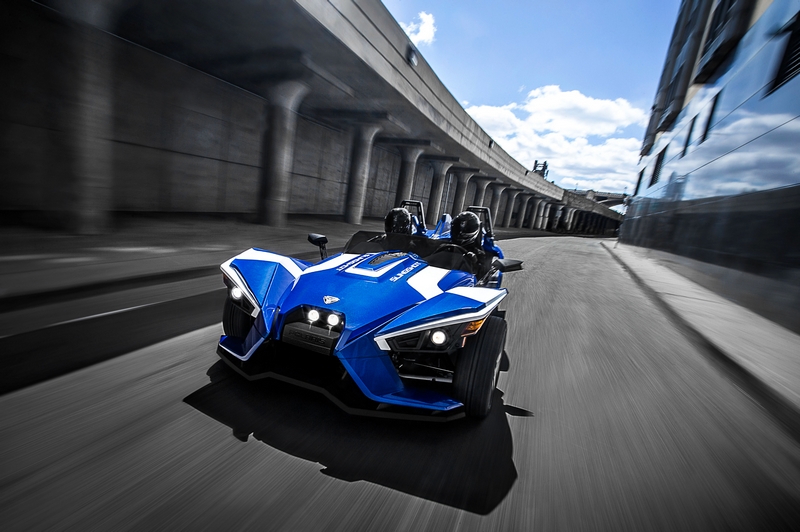 Polaris Slingshot has listened to its customers and is offering the most requested color to date – Blue Fire, with a first-from-the-factory White Lightning muscle stripes. The Blue Fire SL Limited Edition is the most exclusive vehicle yet to Polaris Slingshot's lineup. A low, wide stance is allowing drivers to feel the rush of pavement under the seat while the open-air cockpit offers a 360-degree rush of sight, sound and smell.
The new Limited Edition has all the features of the fully loaded SL trim level, plus premium metallic Blue Fire paint, powder-coated White Lighting accents, an interior LED lighting kit and a tinted Ripper Series Wind Deflector.
"We are excited to release the newest edition to the Slingshot lineup in a color consumers are demanding," said Craig Scanlon, Vice President of Slingshot. "With this vehicle being released during peak riding season, we expect an unprecedented demand."
Slingshot is offered in three distinct trim levels for a limited time only. The base Slingshot features Gloss Black paint, 17-inch lightweight alloy wheels up front and an 18-inch rear wheel. The premium Slingshot SL features either Red Pearl or Turbo Silver paint, larger 18-inch cast aluminum wheels up front and a 20-inch rear wheel, as well as a blade windscreen for wind protection. It also features a media console with a 4.3-inch LCD screen, back-up camera, Bluetooth® integration and a six-speaker audio system.
The Slingshot SL LE offers all of the same upgrades as the Slingshot SL, but also includes bold Blue Fire paint, White Lightning muscle stripes, White Lightning powder-coated frame, swing arms, springs and front- arm suspension, an interior LED lighting kit and a tinted Ripper Series Wind Deflector.