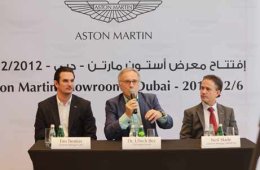 Aston Martin relaunches itself in Dubai with a new state of the art showroom in Downtown Dubai, near the Burj Khalifa tower, a sign of UAE's luxury market importance. The luxury showroom is situated opposite Dubai Mall and the Burj Khalifa, the brand expecting UAE sales to pick up further in 2013.
"We already have a dedicated sales team in place ready to meet our customers' deservedly high expectations. Not only do we promise the newest Aston Martin models in our showroom, but also the extremely high level of after-sales service that the Aston Martin brand calls for," said Tim Trenker, GM of Aston Martin, UAE.
"Our Dubai showroom will be the first in the world to offer the new Vanquish, which shows how important the UAE is to us. The newest DB9, Vantage and Rapide models will of course be available as well," said Trenker.
"Aston Martin is delighted to open in a prominent new space in Dubai, a city that is a hub for business, commerce and leisure, and a gateway to the Middle East. We are committed to Dubai and the UAE in the long term, and are investing substantially to ensure we have the right location and the right staff to satisfy and delight our discerning customers," said Dr. Ulrich Bez. "I am confident that Aston Martin will do very well in the UAE, which is a growing market for luxury cars."
"While the UAE is a competitive market with entrenched brands, there is certainly room for Aston Martin to attract customers due to its unique value proposition," added Trenker.