Audio Power Labs 50TNT tube amplifier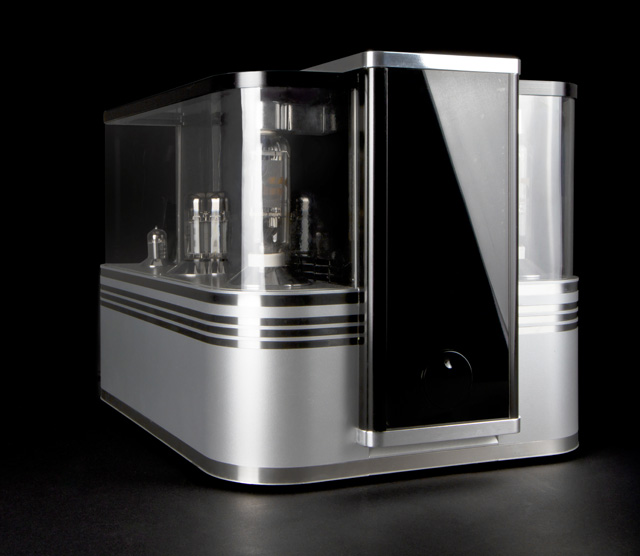 The ultimate marriage of astounding audio transparency and stunning physical design, the new art-deco themed 50TNT inimitable amplifier is the product of over three years of work of Audio Power Labs. The glass enclosure showcasing the push-pull configuration of 572B is inviting the music lovers and audiophiles to study the intricate construction of the filaments, plates and electrodes.
This is the only 572B push-pull amplifier being manufactured in the world today, according to the manufacturer.
Using the newest liquid cooled, heat pipe technology, Audio Power Labs engineers developed a switched-mode power supply system of manageable size that enables 50TNT to be self-contained and to sustain continuous low frequency tones without distorting the audio far longer than most other tube based power amplifiers. In addition, the audio signal path is devoid of any capacitors or solid state devices, using tubes and coupling transformers exclusively. As a consequence, distortion is kept to less than two percent across the unit's entire fifty watt power range.
"The hand-polished aluminum housing is a work of art and is a home worthy of the masterpiece of audio engineering it houses," says Audio Power Labs.
Custom designed Machine-Age, Art-Deco enclosure is carved from 5261 machined-plate aluminum typically used in high precision aircraft fittings and camera lens assemblies. The 50 TNT amplifier has a total weight of 60lbs / 27kg.
Audio Power Labs 50TNT amplifiers can be yours for $47,500.
50TNT monoblock amplifier SPECIFICATIONS:
• 50 watts RMS
• Frequency Response: 15Hz – 25KHz
• SNR: 75dB / THD of Less than 2%
• Input: 600ohm Balanced XLR
• Output: 8 Ω and 4 Ω factory option
• System Gain: 47 dB
• Zero negative feedback
• 95-260v, 50Hz-60Hz (4A nominal @ 120v)