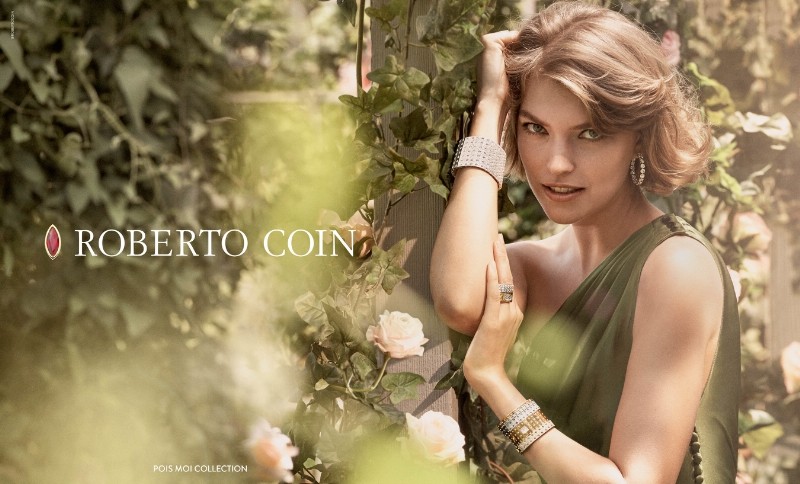 Venetian jewelry designer Roberto Coin has a fresh and inspiring look this season with the launch of a brand new advertising campaign featuring one of the top breakout supermodels, Arizona Muse.
Muse has been the face of numerous prominent advertising campaigns that includes Louis Vuitton, Jill Sander, Miu Miu, Nina Ricci, Alberta Ferretti, Chloe, Prada, Isabel Marant, Fendi and Yves Saint Laurent. Currently, she can be seen in her most recent campaign with Estee Lauder.
"Working with Roberto Coin– the brand and the man- was wonderful," says Arizona Muse. "We had a beautiful day in a dreamy garden, making each other laugh and creating touching photographs of this exceptional jewelry, I loved it!"
Jewelry from Roberto Coin's newest collections Tanaquilla, Black Jade, Pois Moi, New Barocco, and Cento will all be featured in the latest campaign.
"The concept is based in nature, art and beauty," says Roberto Coin, Chairman and Designer of the Company. "Set in luxurious gardens, the visuals reflect the richness and sophistication of the current collections. By adding the stunning Arizona Muse to the landscape, it completes the perfect picture. She is the ideal ambassador for the brand and her international recognition only strengthens the Roberto Coin global footprint."
Famed photographer Craig McDean who previously shot the 2011 campaign teamed up with Coin once again to shoot the portraits he is renowned for. His body of work includes past advertising campaigns for Dior, Gucci, Giorgio Armani, Emporio Armani, Oscar de la Renta, Prada, Versace, Yves Saint Laurent, Calvin Klein and Estee Lauder.