Hard Rock Hotels enters into the Middle East
Hard Rock International And Aabar Properties Announce Development Of Hard Rock Hotel Abu Dhabi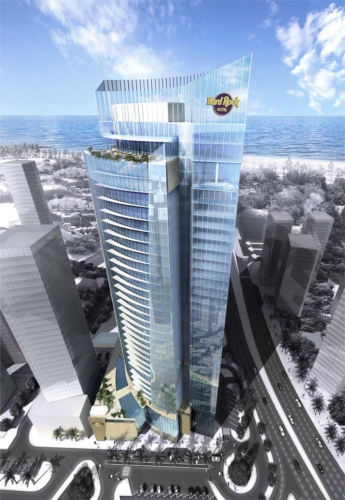 Abu Dhabi will have its Hard Rock Hotel, a five star international hotel built by Hard Rock International and Aabar Properties, a subsidiary of aabar Investments PJS. The 378-room luxury hotel will be ideally situated within the picturesque seafront of the Corniche and just a short distance from the modern city's bustling financial district, marking Hard Rock Hotels.
The Hard Rock Hotel Abu Dhabi will feature an assortment of signature restaurants, entertainment and meeting facilities, including the renowned Hard Rock Cafe. Other key attractions include a beautifully appointed Sky Lobby on the fifth floor podium, spectacular Lobby Bar with outdoor entertainment deck and hookah lounge, as well as a 37th floor Sky Bar with swimming pool.
With more than 12,000 square feet dedicated to wellness and spa facilities, the resort will host the Body Rock fitness center and signature Rock Spa. Additionally, guests of the hotel will enjoy the convenience of the state-of-the-art events and meeting facilities, as well as the business center, accompanied by six meeting rooms and a 5,200 square foot ballroom.
With a total of 175 venues in 53 countries, including 138 cafes and 16 Hotels/Casinos, Hard Rock International is one of the world's most globally recognized brands. Beginning with an Eric Clapton guitar, Hard Rock owns the world's greatest collection of music memorabilia, which is displayed at its locations around the globe. Hard Rock is also known for its collectible fashion and music-related merchandise.