The forest is fundamental to the existence of the Saint-Louis Manufacture, on whose border it is built. It acts as both home and rampart, a space that must be traversed, like the frontier to a different dimension. The radiance of crystal, the strength of wood. Meet Folia, designed by Noé Duchaufour-Lawrance for Saint-Louis.
All pieces in the Saint-Louis Folia collection echo the forest surrounding the Saint-Louis crystal manufacture. It was there that designer Noé Duchaufour-Lawrance found his inspiration, and decided to combine the radiance of crystal with the strength of ash wood. FOLIA is a tribute to the leaves of the Moselle forest and an ode to creative folly. Folia is a family of twenty-five pieces of tableware, decoration, lighting and furniture.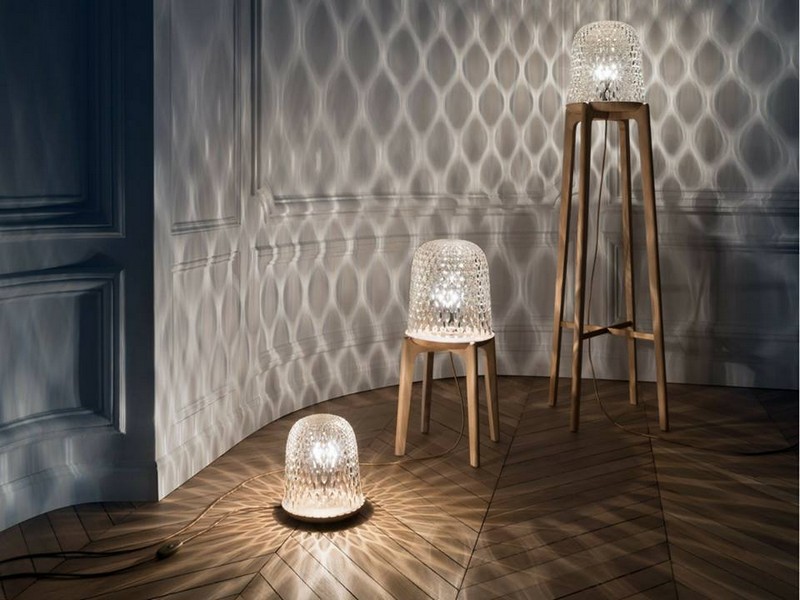 "All too often we forget the emotion of the encounter. It is gradually lost over the months and the succession of meetings. The Manufacture is a powerful place, preserved and secluded. I wanted to express its magic – between fire and cold – its local roots, the permanence of its expertise and the concentration that prevails. Each of the twenty-five objects in the Folia collection provide an insight into the Manufacture." explained Noé Duchaufour-Lawrance
Saint-Louis is known for making one of the largest chandeliers in the world. Two months is all the time it took the Saint-Louis craftsmen to make one of the largest chandeliers in the world.
The chandelier – initially crafted from wood in the Middle Ages, then from Venetian glass during the Renaissance –moved on to crystal in the 20th century, its success was immense. Chandeliers set the standard in elegant lighting for the new apartments designed by Baron Haussmann.
"Assembling a chandelier is a veritable technical feat: each of the dozens, even hundreds, of components have a specific role. Bowls and balusters conceal the structure, while pears and pendants diffract the light in prisms, lending a celebratory air to any room. Crystal diffracts light so well that the two seemed made for each other," says Saint-Louis.