Julianne Moore announced as Ambassador for the annual Saks Fifth Avenue's 2015 Key To The Cure campaign.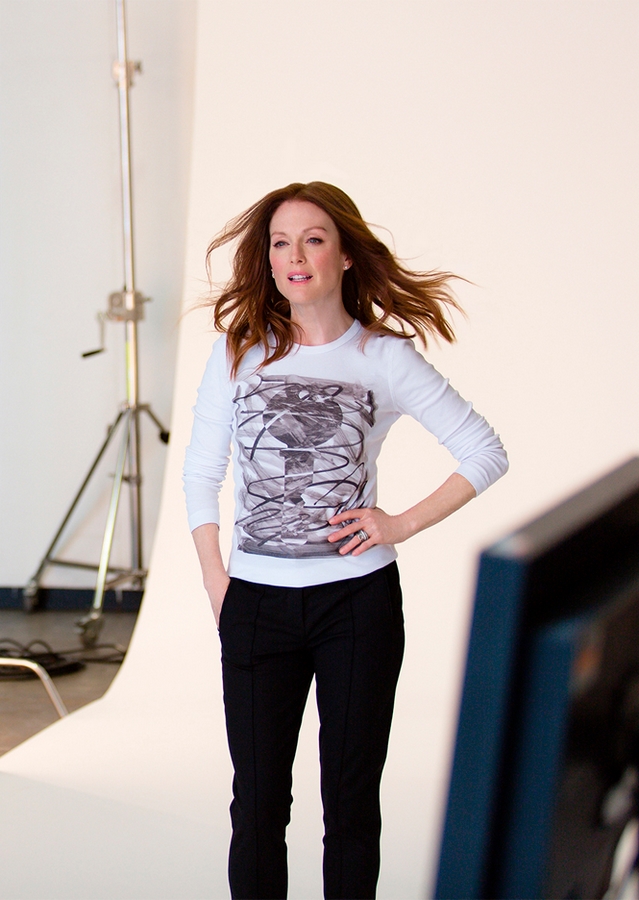 Now in its 17th year, Saks Fifth Avenue's Key To The Cure campaign has enlisted Jason Wu to design this year's limited edition T-Shirt, benefiting Stand Up To Cancer (SU2C).
Coming together in the fight against cancer, award-winning actress Julianne Moore, renowned fashion designer Jason Wu, Stand Up 2 Cancer and Saks Fifth Avenue have created a limited edition Key To The Cure t-shirt. 100% of the purchase price benefits the Key To The Cure campaign to fight cancer.
For the first time, Saks Fifth Avenue teamed up with Stand Up To Cancer (SU2C), a program of the Entertainment Industry Foundation, created to accelerate innovative cancer research through collaboration among leading scientists from different institutions and disciplines who work together to deliver new therapies to patients quickly. By galvanizing the support of the entertainment industry, SU2C creates awareness and builds broad public support for this effort to combat all types of cancers.
"Everyone has been affected by cancer in some way," says the Academy Award-winning actress. "Whether you've cared for a loved one facing a cancer diagnosis, or contended with cancer yourself. So I'm honored to work with the Entertainment Industry Foundation and Saks Fifth Avenue to highlight the mission to make everyone diagnosed with cancer a survivor. I hope everyone will join me in supporting this important cause by purchasing a Key To the Cure T-Shirt."
"The Entertainment Industry Foundation is proud to continue to join forces, with Saks Fifth Avenue in our shared mission to fund innovative cancer research that is getting new treatments to the patients who need them quickly," said Lisa Paulsen, EIF President and CEO and co-founder of Stand Up To Cancer.
Saks Fifth Avenue initiated its charity shopping weekend in 1999. To date, the company has donated more than $36 million to women's cancer research and treatment organizations throughout the United States. Organizations benefiting from these funds include: The Breast Cancer Research Foundation; EIF's Women's Cancer Research Fund; Cleveland Clinic; Boston's Dana-Farber Cancer Institute; Nevada Cancer Institute and many others.