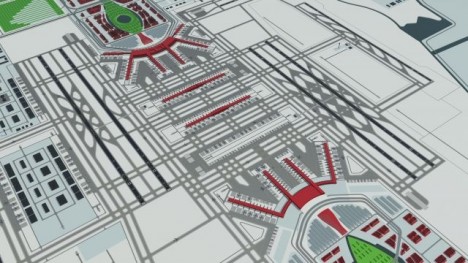 Scheduled to open in 2017, a new Beijing mega airport will be world's biggest,according to master plans released by Dutch Airport Consultancy firm NACO, one of the world's leading independent airport consultancy and engineering firms. The new Beijing Daxing International Airport, a second hub for the city of Beijing, will cover 55 square kilometers, will include 8 runways and an integrated ground transportation hub with a high-speed railway. The shuttle will transfer travelers to Beijing in just 30 minutes.
World's biggest airport will have capacity for 130 million passengers per year, 23 million more than JFK and London Heathrow combined.
With more than 73 million passengers transported, the current airport, Beijing Capital International Airport, is the second busiest airport in the world after Atlanta, which is transporting more than 89 million passengers per year. The 3rd place is occupied by Heathrow which transports 65 million passengers.
Dutch Airport Consultancy firm NACO is the builder of Amsterdam Airport Schiphol, frequently named as "the best airport in the world."