Franck Cammas and Norauto are the overall winners of GC32 Riva Cup 2016 on Lake Garda, Jason Carroll and Argo take the Owner-Drivers Trophy.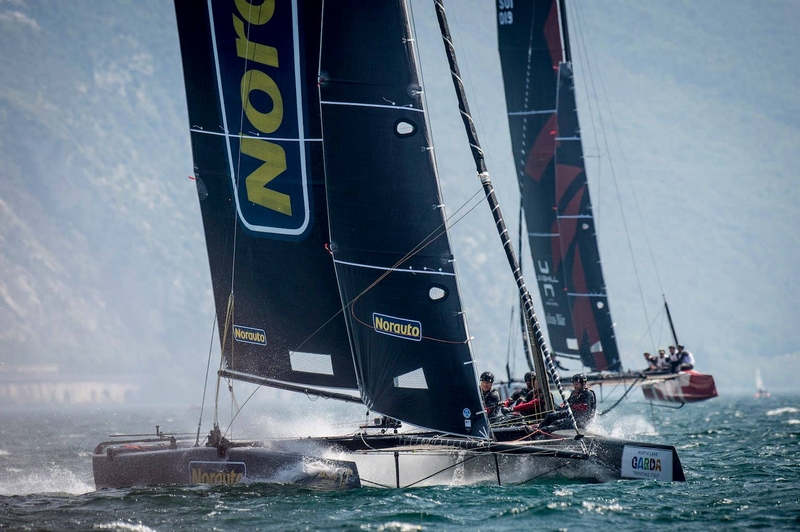 Franck Cammas and his crew on Norauto have won the GC32 Riva Cup after a shifty, rainy final day on Lake Garda.
"Team Tilt pushed us hard all regatta," said Cammas at the prize giving at host club, the Fraglia Vela Riva. "We have certainly improved this week and so has all the fleet. Racing with nine boats on the start line was a big thrill. I guess it will be even more exciting with 10 boats for the next event."
Helmsman of Team Tilt Arnaud Psarofaghis was pleased to have come 2nd even if gear failure prevented them from keeping the duel with Norauto as close as he would have liked. "We're pretty new to the boat and we were getting better ever day," he said. "By the third day we were sailing the boat about 1 knot faster upwind than at the start of the regatta."
"Even a bad day on Lake Garda is a great day's sailing anywhere else in the world," he smiled. "Not sure if it will happen yet, but would love to come back and do some more with the boys on Team Tilt this season," commented Team Tilt's mainsheet main Glenn Ashby.
Another top Australian professional Nathan Outteridge took a lot away from the week after steering Gunvor, the new Swedish entry on the Tour which finished 4th behind 3rd placed Armin Strom skippered by Flavio Marazzi. "The GC32 is a great platform for getting some of our young Swedish sailors up to speed on foiling boats," he said. "Having said that, it's still a steep learning curve so you have to be careful how you do your learning, otherwise you can make some expensive mistakes very quickly. But the GC32 is certainly a good way into the foiling world."
Orange Racing was one of the newcomers to the fleet and it was a big learning exercise for Laurent Lenne and his Dutch crew. The battle for the Owner-Driver Trophy came down to a close duel between USA and Monaco, with Jason Carroll steering Argo to victory ahead of Pierre Casiraghi and Malizia – Yacht Club de Monaco.
This season the GC32 Racing Tour has been structured around five venues that aim to give the sailors the best possible chance of delivering awesome sailing conditions. Lake Garda and Fraglia Vela Riva have delivered that in spades. All the teams hit peak speeds in excess of 35 knots, and as Ashby said of Team Tilt's current record of 39.7 knots set two days ago: "I don't think that's a record we'll keep for very long."
The next event takes the GC32 Racing Tour further along the shores of Lake Garda for the GC32 Malcesine Cup, which takes place alongside The Foiling Week from 7 to 10 July.