Top 10 Artists: Zhang Daqian, Qi Baishi, Andy Warhol, Pablo Picasso, Xu Beihong, Wu Guanzhong, Fu Baoshi,  Gerhard Richter, Francis Bacon, Li Keran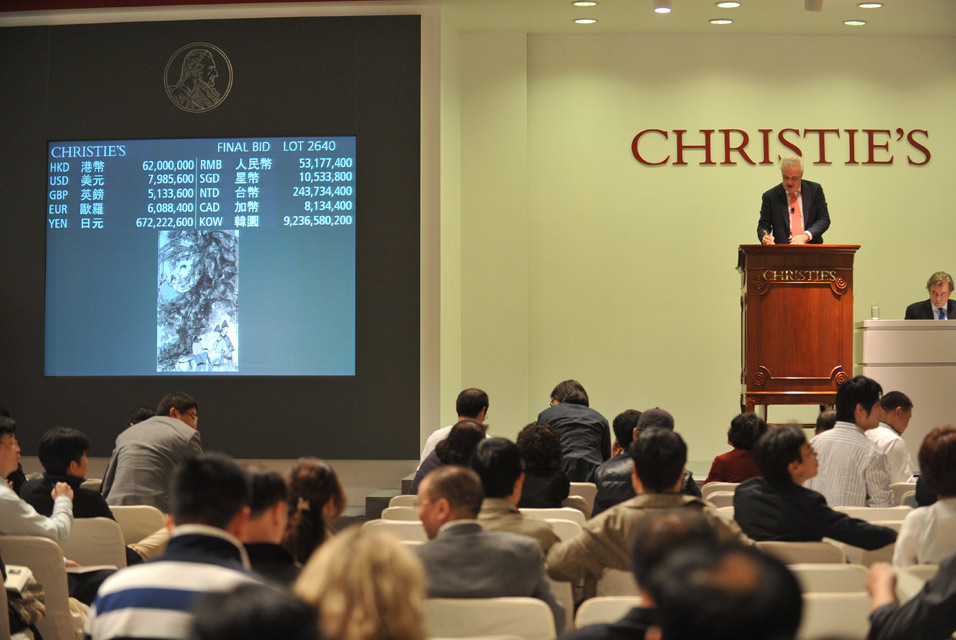 Having emerged as the world's strongest art marketplace last year, it comes as no surprise to find China's two leading artists now holding the top two places in Artprice's global ranking of artists by auction revenue.
This is the first time in 21 years that Pablo Picasso has not been among the top 3. Indeed the dethroning of the Spanish artist has been particularly spectacular since not only has he been overtaken by Qi Baishi and Zhang Daqian, he is also now behind Andy Warhol.
2011 definitively confirmed Chinese domination of the art market: with a more than 40% share of the global art market and six out of the world's top ten best-selling artists, China is now incontrovertibly the world's leader of the art market.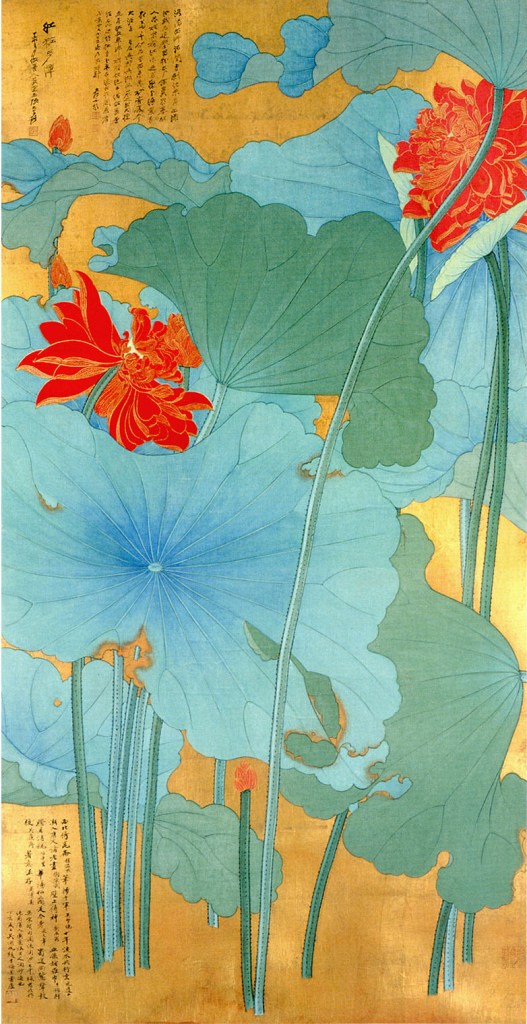 1. Zhang Daqian (1899-1983) – $550m
The Modern master's progression appears to have no limits, after an exceptional year 2010 (nearly $314 million in auction revenue and more than 58 results above the $1 million threshold), 2011 saw Zhang Daqian take the number 1 spot in Artprice's global ranking of artist's by auction revenue. Indeed, with a total annual revenue figure of $550 million in 2011, Zhang Daqian scored the best annual result for an artist ever recorded.
With 1,361 lots offered (of which 1,128 lots found buyers), an ever-greater quantity of the artist's work is appearing on the market (+20% compared with 2010) with demand apparently keeping pace (only 20% unsold).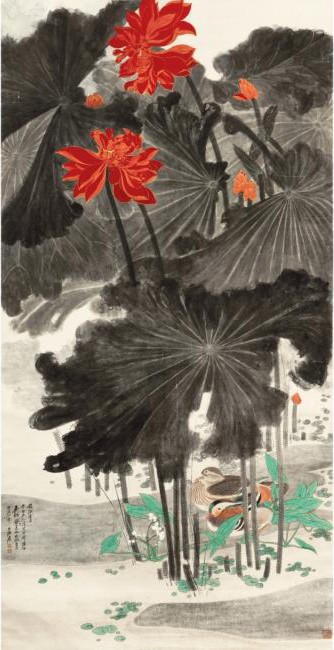 With more than 111 results above $1m, Zhang Daqian generated the highest number of results above the 7-figure threshold (US$) in 2011 of any artist, and his Lotus and Mandarin Ducks generated his best-ever auction result at $21.8 million. Created in 1947 and exposed as of 1957 in France and then worldwide, the work sold at Sotheby's Hong Kong for HK$170 million at more than ten times its low estimate. That was also the highest sum ever paid for a work of art at a Hong Kong auction.
Five of Zhang Daqian's ten best-ever auction results were generated last year, again accelerating his price index which gained nother 50% in 2011 after already tripling since 2005. Before 2005, 90% of his works sold for less than $100,000; since 2005 only 57% of his works were presented at below that threshold.
In fact in 2011 only 1.9% of Zhang Daqian's lots could be acquired for less than $5,000 and only a tiny fraction of his works sold outside Asia: only six lost were presented outside China, four in New York and two in Paris, all of which demolished their pre-sale estimates (95% of his works ‑ wherever they are presented exceed their low estimate). These works represented no more than 0.03% of his total 2011 revenue.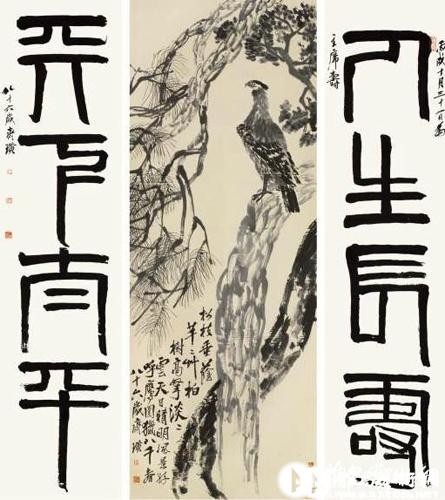 2. Qi Baishi (1864-1957) – $510m
Surprising second in 2010, Qi Baishi maintains his ranking this year. Already in 4th place in 2009, demand is still high for Qi Baishi's works: only 18% of his works were bought in in 2011, and 96% sold above their pre-sale estimate!
In fact, 1,340 of his works were offered last year and the demand response was very strong indeed with no less than three new personal records being set throughout the year. Half of Qi Baishi's results above the $5 million line were generated in 2011 (seven out of fourteen), including his latest record and best-ever global result for a drawing, Eagle Standing on Pine Tree; Four-Character Couplet in Seal Script which fetched $57 million. This result was also the best auction result of the year 2011 (fifteenth best result of all time in any medium) and Qi Baishi became the first Chinese artist to join the all-time, all-media, top-twenty results ranking.
Slightly more exported than his compatriot Zhang Daqian, 25 works by the artist were offered outside Asia in 2011 (out of 30 offered) representing no more than 0.58% of his total auction revenue. Qi Baishi's prices also rose 35% last year, after an increase of 400% between 2009 and 2010.
3. Andy Warhol (1928-1987) – $325m
The only Western artist remaining in the top 3, Andy Warhol generated a slightly better total than his 2010 auction revenue ($313 million). Amounting to $325m, the American Pop artist's total gives him third place in the global ranking for2011, and, for the second time only, he overtook Pablo Picasso.
Warhol's 2011 figures strangely resemble his 2010 figures with a similar annual total (+4%), 46 results above the $1 million line (vs. 40 in 2010), a 26% unsold rate (vs. 29% in 2010) and a volume of lots sold just 1% up from the previous year. The only real difference was the absence of a record result in the top 5 (after his Men In Her Life fetched $56.5 million in 2010, the year's fourth best result). In 2011, his best result was generated by a Self-Portrait that fetched $34.25 million against a pre-sale estimate of $20 million – $30 million. This was in fact the year's tenth best global result.
Still very much in demand in the West (75% of his revenue came from the USA in 2011 and 23% from Europe [o/w 21% from the UK]), Warhol does not yet trigger frenzied bidding at Asian sales and in 2011 only 0.2% of his annual revenue was generated in Asia from 13 lots (i.e. less than 1% of his total auction lots offered worldwide). The relative slowness to acquire new tastes of the American market, where 37% of Andy Warhol's works are sold, is maintaining the artist's price index (+12% in 2011).
4. Pablo Picasso (1881-1973) – $315m
Fourth place in 2011 for Pablo Picasso, whose worst performance since 1989 had been third place in 1992 and who has won thirteen of the fourteen first places since 1997. Worse still, he was not even the most sought-after Western artist in the 2011 ranking (beaten by Andy Warhol, as in 1997) and he was the only artist in the Top 10 whose annual auction revenue did not rise, but actually fell 13%! However, it wasn't actually a bad year for Picasso. His $315 million revenue total was larger than the combined totals of the top 3 artists in 2009 and it was $45 million better than the number 1 artist in 2008 who was none other than Pablo Picasso himself.
The relative fall in demand for Picasso's work in 2011 was essentially due to lower high-end demand for his work. In 2011, only thirty-nine of his works fetched over $1m, his lowest million-plus score since 2005 (excluding 2009). Moreover, only sixteen of the twenty-nine lots offered above the $1 million line in New York actually sold! In 2010, two of the year's seven best auction results were signed by Picasso. In 2011, his best result came seventh.
Although Picasso is still the most frequently sold artist at auction sales with more than 2,500 lots in 2011, he nevertheless suffered an unsold rate of 29%, close to the catastrophic levels of 2009 (33% remained unsold) and far from the 15 – 20% unsold rates between 2004 and 2007.
In 2010, Pablo Picasso dominated the art market: best result of the year… new world record… highest annual revenue… price index up 17%… unsold rate of 21%… That is why his ejection from the Top-3 podium in 2011 is so startling.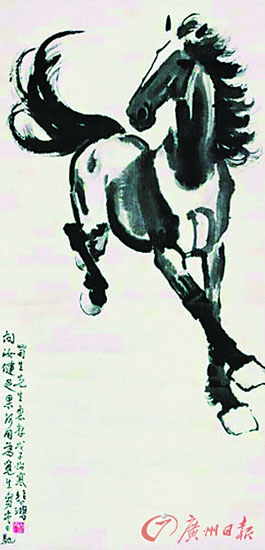 5. Xu Beihong (1895-1953) – $220m
Having earned a surprise sixth place in 2010 ahead of Matisse and Modigliani, Xu Beihong has done even better this year with an auction revenue total of $220 million.
In 2011, Xu Beihong made his debut entry into the Top 5, becoming the third most expensive Chinese artist on the market. He was also the rarest artist in the Top 5 with only 316 lots sold, well behind the first 4 who all sold between 1,000 and 2,500 works each. Hence a lower level of supply which was once again in 2011 matched by very high prices: only 19% of the artist's works fetched less than $100,000.
Xu Beihong is therefore a distinctly high-end artist with 99% of his works selling in China. In 2011, he generated his best-ever auction result (and sixth best in the world) when Cultivation on the Peaceful Land fetched $36.7 million. A very large-scale painting – like those that have generated most of his record results (all of his results above $5 million have been generated by paintings that are at least 1 metre wide or tall) – the work is one of the artist's rare pieces from the 1950s, just a few years before his death.
In fact, there has been renewed interest in the artist's later works with nine of the twenty-three paintings dating from the1950s selling in 2011. Previously, his most sought-after works dated from the 1930s, a few years after he returned to China from France (where he studied for 8 years in the 1920s). These works include his previous record, Landscape and Figure.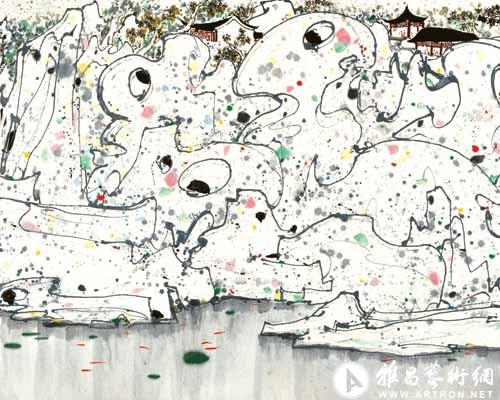 6. Wu Guanzhong (1919-2010) – $212m
Sixth in the 2011 ranking and the number 4 Chinese artist, Wu Guanzhong, born in 1919, is decidedly more "contemporary" than the other Chinese artists in the ranking. He was indeed one of the major theoreticians of the modernisation of Chinese painting.
The first-ever living Chinese artist to be the subject of a major retrospective at the British Museum in 1992, his works were already abundant on the market at that time and his top price was already above $70,000. Since 1993, less than 32% of his works have sold for under $50,000 and the artist's price index rose 77% over the first nine years of the last decade.
However, the artist's death in 2010 triggered a rapid ascension of his price index in 2011. With seventy-four results above $1 million over the last two years (representing 17% of his auction lots), Wu Guanzhong moved from sixty-fifth place in 2008 to thirteenth in 2010 and then sixth in 2011. His absolute record was generated by Lion Woods (1988) which fetched $15.4 million at Poly in June at a prestige sale dedicated entirely to his works. At that sale, twenty-five of his works were acquired for a total of more than $65 million (tripling the auctioneer's most optimistic estimate).

7. Fu Baoshi (1904-1965) – $198m
Fifth Chinese artist in the top seven places, Fu Baoshi also generated a number of record results in 2011. On 11 November his Song of a Pipa player scored a new record at $11.4 million and just a few days later (17 November) in Beijing, his Landscapes (1964/65) fetched more than $31.5 million. The latter work, composed of eight sheets of drawings, generated the artist's forty-fourth result above the $1 million line in 2011 (by the end of the year the total was 52).
The Modern artist Fu Baoshi enjoys very strong high-end demand and his average price in 2011 oscillated around the $1 million mark while 83% of his works fetched over $100,000. An artist, but also an art historian, Fu Baoshi started to work on the evolution of Chinese painting when he was 25 and the techniques and brushes of the Yuan dynasty inspired the broad and messy strokes that characterise some of his works. This technique subsequently became known as "Baoshi wrinkles".
In 2011, Fu Baoshi was the subject of major retrospective at the Metropolitan Museum in New York which announced the artist as the "Chinese Monet or Van Gogh" through the intermediation of Maxwelll Hearn, the exhibition's curator. Today, his works are in much higher demand than either of those two Impressionist painters on the art market.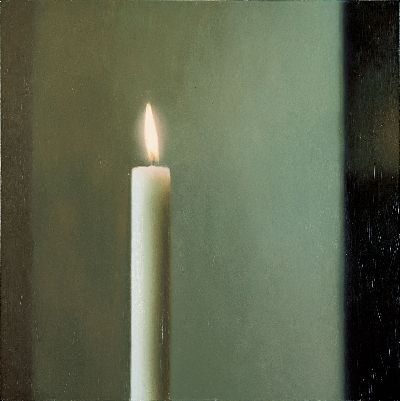 8. Gerhard Richter (1932) – $175m
The first living artist in the ranking, Gerhard Richter also enjoyed new records in 2011 that considerably boosted his price index (as did five other artists in this ranking). Ninth in 2007 and seventh in 2008, the artist only made it to sixteenth place last year and his price index had dropped 50% in two years from the peaks reached in 2007/2008.
However, last October his Kerze (Candle) generated a new record (since beaten) when it fetched $9.3  million ($14.6 million), just above what was already a very optimistic high estimate ($9 million) beyond the best result to date by the artist (Abstraktes Bild (710) sold in 2008 for $13.2 million or £8.4 million).
The work Kerze (Candle), a far cry from the artist's usual Abstraktes Bild, was presented in six pages of the auctioneer's catalogue highlighting the pictorial quality of a rare and emblematic work from the 1982-1983 period (only 39 works from this period have been offered at auction since 1990). Most of these works are in the collections of major Contemporary Art museums (the Art Institute of Chicago, the San Fransisco Museum of Modern Art, the Museum Frieder Burda in Baaden Baaden).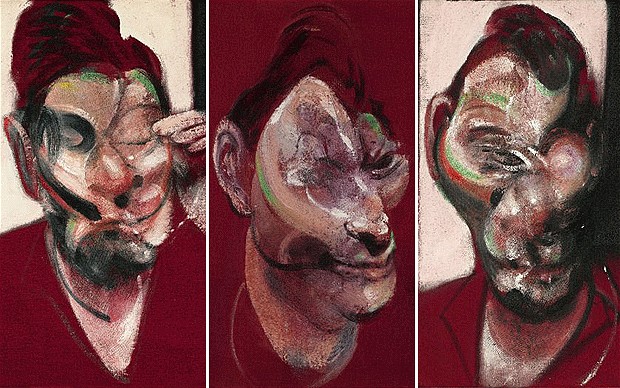 9. Francis Bacon (1909-1992) – $129m
Francis Bacon also reached the summits of the art market in 2007/2008, winning third place in the 2007 revenue ranking and second place in 2008. However subsequently his price index plummeted mainly due to a lack of quality works being offered at auctions: between January 2009 and December 2010, only four important paintings were for sale. Last year, eleven paintings were auctioned, the highest number since 2008 (when sixteen paintings were then offered for sale of which three fetched below the 7-figure threshold).
After his Triptych (1976) fetched his auction record of $77 million in 2008, investors were much more cautious and
five of the six works presented at the subsequent sales were bought in. With the art market's recovery in 2010 and itsconsolidation in 2011, Francis Bacon has managed to climb back to where he stopped in 2008.
With eight results above the $1 million line in 2011, of which five over the $10 million threshold, Francis Bacon generated a revenue total for the year just a couple of millions below his 2007 and 2008 totals… but more than 10 times his combined totals for 2009 and 2010.
Moreover, if it hadn't been for the failed sale of two exceptional quality works (the estimates were over-optimistic, both in 8-figures), Bacon's annual revenue might have given him an even better ranking. The artist's best result of the year was hammered in London for a portrait of his friend Lucian Freud. The work Three studies for portrait of Lucian Freud was estimated at £7-9 million and fetched £20.5 million ($32.9 million) just a few months before Lucian Freud's death.
It is also worth noting that Bacon's market contains numerous affordable multiple works and 50% of his prints fetch less than $10,000.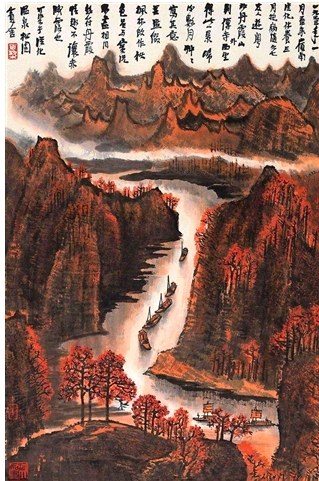 10. Li Keran (1907-1989) – $115m
Just outside the top 10 last year, Li Keran took tenth place in the 2011 ranking. The sixth Chinese artist and perhaps, so far, the least well-known in the West, with only 5 of his works selling outside Asia in 2011.
Although there was no new record for Li Keran last year, he generated his fourth and fifth best results (Landscape in 1979 sold for $5.1 million and Maple woods on Mt. Danxia 1963 fetched $5 million) and his works attract a not particularly selective type of demand: only 13% of his lots failed to sell in 2011. One of the Chinese Moderns, Li Keran mixed traditional ink and accumulations of colours, creating a sense of depth and perspective.
His technique reflected his apprenticeship and his mastery of Chinese landscape painting, but also Western influences. The artist's market is primarily in mainland China where 90% of his revenue is generated. Paintings by the artist seldom travel, and should become increasingly rare on the market, especially after the artist's widow donated over a hundred paintings to the Chinese government.
His progress this year is well deserved considering that in 2001, only 12 years after his death, when the National Museum of Hong Kong organised a major retrospective of his work, Li Keran was already in Artprice's Top 500… at the 345th
place. China's power on the art market has in effect swept Keran all the way to the Top 10.