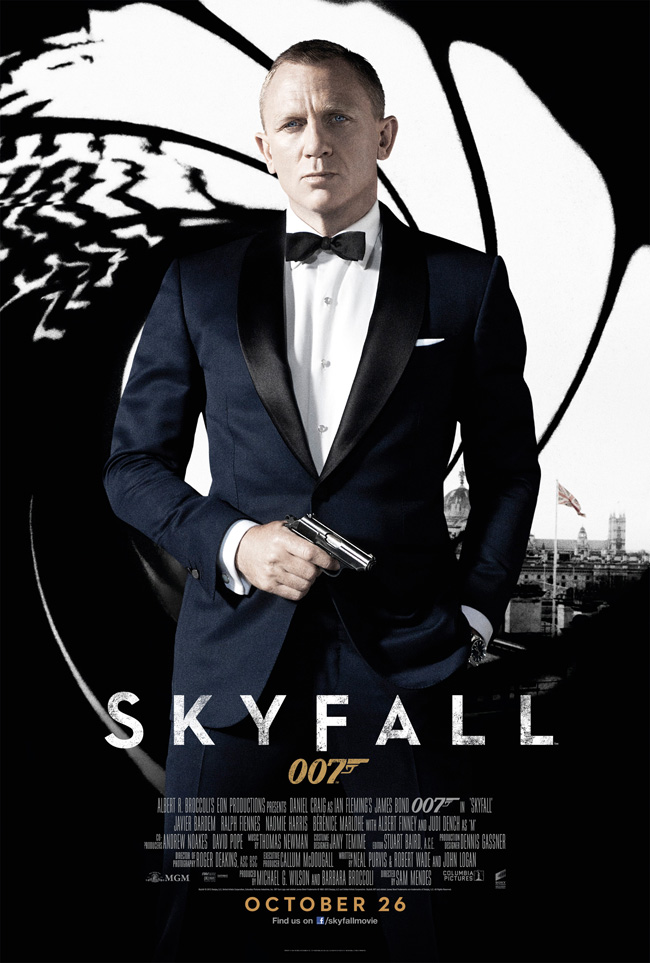 October 5th, 2012 is the Global James Bond Day, marking the 50th anniversary of the James Bond film franchise.Designer Tom Ford dresses Daniel Craig, Johnny Depp, Tom Hanks, Ryan Gosling and Will Smith, among many many others. For Tom Ford's second time fashion collaboration with the famous 007 franchise, the designer said he is "thrilled with the way that Daniel looks in Tom Ford". Craig wears Tom Ford's impeccable tailoring combined with Tom Ford 144 Marko sunglasses featuring silver temples and blue polarized lens. 2012 James Bond has also Swiss timepieces from Omega, and drives Jaguar Land Rover, and BMW rather than Aston Martin. The spy no longer drinks his favorite martini but Dutch beer.
"I was very excited when I was first approached by (film producer) Barbara Broccoli about dressing Daniel Craig as James Bond," said Tom Ford. "I worked with Jany Temime (Skyfall's costume designer) on creating the perfect classic wardrobe. I have been dressing Daniel for some time and know that he looks best when simply dressed, so we did some beautiful suits, tuxedos and daywear. We didn't really modify our suits, as James Bond is a bit like our guy – classic and extremely elegant."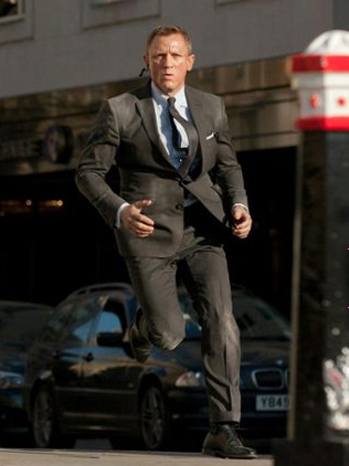 Daniel Craig has played Bond in three films: Casino Royale, Quantum of Solace and Skyfall. Skyfall movie directed by Sam Mendes (American Beauty, Road to Perdition, Revolutionary Road) is starring also Javier Bardem, Judi Dench, Ralph Fiennes, Naomie Harris, Berenice Marlohe, Albert Finney, and Ben Whishaw.
It was Albert R. Broccoli and Harry Saltzman who adapted Ian Fleming's books and brought Dr No to the screen in 1962. The 007 franchise today is the longest running in film history with twenty-three films produced. The latest James Bond adventure entitled "SKYFALL" will be released in the UK on October 26th and in the US on November 9th.
In the US, events for Global James Bond Day include a film retrospective at The Museum of Modern Art in New York and a Music of Bond Night hosted by the Academy of Motion Picture Arts and Sciences in Los Angeles. In other countries around the world, special events have been planned. In the UK, an auction of James Bond memorabilia is taking place at Christie's with all proceeds going to UNICEF and a number of charitable causes. In Belgium and South Africa, offices will celebrate with Bond-themed Casual Fridays where people will turn up to work dressed in gowns and tuxedos. In addition, EVERYTHING OR NOTHING: The Untold Story of 007, the feature documentary, will be screened in Australia, Belgium, France, Holland, India, Japan, Latvia, Mexico, and Russia. Radio stations around the world are planning to play Bond theme songs. In addition, pre-sale tickets for Skyfall will be available in most locations on Friday, October 5.