QATAR AIRWAYS enjoys remarkable success at the 2012 World Airline Awards, winning the top accolade as the Best Airline in the World for the second year running. World Airline Awards are the most prestigious accolades for the world airline industry. Travellers from over 160 countries take part each year in the world's largest airline passenger satisfaction survey, to decide the award winners. The World Airline Awards™ are the global benchmark of airline excellence.
1. Qatar Airways
2. Asiana Airlines
3. Singapore Airlines
4. Cathay Pacific Airways
5. ANA All Nippon Airways
6. Etihad Airways
7. Turkish Airlines
8. Emirates
9. Thai Airways
10. Malaysia Airlines

The Skytrax passenger survey for the awards covered over 200 airlines, from the largest international airlines to small domestic carriers, and measured standards across more than 38 different items of airline front-line product and service. Operated over a 10-month period, the passenger survey achieved more than 18.8 million interviews, drawn from over 100 different nationalities across the world.
The World Airline Awards are regarded as the primary benchmarking tool for Passenger Satisfaction levels of airlines throughout the world – delivering a unique survey format based on analysis of business and leisure travellers, across all cabin travel types (First, Business, Premium Economy and Economy class passengers).
The study analyses customer satisfaction for the Airline Passenger Experience, across the Airport and Onboard environments – check-in to boarding, onboard seat comfort, cabin cleanliness, food, beverages, IFE and staff service.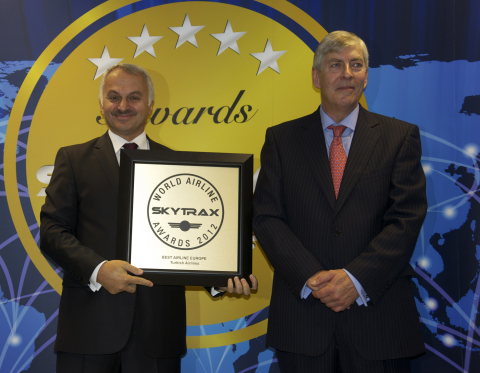 A-Z Award Winner Photo Index for 2012
Aegean Airlines – Best Regional Airline in Europe
Air Astana – Best Airline in Central Asia / India
Air Canada – Best International Airline in North America
Air Transat – World's Best Leisure Airline
AirAsia – World's Best Low-Cost Airline
AirAsia – Best Low-Cost Airline in Asia
Alaska Airlines – Best Regional Airline in North America
ANA All Nippon Airways- Best Airline Transpacific
Asiana Airlines – Best Airline in Asia
Asiana Airlines – Best Economy Class Airline Seat
Azul Airlines – Best Low-Cost Airline in South America
British Airways – Best Airline Transatlantic
Cathay Pacific Airways – World's Best Business Class
China Eastern Airlines – World's Most Improved Airline
easyJet – Best Low-Cost Airline in Europe
Emirates – World's Best Inflight Entertainment
Etihad Airways – World's Best First Class
Etihad Airways – Best First Class Onboard Catering
Etihad Airways -Best First Class Airline Seat
EVA Air – Best Airline Staff Service in Asia
Finnair – Best Airline in Northern Europe
Garuda Indonesia – World's Best Regional Airline
Garuda Indonesia – Best Regional Airline in Asia
Hainan Airlines – Best Airline in China
Hainan Airlines – Best Airline Staff Service in China
IndiGo Airlines – Best Low-Cost Airline in Central Asia / India
IndiGo Airlines – Best Airline Staff Service in Central Asia / India
Jetstar Airways – Best Low-Cost Airline in Australia / Pacific
KLM Royal Dutch Airlines – Best Airline Staff Service in Europe
Lufthansa – Best Airline in Western Europe
Malaysia Airlines – World's Best Cabin Staff
Malaysia Airlines – Best Airline Signature Dish
Oman Air – Best Business Class Airline Seat
Qantas Airways – World's Best Premium Economy Class
Qantas Airways – Best First Class Airline Lounge
Qantas Airways – Best Premium Economy Onboard Catering
QATAR AIRWAYS 0 AIRLINE OF THE YEAR
Qatar Airways – Best Airline in the Middle East
Qatar Airways – Best Staff Service in Middle East
Shenzhen Airlines – Best Regional Airline in China
Singapore Airlines – World's Best Economy Class
Singapore Airlines – Best Economy Class Onboard Catering
South African Airways – Best Airline in Africa
South African Airways – Best Airline Staff Service in Africa
Star Alliance – World's Best Airline Alliance
Swiss International Air Lines – Best Business Class Onboard Catering
TACA Airlines – Best Airline in Central America / Caribbean
TACA Airlines – Best Staff Service in Central America / Caribbean
TAM Airlines – Best Airline in South America
TAM Airlines – Best Airline Staff Service in South America
Thai Airways – World's Best Airport Services
Transaero Airlines – Best Airline in Eastern Europe
TRIP Linhas Aéreas – Best Regional Airline in South America
Turkish Airlines – Best Airline in Europe
Turkish Airlines – Best Airline in Southern Europe
Turkish Airlines – Best Premium Economy Class Airline Seat
Virgin America – Best Domestic Airline in North America
Virgin America – Best Low-Cost Airline in North America
Virgin America – Best AirlineStaff Service in North America
Virgin Australia – Best Airline in Australia / Pacific
Virgin Australia – Best Staff Service in Australia / Pacific