The Oberoi, Gurgaon is World's Leading Luxury Hotel Voted by World Travel Awards, 2011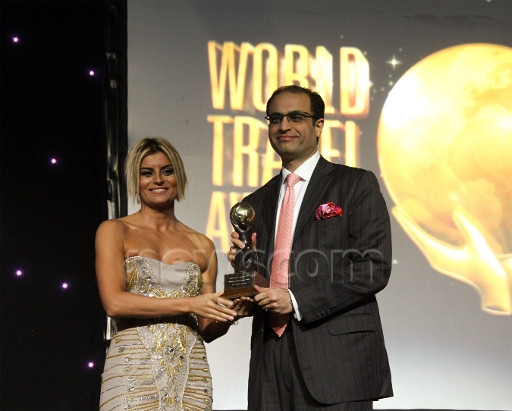 The Oberoi, Gurgaon (a hotel which opened in April, 2011) has been voted World's Leading Luxury Hotel, 2011 by the World Travel Awards. This was announced at the Grand Final Gala Ceremony held in Doha, Qatar.
"This is indeed a very proud moment for us. To win this accolade is an affirmation of The Oberoi Group's
unwavering commitment to offering guests world class facilities and unsurpassed service standards. I accept this award on behalf of my entire team who work passionately to give our guests warm, personalised and caring service." said Kapil Chopra, Executive Vice President, The Oberoi, Gurgaon | Trident, Gurgaon.
Described as the 'Oscars' of the travel and tourism industry by The Wall Street Journal, World Travel Awards are recognised globally by the travel, tourism and hospitality industry as the foremost acknowledgement of excellence in product and service.
The 2011 World Travel Award Winners for World in luxury category include: Maradiva Villas Resort and Spa, Mauritius (World's Leading Luxury Island Resort), Mardan Palace, Turkey (World's Leading Luxury Resort), The Blue Train (World's Leading Luxury Train), Radisson Royal Hotel, Moscow (World's Leading Luxury Business Hotel).
World's Leading Luxury All Suite Hotel   – Raffles Makkah Palace, Saudi Arabia
World's Leading Luxury Business Hotel   – Radisson Royal Hotel, Moscow
World's Leading Luxury Car Rental   – Avis Prestige
World's Leading Luxury City Hotel   – Leopolis Hotel, Ukraine
World's Leading Luxury Cruise Line   – The Yachts of Seabourn
World's Leading Luxury Historic Hotel   – Hotel Adlon Kempinski, Germany
World's Leading Luxury Hotel    – The Oberoi Gurgaon, India
World's Leading Luxury Hotel Brand   – The Luxury Collection
World's Leading Luxury Island Resort   – Maradiva Villas Resort and Spa, Mauritius
World's Leading Luxury Lodge   – Thanda Private Game Reserve, South Africa
World's Leading Luxury Resort   – Mardan Palace, Turkey
World's Leading Luxury Resort Brand   – Amanresorts
World's Leading Luxury Sailing Cruise Company   – Star Clippers
World's Leading Luxury Tour Operator   – Abercrombie & Kent
World's Leading Luxury Train   – The Blue Train
World's Leading Luxury Travel Product of the Year – Silversea Cruises
World's Luxury Boutique Hotels Collection – Mantis Collection
[adsenseyu1]
The winners of the 18th World Travel Awards, voted by travel agents worldwide:
World's Excellence In Service Award – Jumeirah
World's Leading Air Miles Program – Lufthansa
World's Leading Airline    – Etihad Airways
World's Leading Airline Alliance – Oneworld
World's Leading Airline Business Class – Qatar Airways
World's Leading Airline Economy Class – Cathay Pacific Airways
World's Leading Airline First Class – Etihad Airways
World's Leading Airline Inflight Entertainment    – Virgin Atlantic Airways
World's Leading Airline Lounge: Business Class    Qatar Airways
World's Leading Airline Lounge: First Class    British Airways
World's Leading Airline to Africa – TAP Portugal
World's Leading Airline to Asia    – Malaysia Airlines
World's Leading Airline to Central America – Copa Airlines
World's Leading Airline to Europe – Lufthansa
World's Leading Airline to North America – Virgin Atlantic Airways
World's Leading Airline to South America – TAP Portugal
World's Leading Airline to The Caribbean – Virgin Atlantic Airways
World's Leading Airline to the Middle East – Etihad Airways
World's Leading Airline Website    – American Airlines
World's Leading Airport – Singapore Changi Airport
World's Leading Airport Hotel Airways – Hotel Port Moresby, Papua New Guinea
World's Leading All Suite Hotel & Spa – Hotel Les Ottomans, Turkey
World's Leading All-Inclusive Company – Sandals Resorts International
World's Leading All-Suite Hotel    – Burj Al Arab, Dubai
World's Leading Beach Destination – Mauritius – Trou Aux Biches
World's Leading Beach Resort   – Le Royal Meridien Beach Resort & Spa, Dubai
World's Leading Boutique Golf Resort  –  Fairplay Golf Hotel & Spa, Spain
World's Leading Boutique Hotel   – Saxon Boutique Hotel & Spa, South Africa
World's Leading Boutique Hotel Group –   Island Outpost
World's Leading Boutique Island Resort –   Pacific Resort Aitutaki, Cook Islands
World's Leading Boutique Resort   – Vila Joya, Portugal
World's Leading Budget Hotel Brand  – Premier Inn
[adsenseyu1]
World's Leading Business Car Rental Company  –  Avis
World's Leading Business Hotel –  Grosvenor House Dubai, United Arab Emirates
World's Leading Business Hotel Group  –  InterContinental Hotels & Resorts
World's Leading Business Travel Agency  –  American Express
World's Leading Business Travel Destination  –  Doha
World's Leading Car Hire   – Europcar
World's Leading Caribbean Attraction Company  –  Island Routes
World's Leading City Hotel –   Pan Pacific Singapore
World's Leading Conservation Company  –  Shamwari Game Reserve, South Africa
World's Leading Cruise Brand –   Royal Caribbean Cruise Line
World's Leading Cruise Destination   – Jamaica
World's Leading Cruise Line  –  Royal Caribbean Cruise Line
World's Leading Cruise Port  –  Dubai, United Arab Emirates
World's Leading Cruise Travel Agent   – cruise.co.uk
World's Leading CSR Programme   – Starwood Hotels
World's Leading Design Hotel  –  Adam & Eve at Belek, Turkey
World's Leading Designer Hotel   – Armani Hotel Dubai
World's Leading Destination  –  India
World's Leading Destination Management Company  –  Kuoni Destination Management
World's Leading Destination Marketing Campaign   – Abu Dhabi Tourism Authority
World's Leading Dive Destination   – Sharm El Sheikh, Egypt
World's Leading Dive Resort  –  The Royal Savoy Sharm El Sheikh
World's Leading Eco Resort & Spa  –  Soneva Kiri by Six Senses Thailand
World's Leading Eco-Lodge  –  Sanbona Wildlife Reserve – Dwyka Tented Lodge, South Africa
World's Leading Family All-Inclusive –   Beaches Resorts
World's Leading Family Resort  –  Jebel Ali Golf Resort & Spa, United Arab Emirates
World's Leading Ferry Operator –   DFDS Seaways
World's Leading Fully Integrated Resort  –  Cornelia Diamond Golf Resort & Spa, Turkey
World's Leading Golf Resort  –  Casa de Campo, Dominican Republic
World's Leading Green Cruise Line  –  Star Clippers
World's Leading Green Destination   – Cousine Island, Seychelles
World's Leading Green Resort  –  Forte Village Resort, Italy
World's Leading Green Tour Operator –   Kuoni Group, Switzerland
World's Leading Green Transport Solution Company –   Europcar
World's Leading Heritage Hotel –   The Raj Palace
World's Leading Honeymoon Destination   – Jamaica
World's Leading Hotel  –  Burj Al Arab, Dubai, United Arab Emirates
World's Leading Hotel & Residences   – W Doha Hotel and Residences
World's Leading Hotel Alliance   – Leading Hotels of the World
World's Leading Hotel Brand  –  InterContinental Hotels & Resorts
World's Leading Hotel Loyalty Programme –   Starwood Preferred Guest
World's Leading Hotel Spa  –  Mardan Spa, Mardan Palace, Antalya, Turkey
World's Leading Hotel Villas –   Round Hill Hotel & Villas, Jamaica
World's Leading Island Destination  –  Mauritius
World's Leading Island Resort   – Pullman Timi Ama Sardegna
World's Leading Island Villas –   Te Manava Luxury Villas & Spa, Cook Islands
World's Leading Landmark Hotel  – Makkah Clock Royal Tower – A Fairmont Hotel, Saudi Arabia
World's Leading Large Ship Cruise Line  –  Royal Caribbean Cruise Line
World's Leading Leisure Car Rental Company   –  Europcar
World's Leading Leisure Hotel   – Kempinski Hotel Mall of the Emirates Dubai
World's Leading Lifestyle Hotel  –  Hilton Beijing Wangfujing, China
World's Leading Low-Cost Airline  –  Easyjet
World's Leading Marketing Campaign  –  Welcome To Yorkshire
World's Leading Marketing Innovation  –  Sixt
World's Leading Medical / Wellness Spa  –  Grand Hotel Lienz, Austria
World's Leading Medical Wellness & Spa Operator –  Vitality World
World's Leading Meetings & Conference Centre   – Abu Dhabi National Exhibitions Centre – ADNEC
World's Leading Meetings & Conference Hotel –   Emirates Palace, Abu Dhabi, United Arab Emirates
World's Leading Meetings Hotel  –  Swissotel Krasnye Holmy, Moscow, Russia
World's Leading New Hotel   – Jumeirah at Etihad Towers
World's Leading New Resort  –  One&Only The Palm, Dubai
World's Leading New Villa Resort   – Ayada Maldives
World's Leading Palace Hotel  –  The Ritz- Carlton, Riyadh
World's Leading Polar Expedition Operator  –  Oceanwide Expeditions
World's Leading Presidential Suite –   Palace Suite, Emirates Palace, Abu Dhabi
World's Leading Private Island  –  Cousine Island, Seychelles
World's Leading Private Island Resort  –  Necker Island, British Virgin Islands
World's Leading Private Jet Charter  –  Royal Jet Group
World's Leading Rail Service –   Eurostar
World's Leading Residential Apartments   – The Regent, South Africa
World's Leading Resort  –  Forte Village Resort, Italy
World's Leading River Cruise Operator  –  Viking River Cruises
World's Leading Safari & Game Reserve –   Shamwari Game Reserve, South Africa
World's Leading Serviced Apartment Hotel  –  Grosvenor House Dubai, United Arab Emirates
World's Leading Shopping Centre Hotel  –  Kempinski Mall of Emirates, Dubai
World's Leading Ski Resort  –  Gstaad Palace, Switzerland
World's Leading Small Ships Cruise Line   – Star Clippers
World's Leading Spa Resort  –  Jumeirah Zabeel Saray, Dubai
World's Leading Specialist Cruise Line  –  Swan Hellenic
World's Leading Sports Tour Operator –   TUI Travel PLC's Specialist & Activity Sector
World's Leading Sports Tourism Destination   – South Africa
World's Leading Sports Tourism Development Project  –  Aspire Zone, Qatar
World's Leading Thalasso & Spa Resort    Aldemar Royal Mare Village, Greece
World's Leading Theme Resort  —  Universal Orlando, Florida, USA
World's Leading Tourism Development Project    Port Authority of Jamaica – Port of Falmouth
World's Leading Tourism Property Development Company    Emaar Hospitality Group
World's Leading Tourist Board  –  Incredible India
World's Leading Travel Agency  –  Regency Travel & Tours, Qatar
World's Leading Travel Experience by Train –   Rocky Mountaineer – GoldLeaf Service
World's Leading Travel Management Company  –   FCm Travel Solutions
World's Leading Villa Resort & Spa –   Soneva Gili by Six Senses, Maldives
World's Leading Watervilla  –  Baros Maldives
World's Most Innovative Airline   – Korean Air
World's Most Romantic Destination  –  Maldives
World's Most Romantic Resort    – Sandals Grande Antigua Resort & Spa, Antigua
World's Responsible Tourism Award  –  Abu Dhabi Tourism Authority
World's Ultimate Service Award in Hospitality  –  Dukes Hotel, London.
[adsenseyu1]
World Travel Awards