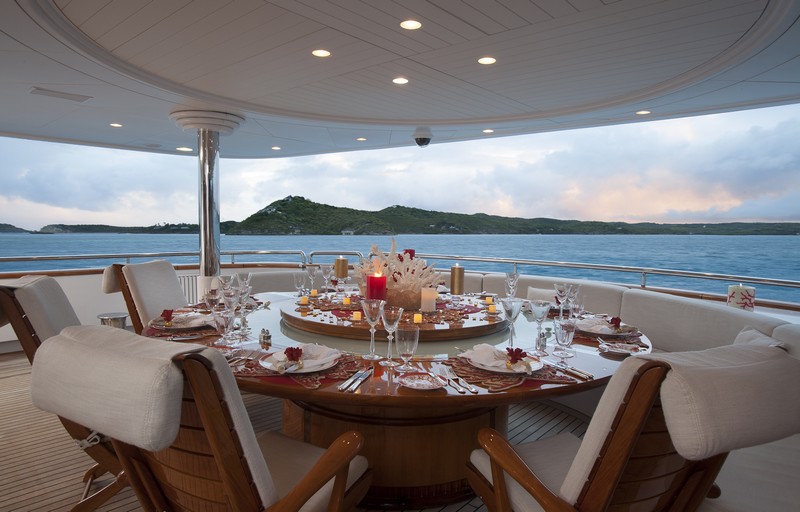 Travel prises opens the possibility of the world like a pearl in your hand. From mesmerizing sights to moments you won't forget, all of your senses can spark to life and one of these senses has to be taste. With amazing journeys comes amazing tastes and for megayacht adventurers, there can be nothing more rewarding than tracking down the finest places to dine. Yet delight doesn't only linger in the taste buds but in the whole experience, sometimes we want to be tantalized by our surroundings.
MY Starfire can offer signature dining experiences in some of the worlds very best destinations, from cracking crab claws on the lost pirate islands of the Bahamas, to sitting pretty in some whispering white and blue grotto of Greece, these are the places you want to sit, sip something special, and tantalize both your taste buds and your eyes to treasures of pure pleasure. With a private chef onboard, silver service or informal al fresco dining, and the hot tub already fired up for a soft soak beneath starlight, take a look at these gorgeous dining experiences waiting for you.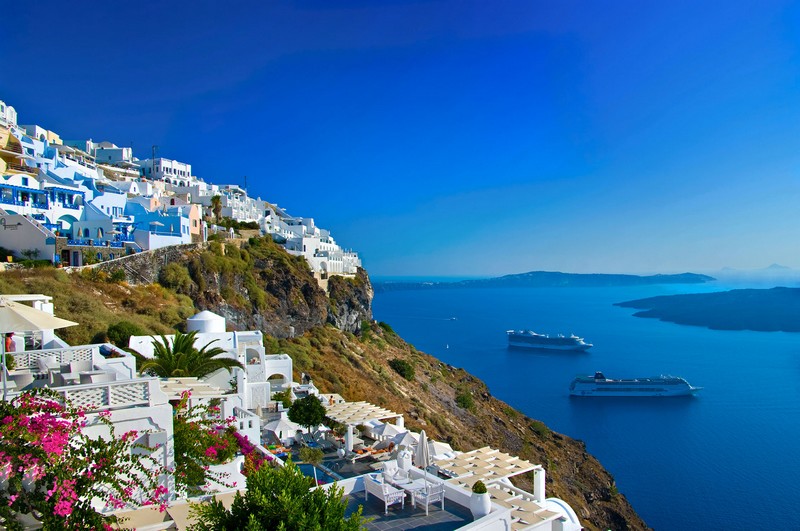 Beneath Santorini, Greece
Those who dream of dining beneath a rising plateau of sparkling white and sapphire blue will adore watching the lights go out over Santorini. Hailed as the most beautiful of all the Greek islands, this is a place where myth and magic dance in pure decadence. Sip a special Santorini wine to the spectacle of one of the worlds very best sunsets as you nibble on a mezze platter. Soft smoky olives, feta from the depths of the hills, fresh Aegean fish snared in the line that very morning, and a tapestry of blue illuminated at first by the orange and gold of the setting sun, followed by the smudged lavender and dashed whites of the stars. This is the only way to dine, aboard your mega yacht lost to the heavenly delights of Greece.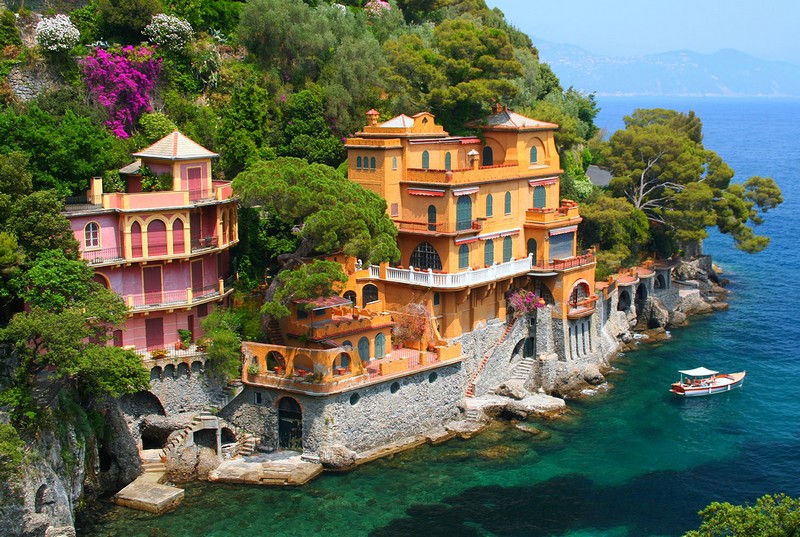 On the shores of Portofino, Italy
Pretty Portofino with its pastel shades reflecting in the mirror like waters and its cozy café charm scented with ripe coffee beans, this is another megayacht favorite for those seeking Italian flair. Italy is world famous for its stunning farmer's fresh markets and its impeccable cuisine, spend the morning picking out perfect cuts of cured meats, nutty fragrant cheeses, home baked breads, crisp calamari, glistening oysters and more. Back on MY Starfire you can dine out on the beautiful aft deck, crack open the finest Prosecco and sit down to a feast fit for kings as you watch the twinkling lights glitter in the port and the fishermen return home from their day.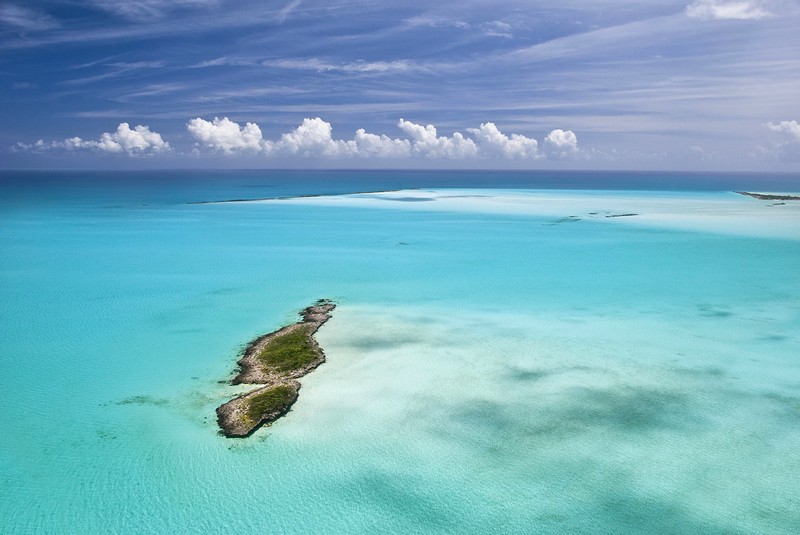 The grottos of Exuma, the Bahamas
If you truly want a megayacht dining experience that seems to have been plucked from a fairytale, then it seems that Exuma in the Bahamas is the perfect place to be. This is a place soaked in every shade of blue, where sunlight slants in through intricate cave wall patterns and where all manner of fishes' flit beneath the surface. Pack the tender with fresh lobster and champagne and hit the grottos, spend the last few hours of daylight plunging into the crystalline waters, snorkeling with the sea creatures and dreaming up pirate tales from the past. Celebrate with a champagne picnic perched on a rock as you watch the luminous blue and gold light fade away.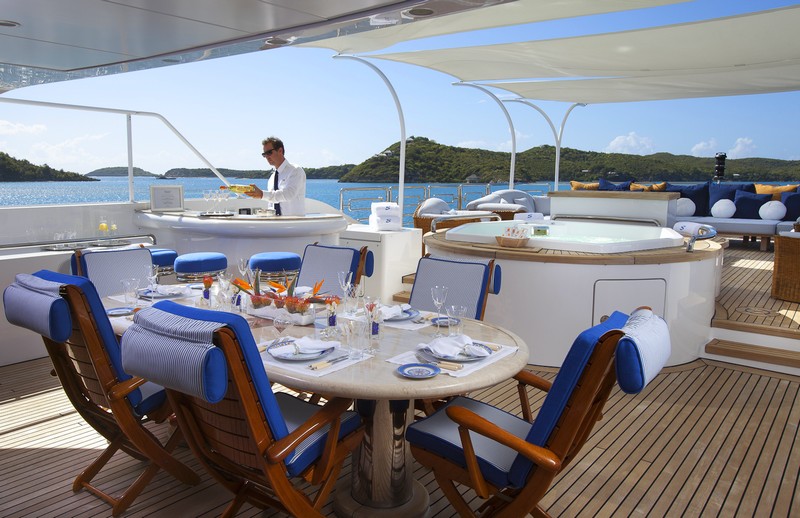 On a desert island in Tavolara, Sardinia
Imagine a private picnic dinner on one of Europe's most secretive and tiniest of kingdoms. The desert island of Tavolara is a mere slip, reaching just over five kilometers, with a self-proclaimed king, 20 residents, and water so clean and clear you can almost see to the center of the earth. MY Starfire can drop anchor close to the rising spire of monolith golden rock, sip a few cocktails on deck whilst admiring the view and then swim in the warm blue waters to reach the deserted sands. Pack a picnic basket with strips of wild boar, hunks of pane carasau shepherds bread, sweet ravioli drizzled in mountain honey, suckling pig, and local wines that know how to pack a punch.