First of 30 Bespoke Rolls-Royce Phantoms presented to Stephen Hung at 2016 Geneva Motor Show. Rolls-Royce has worked with the billionaire for over two years to create a singularly unique automobile.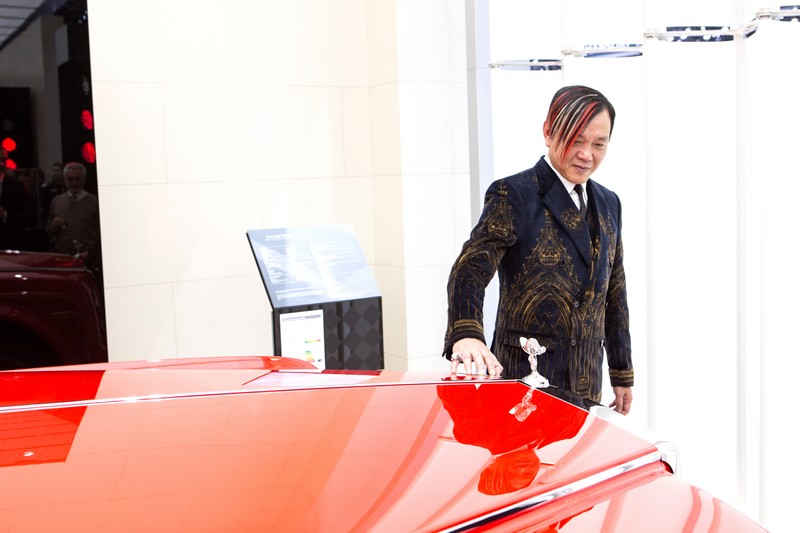 The first of 30 highly Bespoke, Extended Wheelbase Rolls-Royce Phantoms, exclusively handcrafted for The 13 hotel in Macau (considered the most expensive in the world) has been handed over to Chinese tycoon Stephen Hung, Joint Chairman of Louis XIII Holdings, at the 2016 Geneva International Motor Show.
The motor car, conceived and crafted in close collaboration with Stephen Hung is one of a fleet of 30 extraordinary Bespoke Phantoms that represent the largest single commission in Rolls-Royce history.
The 13's Rolls-Royce Phantoms are adorned with a specially formulated 'Stephen Red' exterior paint. The motor car's exterior is complemented by a hand-painted twin-coachline in gold that culminates in a specially designed motif. The Bespoke 21" wheels are also finished in 'Stephen Red'.
Hung's commission for 30 Phantom Extended Wheelbase motor cars, two of which were, at the time of commissioning, the most expensive motor cars ever built by Rolls-Royce, was announced in September 2014. These two special motor cars feature gold Spirits of Ecstasy's, gold Parthenon Grilles, gold interior accents and diamond encrusted Rolls-Royce badges, which have been painstakingly crafted at the Home of Rolls-Royce in Goodwood, England. Additionally, the 'Stephen Red' paint on the two special 'Gold' Phantoms is infused with fine particles of pure gold.
Every possible concession to passenger comfort has been made. For example, a refrigerator housed between the rear seats has been commissioned to ensure guests are always able to effortlessly reach for a bottle of water or a cold towel whilst hand-milled up holders serve as the perfect place to hold a glass of Champagne. Specially commissioned door panniers have been added to house a tissue box ensuring every accoutrement is available to guests seeking to refresh after a long flight.
Rear picnic tables presented in 'Stephen Red' and finished with hand-applied Gold inlays discreetly house Phantom's suite of cutting-edge entertainment technology.
The interior scheme is completed with one of the marque's most enduringly popular Bespoke design flourishes, the Starlight Headliner, an exhaustively crafted expression of the heavens over Macau on the night of The 13's ground breaking, formed of 1,360 individually hand-woven fibre-optic lights that serves to bathe occupants in a warm celestial glow.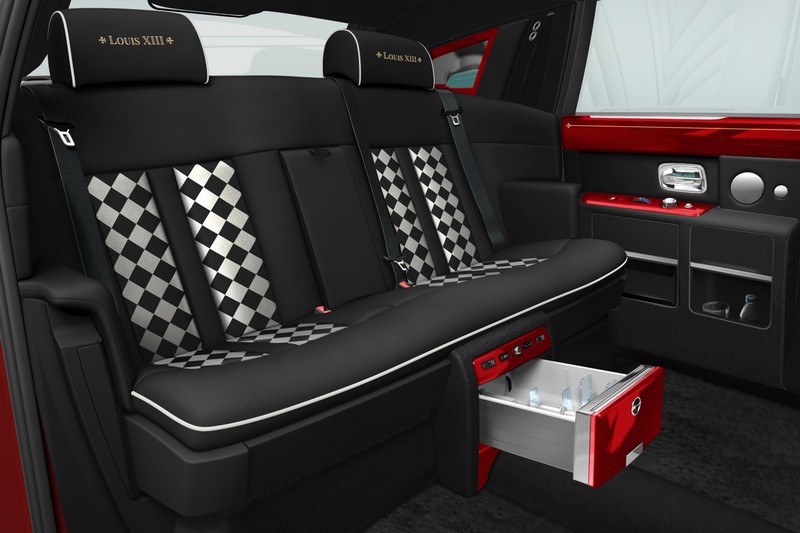 With only 200 rooms, developed at a cost of over US$7 million per room, Stephen Hung's 13 hotel is set to be the most luxurious ever built. Designed by noted luxury architect, Peter Marino, the hotel is baroque-inspired but accented with delightful modern elements. The "entry level" accommodations have an average gross floor area of 2,000 square feet, while the largest is over 30,000 square feet. The company also placed the largest ever order of Rolls-Royces to create a signature fleet of 30 custom Extended Wheel Base Phantoms, two of which, accented in gold, will be the most expensive Rolls-Royces ever built.
All 30 Rolls-Royce Phantoms will all be delivered to The 13 hotel before it opens in late summer 2016.