The most popular form of vacationing among affluent holidaymakers: US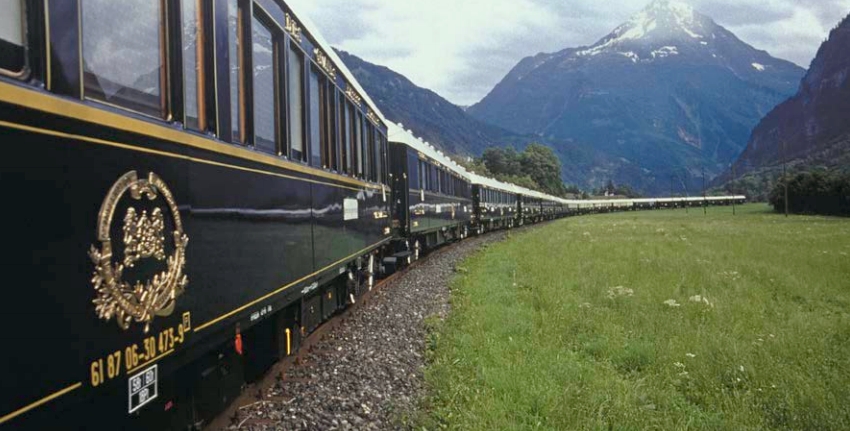 According to the biennial study Resonance Report 2013, in good times and bad, the desirability of leisure never wanes for affluent American households. Leisure is an unwavering, trend-proof, recession-resilient status symbol. What shifts is the choice of travel companion, destination and experience.
The Resonance Report 2013 focused on understanding the travel, leisure and lifestyle aspirations of U.S. households with incomes of $150,000 or more. According to the latest Federal Reserve Board Survey of Consumer Finances (2010), the average income of these households is $370,000 and their average net worth is $3.1 million.
For all the talk of the time faced by the affluent, taking time off is something they do more often and for longer periods than everyone else – an average of three six-day vacations a year, according to our study. Compare those 18 days to figures gathered on all U.S. consumers by the U.S. Travel Association.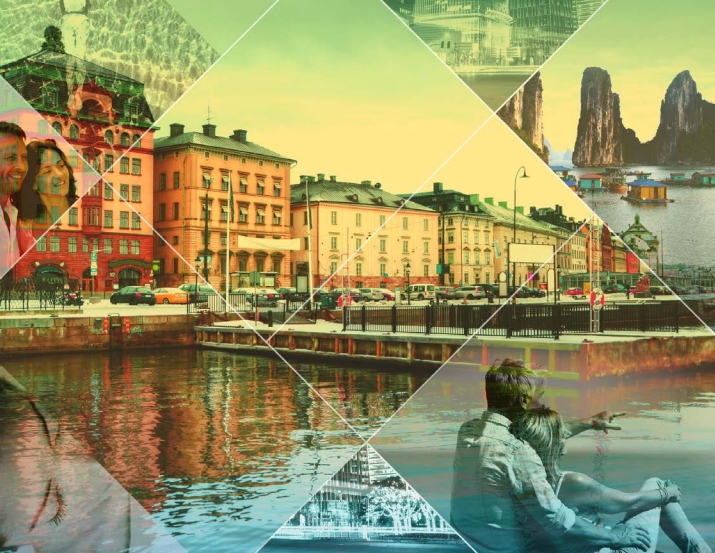 In 1975, according to the USTA, vacations averaged more than seven days. By 1985, the average vacation had shrunk to 5.4 days, and by 2010, it stood at 3.8 days.
Today, the affluent increasingly value their traveling companions as well as their free time: in 2008, only 19% of those surveyed said that their next vacation would be a romantic getaway, but in 2012, fully 29% planned to travel with a loved one. Family vacations, which were intended by only 31% in 2008, jumped to 57% in 2012. And vacations with friends rose from 15% in 2008 to 35% in 2012. People are clearly more important than things, at least when it comes to vacations. But the affluent taste for luxury goods hasn't gone away, even if, as many sources have reported, elegance has replaced ostentation.
Key Findings of the Resonance Report include:
Affluent American households take an average of 3 vacations a year averaging 6 days in length.
Ritz Carlton is the #1 hotel brand of choice for high net worth households ($1MM+) on vacation
Marriott is the most frequented hotel brand of affluent households
New York City is the most popular U.S. vacation destination, followed by Las Vegas and San Francisco
The Bahamas is the most visited island destination, followed by Puerto Rico and Jamaica and Turks & Caicos is the #1 
destination affluent households aspire to visit
Italy is the #1 overseas vacation destination for affluent households followed by the U.K. and France.
Wine country tours and luxury cruises are the most desired type of vacation experiences
Affluent owners of vacation properties use them an average of 5 weeks per year.
Affluent consumers are willing to spend an average of $650,000 on their next vacation property.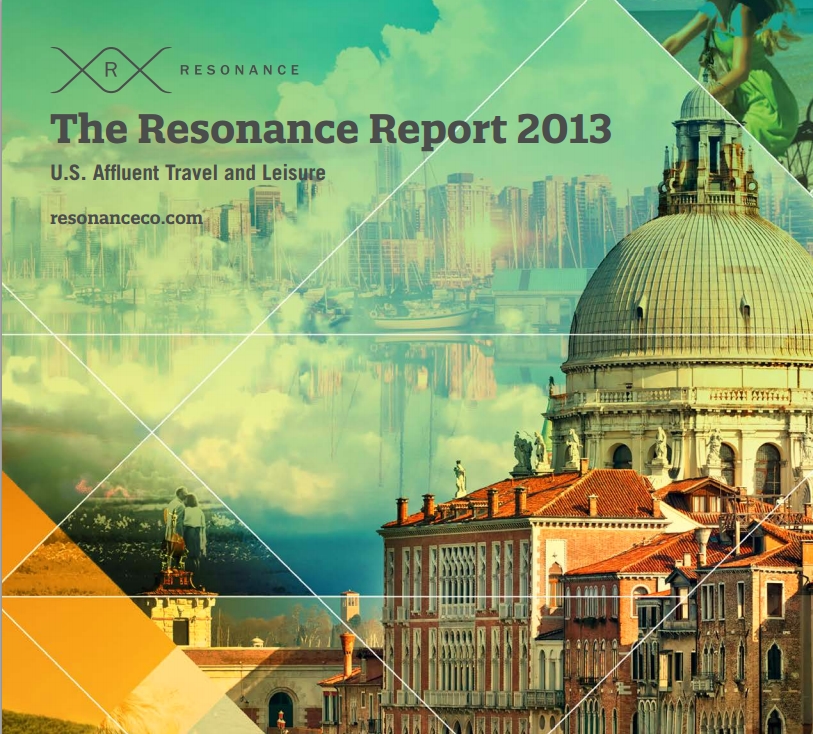 While there were approximately two million fewer millionaire households in the U.S. in 2011 (10.5 million) than at their peak in 2006, the number is expected to recover by 2014 and grow to 20.5 million by 2020, according to a recent study by Deloitte and Oxford Economics. In addition, their total wealth is anticipated to grow from $39 trillion in 2011 to $87 trillion by 2020.
According to Deloitte and Oxford estimates, those in the $1  million – $5 million wealth cohort will number 15.8 million households in 2020, a growth of 103% over the course of the decade. The $5 million – $30 million cohort is also likely to exhibit strong growth – 83% over the next decade – while the $30 million+ cohort is expected to grow by 24%.
As the number of affluent households grows this decade, and middle class households continue to experience little to no gains in income, the affluents' share of and influence on consumer discretionary spending will continue to grow.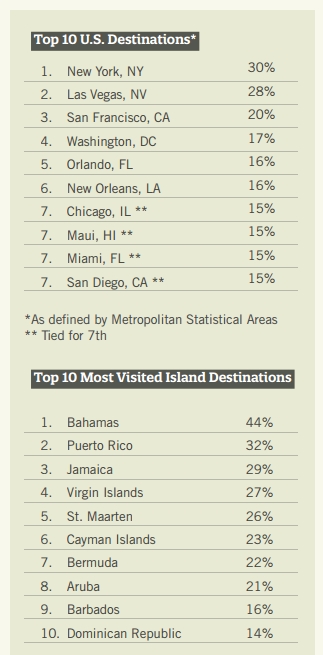 On the Trail of the World's Largest Luxury Travel Market.
The Resonance Report 2013 shows that vacation travel is a key priority for affluent Americans. And although travel abroad suffered a drop in demand from 2008 to 2011 among travelers of every demographic, there are clear signs of a recovery, which is forecast to pick up speed in 2013. Americans will be traveling in increasing numbers, with the affluent out front.
When asked 'what experiences are you most interested in having on a future vacation', tours through wine country in Bordeaux, Napa or Tuscany tied with luxury cruises as the most popular choice of Resonance Report respondents (37%). The U.S. Travel Association (USTA) estimates that 17% of U.S. travelers, 27.3 million, have engaged in 'culinary or wine-related activities while traveling' and that in California, almost 21 million travelers visited wine regions in 2008, with Napa Valley alone receiving 5 million.
The most popular forms of travel and entertainment among affluent households in the US:
1. Tour through wine country in Bordeaux, Napa, Tuscany.
2. Cruise on a luxury liner such as the QE2.
3. Attend a Broadway or West End show.
4. Visit a rare or remote landscape (i.e., Antarctica, etc.).
5.. Take a trip on the Orient Express or Rocky Mountaineer.
6. Trip to luxury casino and attend shows in Las Vegas.
7. Go on a safari in Africa.
8. Attend a major sporting event (i.e., Wimbledon).
9. Take a family vacation to Disney.
10.Go on a spa retreat (such as Canyon Ranch).
Extreme or Easy.
The affluent are increasingly enjoying once-in-a-lifetime experiences, using their leisure time for a wide range of luxurious adventures – from exploring exotic landscapes on foot to seeing rare animals up close, getting insideraccess to an exclusive place or event and even taking part in triathlons.
Leisure Boom
In 2011, the first Baby Boomers turned 65, the age at which most Americans traditionally consider retirement. While their parents may have worked decades for the same organization to get the gold watch and pension, Boomers as a generation are defined by their insistence on changing – or inventing – the rules. The travel and tourism business is no exception to the rule of Boomers… and increasingly to their multigenerational tribe.
Wealth & Wellness.
Over the past 20 years, Boomers have been a key driver of the growth and expansion of luxury spas – places to indulge in sumptuous feel-good (and look-good) treatments. But the Resonance Report 2013 shows that today, with Boomers entering retirement, their interest in luxury spas is waning. The luxury spa of yesterday is evolving into the next generation's holistic wellness resource of the future.
Technology: Getting up to Speed
Technology has transformed the lives of Americans, and the affluent are now embracing it on their own terms across a broad range of platforms. In travel, they're increasingly using technology for every aspect of journeys: they start by researching destinations, investigating and booking hotels, staying connected on location – and even bringing branded electronic souvenirs back home.
What do you get the person who has everything? A smartphone, apparently. Among Resonance Report survey respondents, 50% placed the smartphone solidly at the top of the 'desired goods, services and experiences' list in 2012, while 43% said a tablet or e-reader was highly desirable, ranking it #6 (a product that did not even exist on the survey in 2008).
Considering that there are currently 700 million smartphones in the world, used across a variety of income brackets, the smartphone is more a pleasurable tool with almost unlimited potential than what we'd traditionally consider a 'luxury.' What the smartphone really does for the well-off is buy the luxury of time, choice and the instant gratification to which affluents have become accustomed.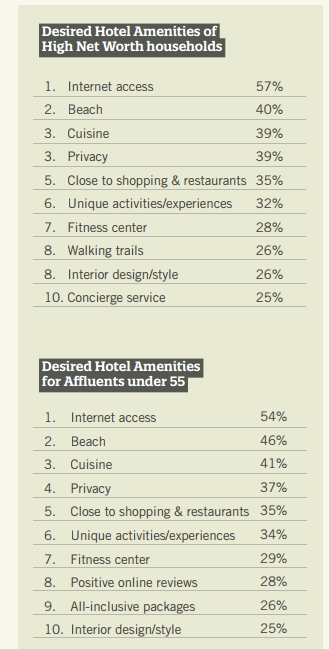 Foodie Fix.
Time was, when you wanted to match up the words 'cuisine' with 'affluent', you'd conjure Gatsby-esque images of Champagne gushing from fountains and caviar by the pail. Today, affluent American travelers are noshing on local food and sipping their way through the wine countries of the world, influencing food trends as they go.
Creative Consumption. 
Creative Tourism involves an experience that's hands-on – or glass-full – and brings visitors in face-to-face. contact with locals and their culture. For an affluent and conscientious post-recession traveler – as opposed to a conspicuous consumer – Creative Tourism provides some of the world's most meaningful, memorable and personally relevant journeys.
Real Estate. A Time of Transition.
The resort real estate industry was shaken in the wake of the financial crisis. Today, resort communities must form new identities around authentic local experiences and fostering connections to family and community. At the same time, second home buyers are increasingly looking to cities over the countryside when it comes to purchasing a vacation home.