Global deliveries of the uber-luxurious BMW i8 plug-in hybrid sports car began last week,giving new owners the chance to admire the craftsmanship that has gone into this model. The i8 could take on eco-friendly luxury rivals like the Tesla Model S with its efficient engines and carbon fibre body. It's capable of running for up to 25 miles on battery power alone, and can quickly reach speeds of 60mph in only 4 seconds. Yet one of the standout features of this hot new model is its laser headlamp system.
LED vs. Laser Lighting
If you take a look at review sites like Motoring to keep up with the latest news, it may seem as though LED headlamps have only recently become a common feature in high-end cars. Yet lasers take lighting technology to the next level. BMW claims that these laser high beams are capable of doubling the range of LEDs, while also being smaller and more efficient. A laser headlamp can potentially provide 1000 times greater intensity than a conventional LED, while using half of the energy. Laser headlamps provide 170 lumens of output per watt, compared to the 100 lumens per watt for LED lights. By contrast, a standard household 100-watt light bulb produces 1000 lumens of illumination.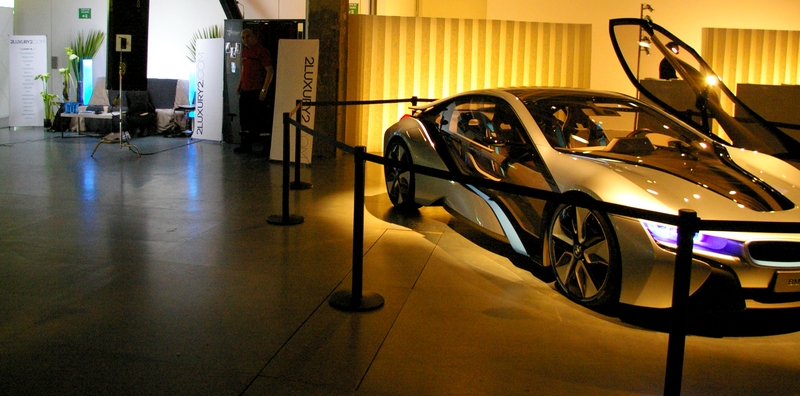 If using lasers as headlamps sounds dangerous, BMW has stated that they will be completely safe due to the beam of light being indirect. Although the laser beam is initially blue, it is converted into a pure white light using a fluorescent phosphor material. These new headlamps are capable of implementing many of BMW's other forms of lighting technology,including adaptive headlights, auto-dimming, and automatic pedestrian illumination. The i8 will produce 344 Lumens, designed to comply with EU law, and the new lights are designed to arc away from other cars on the road to avoid impacting other drivers. They can move vertically, horizontally, and on swivels to illuminate the road ahead without blinding anyone.
Competition
BMW's not the only luxury manufacturer to use laser focus in getting this technology into their vehicles. Audi has also stepped up to the plate, pushing BMW aside to be the first manufacturer to offer laser light technology with the release of their limited-edition R8 sports car. The new R8 LMX has been revamped with not only greater performance and power, but also new laser headlamps as well. Only 99 of these models will be available however, in comparison to the BMW i8 which enjoys full-time production. Audi showcased its new laser technology during the Le Mans 24 hour race, which the brand claims will give pilots an advantage particularly with night racing.
Although BMW and Audi have jumped to the front of the pack to provide laser lighting in their high-end vehicles, you can expect that other manufacturers won't be far behind. At the moment, LED lights are the gold standard for luxury cars, but laser lighting will soon become coveted due to its efficiency and the widespread desire in drivers to own the latest forms of technology.