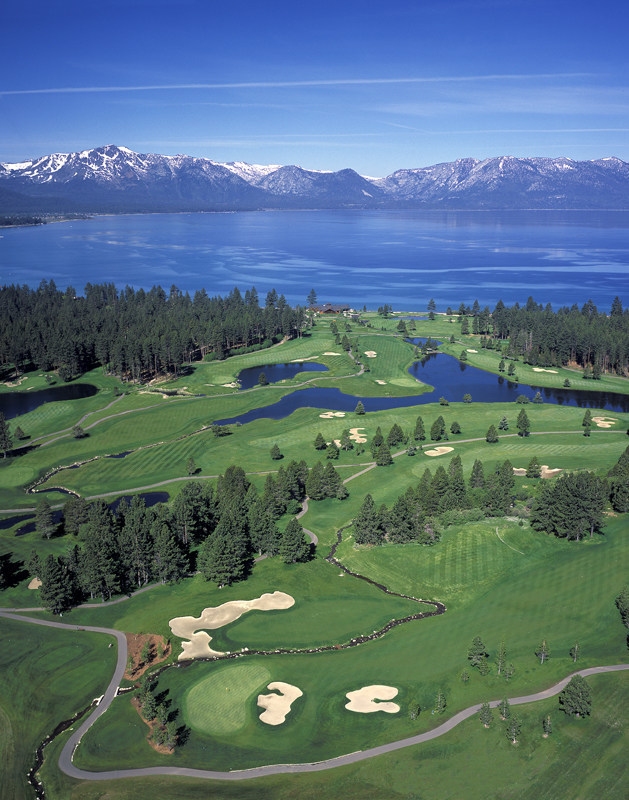 Edgewood Tahoe Golf Course's lakeside 17th hole has been selected by GolfAdvisor as one of the most iconic
par 3s in North America destination golf.
Conveniently located just a short distance from South Lake Tahoe resorts, the award-winning Edgewood Tahoe Golf Course has established itself as one of the premier golf courses on the West Coast. Since first opening in 1968, the famed golf course has opened for its 48th season, offering golf enthusiasts mid-week and weekend golf rates during peak playing time and twilight golf.
The lakefront course, designed by George Fazio and renovated by Tom Fazio, will be open through October 16, 2016. The launch of the 2016 season comes on the heels of a recent redesign of holes 8 and 9 of the front nine to give golfers a lakeside finish, similar to the famous finishing holes of 16, 17, and 18 on the back nine. Golfers will also enjoy top of the line golf carts equipped with Visage GPS system that provides yardage and tips from the pro at every hole.
With the start of the 2016 golf season comes the expanded hours of Brooks' Bar & Deck to 7 days a week. Brooks' was recently selected by the editors of Golf Digest as one of the "Best Golf Pubs," joining an additional 10 other pubs worldwide in famous golfing locations including Pebble Beach, California; Pinehurst, North Carolina; St. Andrews, Scotland; and Doonberg, Ireland.
Mid-week rates start at $140 per round during peak hours, and $110 for twilight golf. Weekend rates start at $160 during peak hours, and $130 for twilight. Edgewood is home to the American Century Celebrity Golf Championship.