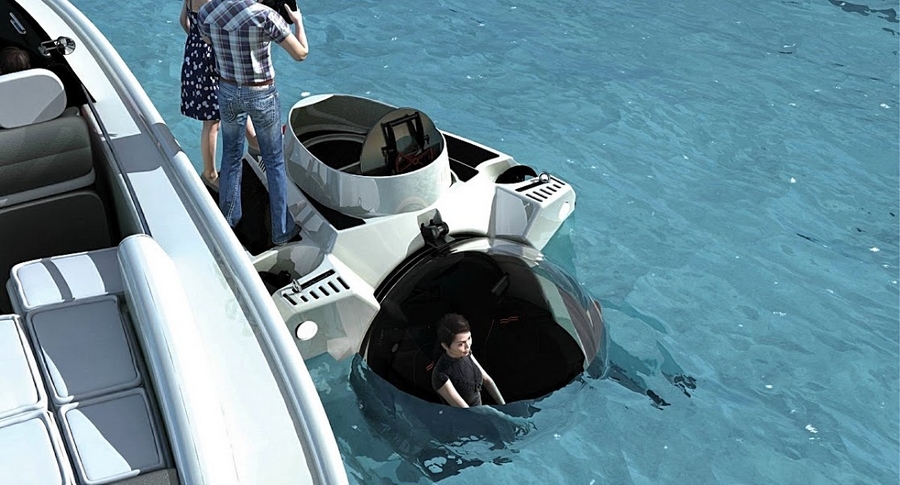 The desire to explore the deep has existed since the dawn of humanity. The popularization of scuba diving brought the oceans within our reach. Unlike scuba-diving, a manned submersible can take us deeper and in comfort – without the risk of decompression.
This compact submersible by Uboat Worx (the Netherlands) makes it possible to explore the ocean from almost any size of yacht. The submersible's interior is spacious, yet its weight is very low. Super yacht Sub 3, dubbed the most compact 3 -person submersible ever built, adds a new dimension to your seafaring with ultra- small size, ultra-low weight, and upgradable options. Clients can start their underwater adventure with a 100 meter depth capability or may also choose to have their submersible delivered directly with the full 300 meter diving depth.
Inside the Super Yacht Sub 3 vessel, passengers will enjoy luxurious leather seating and a fully air-conditioned environment at 1 atmosphere of pressure.
This year, Uboat Worx's C-Explorer 3 was awarded the Red Dot Design Award. This submersible can dive to depths of 300 meters for 12 hours. The fully Acrylic Pressure Vessel guarantees an unimpeded view, and passengers will remain in
absolute comfort with a sustained pressure of 1 atmosphere inside the submersible – the same as at the surface. Anyone can dive in this submersible under the guidance of a trained pilot.