2014 SRT Viper TA ready to attack any road course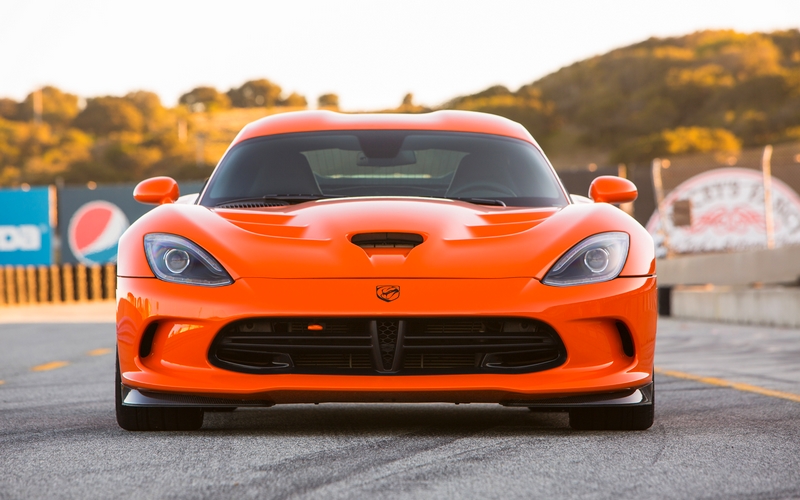 Less than one year since the world debut of the new 2013 SRT Viper at the New York International Auto Show, the 2014
SRT Viper TA, configured in-house by the Chrysler Group's SRT (Street and Racing Technology) team in collaboration with
professional road racers, is set to make its public debut on March 27, 2013.
Based on the SRT Viper supercar model – the lightest vehicle in the lineup, the 2014 SRT Viper TA package builds upon the legendary on-track capability of the American hand-built supercar using a majority of pre-developed components straight from the SRT luxury stable.
"The new 2014 SRT Viper TA is being engineering for the dedicated track enthusiast, who still wants to drive to the track and take their hobby to the next level" said Ralph Gilles, President and CEO – SRT Brand and Motorsports, Chrysler Group LLC.
"We're re-launching some of the fastest production-built cars that people can buy straight from the factory. Our engineers revised the suspension settings to refocus the Viper specifically for track duty, using a blend of components from the GTS and the SRT models, add in the extensively developed aero package and the new Time Attack package is born. We're not only saluting the existing capabilities of our current models, we're also targeting another niche in our customer base with a tremendously capable track machine."
The exterior of the SRT Viper TA features exclusive Crusher Orange paint with black 2D TA logos behind both front
wheels, black Stryker logo on the front fascia and matte black, ultra-lightweight Sidewinder II wheels.
An advanced exterior aerodynamics package includes carbon fiber front splitters and rear spoiler, while a carbon fiber rear applique accentuates the rear width proportions and adds another level of detail.
Under the hood of the 2014 SRT Viper TA is the handcrafted, all-aluminum 8.4-liter, mid-front V-10 overhead-valve engine. Performance ratings are 640 horsepower and 600 lb.-ft. of torque – the most torque of any naturally aspirated sports-car engine in the world.
Inside, the performance driver-oriented cabin of the 2014 SRT Viper TA uses the same standard premium ballistic fabric racing seats from Sabelt, featuring a lightweight fiberglass shell created by a state-of-the-art resin transfer molding technology for mass reduction and long-term durability. Both driver and passenger seats can also accommodate a 3- or 6 -point harness for racing belts.
Only 33 units of the 2014 SRT Viper TA in Crusher Orange will be built at the Conner Avenue Assembly Plant in Detroit, beginning in third quarter 2013.