Lexani Motorcars Viceroy Edition Escalade.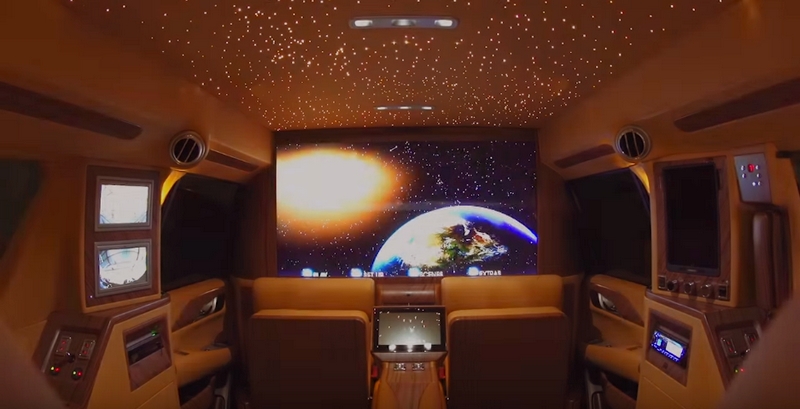 Would you rather watch TV than stargaze? Lexani Motorcars, the California company at the top of the luxury vehicle conversion industry, has a consistent record of pushing the boundaries of possibility for luxury transportation in everyday vehicles, innovatively and aesthetically.
Lexani has just released a star-studded Escalade conversion called the Viceroy. The one-of-a-kind Viceroy is the first Lexani conversion to have the celestial headliner—an exquisite ceiling arrangement of LED lights—this new feature adds a whole new dimension to the already dreamy interior.
The Viceroy is equipped with a 48″ Samsung 4k curved smart TV—which rests on a proprietary electronic partition. This car also comes with an Apple iPad Air II, 6-way power chairs covered in fine European leather, a Control4 touch screen management system, airline style tables, TracVision Satellite, security cameras and monitors, a raised ceiling, wall-mounted opera lights, a Mac Mini computer, and video conferencing, to name a few. For those who enjoy being entertained on the road, this vehicle has all the latest devices under one beautiful roof; for those with productivity as a priority, there is nothing that can't be done with this vehicle's astutely planned office features. The above-mentioned amenities are merely a sample of the options available.
It is no longer necessary to sacrifice luxury for security; Lexani Motorcars also specializes in the customization of armored vehicles. They succeeded in transforming bulletproof steel-laden vehicles into beautiful, relaxing oases. The company's experts have up fitted Escalades, Navigators, Yukons, Land Cruisers, Sequoias, and Mercedes-Benz Sprinters with impressive results.