76' Bahamas, the new Riva convertible. A dazzling way to close the circle of a pioneering and winning vision.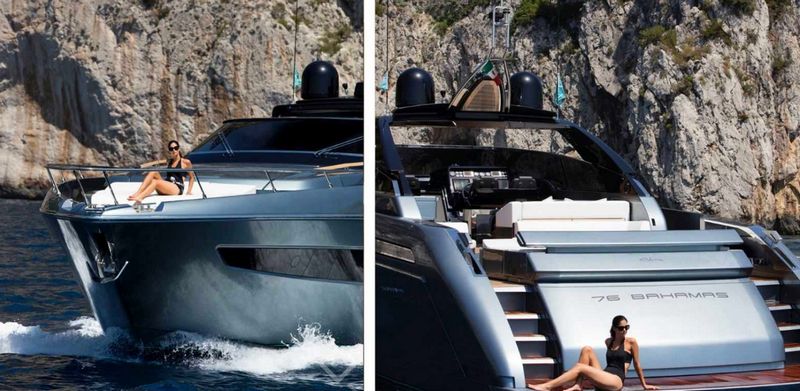 "The art of yachting is enriched by a new masterpiece that brings together the charm of timeless design with the sophisticated pleasure of technological innovation," says Riva's design team.
This is the idea behind the patented "C-Top" system, which enables a yacht to be transformed from open to coupé mode and vice versa. On the 76' Bahamas, it effectively doubles the comfort and fun to be enjoyed on board.
"Written into the 76' Bahamas is Riva's current DNA: a perfect synthesis of history and tradition, of innovation and technology, of elegance and performance" says Alberto Galassi, Chief Executive Officer of the Ferretti Group. "The new convertible epitomises the synergy between excellence in yacht design and excellence in naval engineering that has produced a super sports boat. With graceful lines and rich in technical features, it is built using cutting-edge materials and sails like a dream. Owners will enjoy an unforgettable experience thanks to the sophisticated Mediterranean lifestyle offered by this yacht."
The layout of the cockpit and helm station, the design of the master suite and lower deck living space, as well as the entire interior styling, have been custom designed for the new convertible.
The new Riva Yachts model is a further step in the evolutionary path that led to the launch, in May 2015, of the 88' Domino Super and 88' Florida, the coupé and convertible yachts born of the same design tradition and guided by a similar spirit. In just over a year these models have won the hearts of enthusiasts around the world. On the strength of these successes announces the 76'
Bahamas.
The outcome of a collaborative project between Officina Italiana Design – the studio founded and headed by Mauro Micheli and Sergio Beretta – the Group's Product Strategy Committee and Marketing Department, as well as the Ferretti Group Engineering Department, the yacht is based on the technical platform of the 76' Perseo, Riva's much-desired coupé model.