Richard Mille Swiss watch brand launches first luxury cufflink range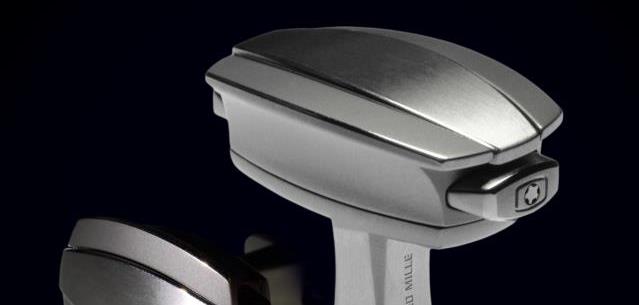 After more than a decade of Swiss luxury watches manufacturing, Richard Mille launched its first cufflink range inspired by the intricate mechanisms of luxury watches. Richard Mille's first collection of cufflinks has been 2 years in progress, each highly technical and refined cufflink containing no less than 38 components, exactly the same way as it happens with the watch complications.
Richard Mille has taken on the challenge of transforming the cufflinks, a natural complement to any watch, into "a veritable work of technical artistry". Richard Mille's cufflinks have been devised according to the same principles that underpin the design of his timepieces. They had to be innovative, complex, extremely technical, but also reliable, practical and aesthetically pleasing.
Made from grade 5 titanium, the cufflinks inaugurate a patented mechanism that opens the bars using push-pieces. Unlike the classic mechanism, where a pivoting bar on the cufflink holds the double cuff in place, Richard Mille's design fastens the cuff using two titanium bars. These open with a simple press of the push-pieces and close by pressing on the top plate.
The cufflinks' upper surfaces are satin-brushed, bead-blasted and bevelled by hand. Available in Richard Mille boutiques and points of sale from October, the RM cufflinks are guaranteed for two years. Initially available in titanium, a diamond-set version will follow.