2013 Custom Sprinter Conversion: Luxury Mercedes Sprinter Van.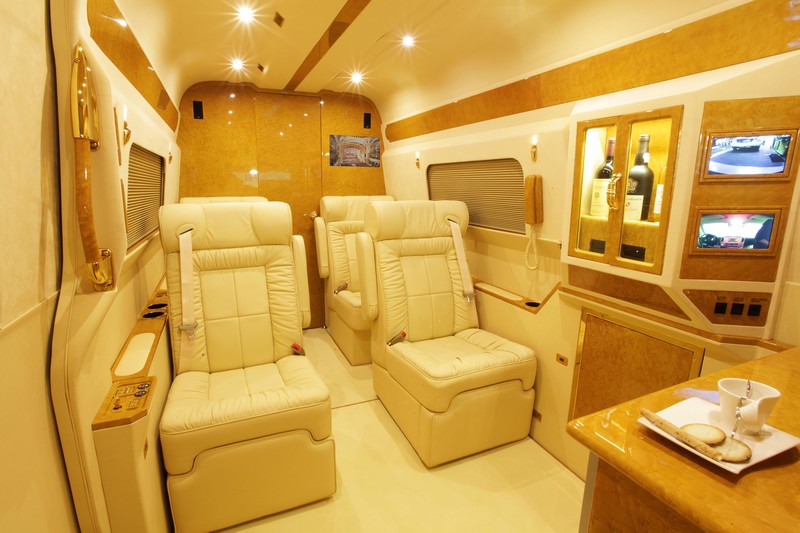 Attracting the attention and praise of celebrities worldwide, Lexani Motorcars, one of the leaders in luxury automotive accessories, has introduced the Reale – an armored Mercedes-Benz B6 Sprinter for the ultimate in personal security.
The spacious interior, lined with Alcantara suede, features handcrafted fine leather seats, a galley kitchen, luxury lavatory with ceramic toilet and gold-plated sink, marble floors, and even a hidden coat rack.
"The luxurious, one-of-a-kind Lexani Motorcars Mercedes-Benz luxury coach features an unassuming exterior and an interior design with only the finest bespoke accoutrements rivaling those found in high-end yachts and private jets.
Each coach is meticulously crafted using only the highest quality materials, furnishing, and carpentry, with incomparable attention to detail. And it doesn't stop there—the craftsmen at Lexani Motorcars will make every effort to incorporate a customer's specific requests for additional amenities, to create a unique vehicle for business or play," explaines Lexani Motorcars.
The customization options allow clients to create their own ideal environments. Whether the vehicle is to be used for business, family, entertainment, security, or all of the above, the owner can rest assured that it will be unrivaled in every respect. Watch a 3D movie, enjoy an espresso, and have the peace of mind that you are being transported in what is, essentially, a 5-star executive suite wrapped in ballistic steel. The Luxury Mercedes Sprinter Van by Lexani Motorcars is priced at $450,000-$500,000 USD.