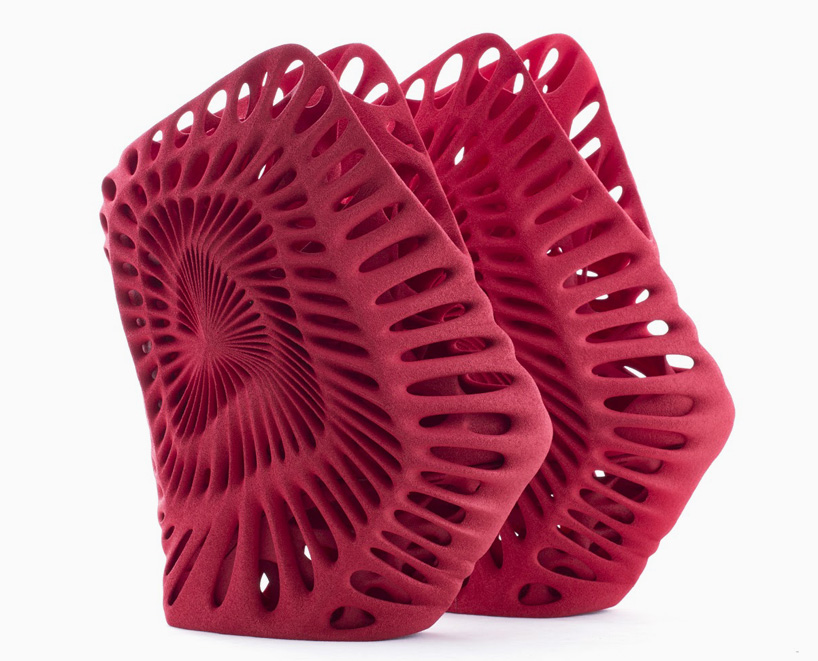 Five of the worlds leading architects and designers are exploring and challenging 3D printing technology by designing 3D printed ladies high heels.
Footwear brand UNITED NUDE and 3D SYSTEMS – the inventor's and leaders of 3D Printing, are joining forces for a major collaboration project + exhibition, which was launched at Salone del Mobile 2015 (14th – 19th of April) – Milan.
The select group of 5 architects and designers include Architect Ben van Berkel (UNStudio), Zaha Hadid, Product Designer Ross Lovegrove Fernando Romero, and Michael Young.
The Re-Inventing Shoes project is about exploring and pushing the boundaries of this rapidly developing technology by creatingshoes with the largest amount of sculptural freedom. The production method used is the highest quality of 3D printing (SelectiveLaser Sintering) in a hard Nylon and all-new soft Rubber material. UNITED NUDE have figured out a way to combine harder andsofter 3D printed parts for creating fully functioning shoes. Each shoe is available as a up to 50 pair limited edition.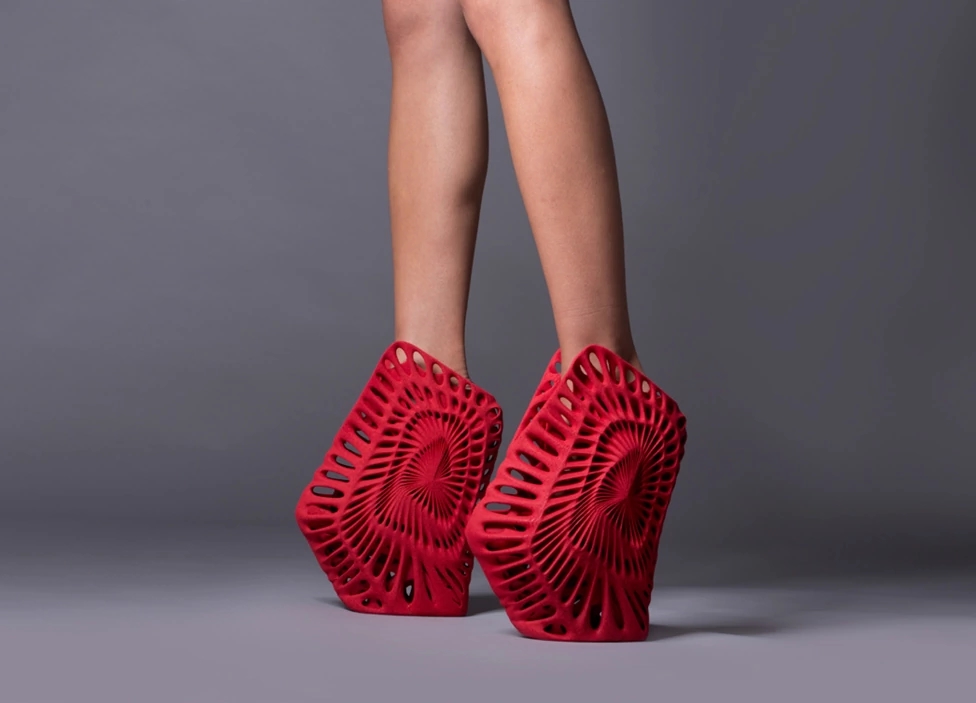 AMMONITE. FERNANDO ROMERO for UNITED NUDE
This shoe uses the most cutting-edge 3D printing technology both in design and execution, but the result is a shoe that could have been an object found in nature, a delicate fossil that has been buried on the bottom of the ocean for millennia.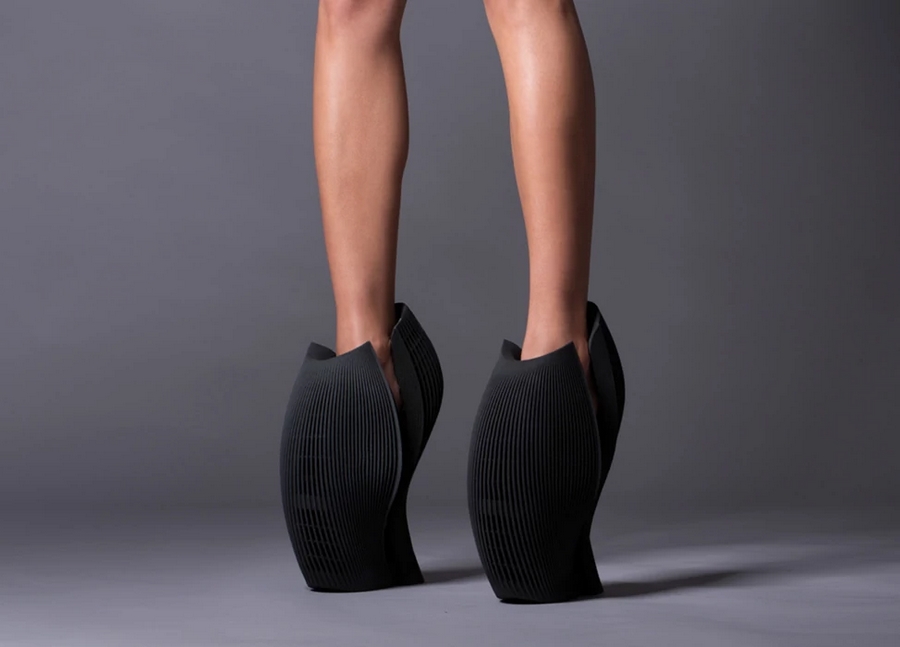 UNX2. BEN VAN BERKEL / UNSTUDIO for UNITED NUDE
"With the design for UNX2, we wanted to dress the foot in such a way as to make its form partially visible, to highlight the mechanics of the foot and the visual effects that can be created by the shoe in motion.
We were particularly interested in the kinds of images the shoe could create, both when static and when in motion. When the wearer is still, the curve of the foot can be glimpsed within the shoe and the dynamics of movement are suggested by the curving vertical ribbons that envelop it."
The vertical ribbons and the hoof-like shape of the shoe elongate the legs and create an almost animal-like extension.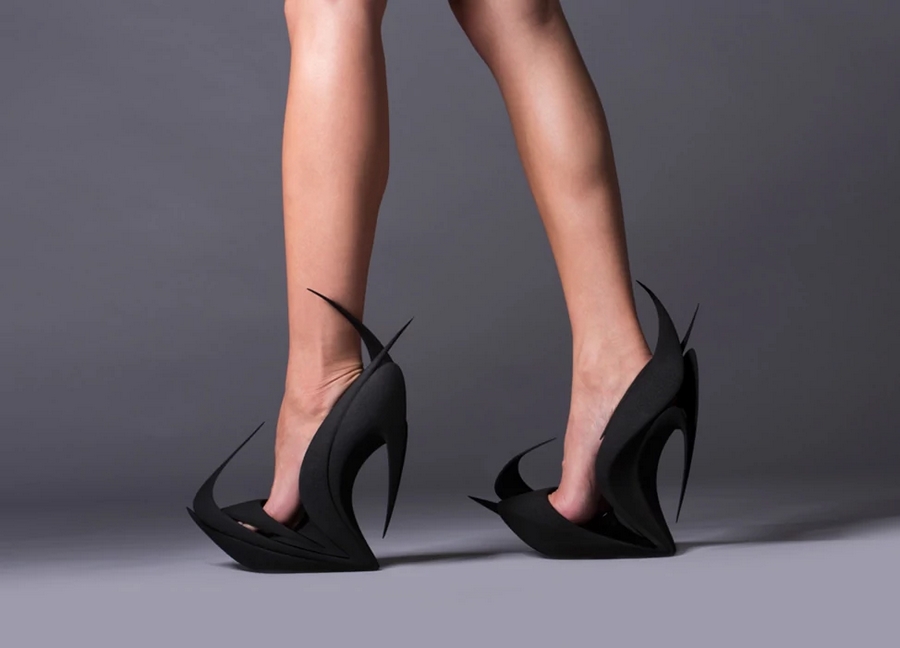 FLAMES. ZAHA HADID for UNITED NUDE
Informed by the flickering light of fire, the Flames shoe is the most recent collaboration between Zaha Hadid and United Nude.
Flame-like bands originate from the point of the heel, rising upwards to gently embrace the foot, while the ergonomically optimized foot bed provides comfort and support.
The sculptural sensibility and experimentation of Hadid's architectural language and United Nude's expertise in manufacturing the most innovative designs has embodied the shoe with the essence of fire – delicate and ephemeral, yet compelling and dynamic.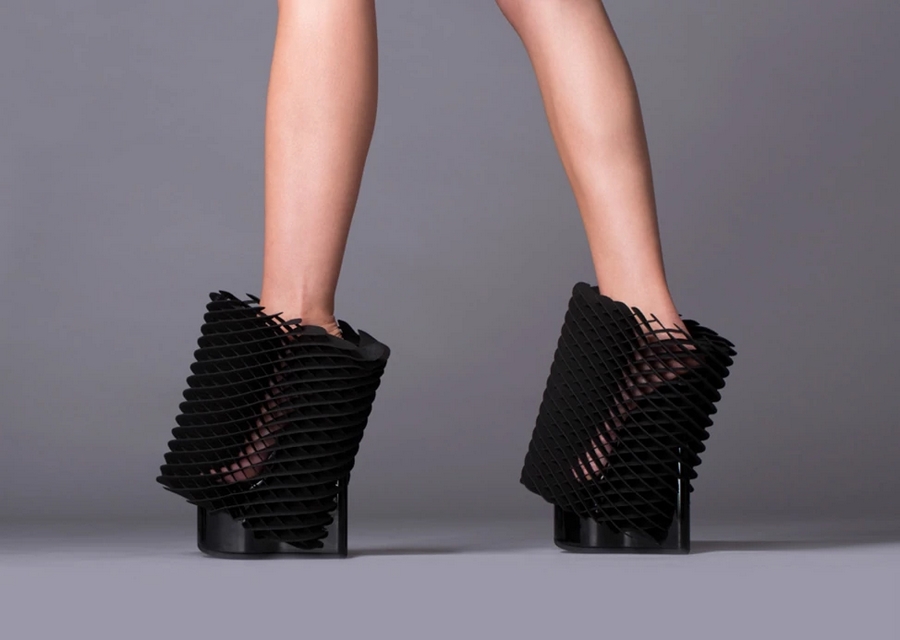 YOUNG Shoe. MICHAEL YOUNG for UNITED NUDE
Working on this project has allowed MICHAEL YOUNG office a unique opportunity to explore and expand within a rare dimension.
"As a design office we are often working within strict parameters for client briefings so designing without boundaries on a shoe that is created to push the productions skills of United Nude and 3D Systems is rare," explained MICHAEL YOUNG.
"Combined with our own extensive experience in 3d technology we have created what we consider a refreshing approach to the way a shoe may be can be perceived."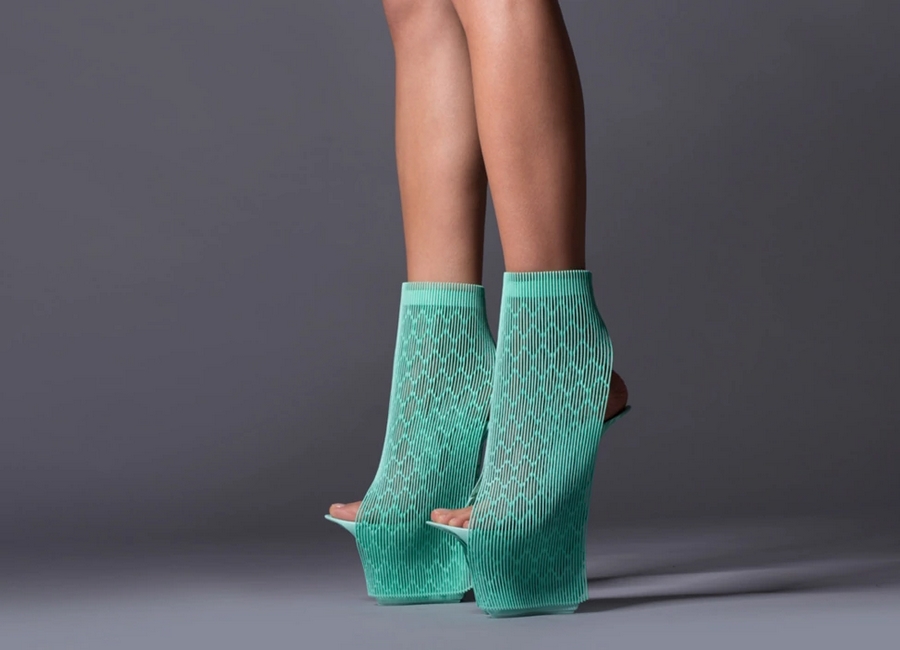 ILABO ROSS. LOVEGROVE for UNITED NUDE
"I have used this project to establish a moment where physical innovation in materials density and layered matrix node structuring, are coalesced to enhance the sensuality of the female form whilst remaining clearly technological….ultimately the shoe has been truncated to extending the perception of verticality and in doing so eliminate weight and mass which for me is a symbol of decadence."