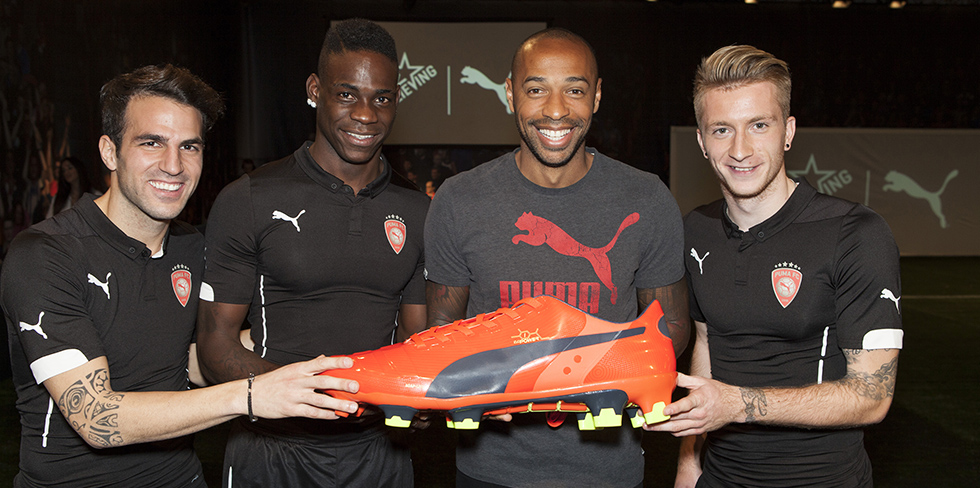 German multinational sportswear manufacturer Puma unveiled a revolutionary boot technology designed to enhance a player's natural kicking ability, and optimise a player's power and accuracy when striking the ball. Players Cesc Fàbregas, Mario Balotelli and Marco Reus demonstrated the power and accuracy achieved through evoPower boot technology at an interactive football event in Barcelona. The players put their football skills to the test on the evoPOWER wall, the custom built football simulator that utilises Hawk Eye technology to measure players' power and accuracy.
Inspired by the power generated from the freedom of barefoot kicking, evoPOWER features the most advanced PUMA footwear technologies to date in its football category, and will be worn on pitch by Cesc Fàbregas, Marco Reus, Mario Balotelli, Yaya Touré, Nemanja Vidic, Dante and many others, announced the manufacturer.
The launch of the new evoPOWER football boot coincides with Puma's 2014 Nature of Believing campaign. The evoPOWER boot and the full range of evoPOWER accessories and apparel launch in-store on 1 February, 2014.