Vases make a stunning addition to any home decor. A perfect center piece for your room, a designer vase is sure to make a statement. Simply fill it with a bouquet of flowers, advise Harrods Homeware team. Use these luxurious vases as centerpieces to add depth and intensity to a table setting.
Baccarat Louxor Crystal Vase (Made in France)
Crafted in France from the finest crystal, watch light enhance, flicker and refract through this amazing Baccarat creation called Louxor Crystal. Equally as head-turning filled or stood alone, says Harrods.
Aerin Large Gold Banded Ceramic Vase with 18 karat gold edging (Made in Italy )
Inspired by the handcrafted texture of 1950's pottery, this ceramic vase from Aerin Home is accented with and 18-karat gold band.
Alessi Barkvase Flower Vase (Laser-cut vase; 18/10 stainless steel with glass container)
Designed by Michael Boucquillon and Donia Maaoui, the Barkvase flower vase from Alessi is inspired by the trees that surround their house in Lucca, Italy. Made in Crusinallo, Omegna, from a laser-cut steel sheet, the perforated pattern recalls the knots in wood grain, while the cylindrical shape suggests the structure of a tree trunk.
Baccarat Heritage Pontil Vase
This pure crystal round vase from Baccarat is a tribute to the original design by Georges Chevalier. Cut with large round bevels, the hollowed-out circular motif creates a kinetic optical effect typical of the period.
Villeroy & Boch Large Oronda Deep Cherry Vase (100% glass)
Handcrafted from four-times mouth-blown glass, that produces a brilliant radiance,  Villeroy & Boch Oronda Deep Cherry Vase is perfect for both traditional and contemporary interior design.
Fornasetti Don Giovanni Infilzato Vase (30cm)
A classic of the Fornasetti catalogue, Don Giovanni Infilzato Vase brings the enduring appeal of muse Lina Cavalieri with Mozart's two-act opera, Don Giovanni. Imagined in pure ceramic, Don Giovanni Infilzato Vase is styled in the signature vase shape and is accented with a knife slicing through the head for a dramatic twist.
Daum Medium Gingko Vase
Handcrafted in France from crystal glass, a vibrant Ginko leaf offers a visually attractive display on the Daum Ginko Vase.
MacKenzie-Childs Flower Market Short Vase
In a silhouette inspired by traditional glass milk jugs, this delightful vase comes from the MacKenzie Childs Flower Market collection.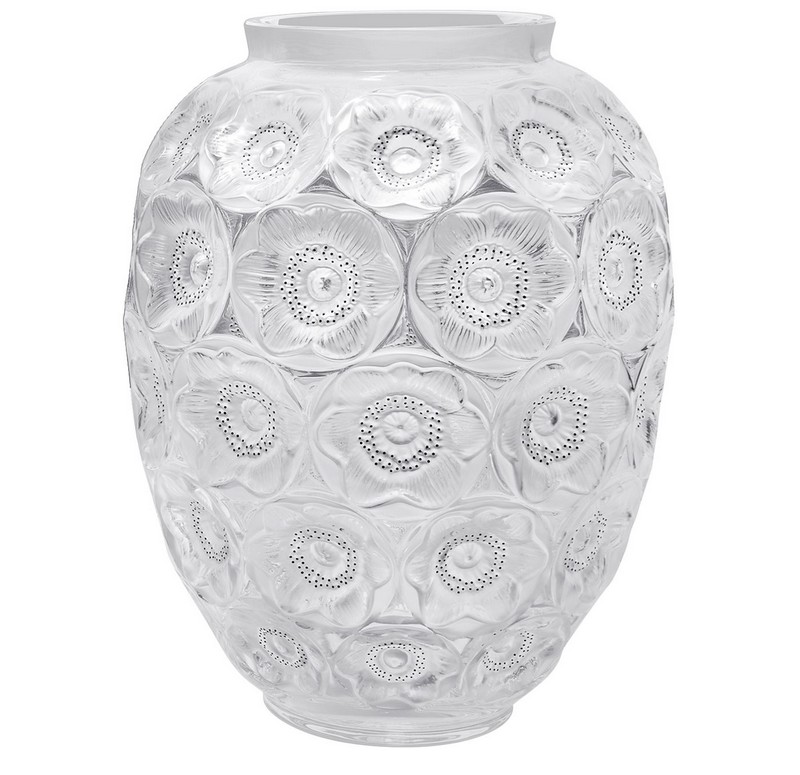 Lalique Anemone Grand Pure crystal Vase (Presented with a numbered certificate of authenticity)
Handcrafted in France with a repeated floral design in satin-finish and re-polished crystal, this limited edition Lalique Anemone Grand Vase is finished with delicate enamelling and numbered for authenticity.
Aerin Large Corvo Parchment Vase (Made in Italy)
This cachepot has been rendered in textured ceramic that helps to give it its curved silhouette, while the neutral hue makes it perfect for mixing and matching with other pieces in the range.
Waterford Diamond Line Vase (20cm/ Pure crystal)
Waterford Diamond Line Vase showcases bevelled diamond cuts that scatter rays of light through the clear brilliance of the contemporary flared design.