The Egoiste 100 – a new stunning 100-foot carbon sloop concept by Philippe Briand.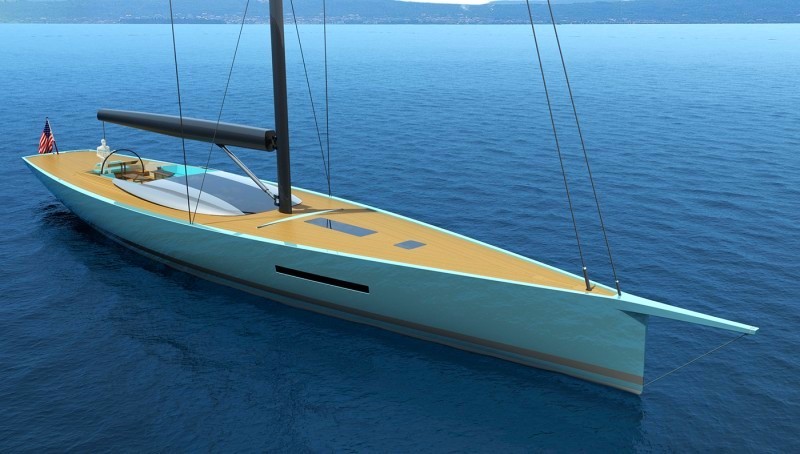 London-based French yacht designer Philippe Briand unveiled plans for his newest concept, The Egoiste/ Egoist 100. Philippe Briand has been designing sailing yachts over the last 40 years and is recognized as a top tier sailing yacht designer. Today he is designing sailing boats from 12 m to 90. His latest project called The Egoiste is a 100-foot carbon sloop concept. Like all Briand's project, the idea behind The Egoiste is to create a performing yacht which is easy to handle in all conditions.
The majestic classic yacht is equipped with a spacious master cabin and space for two team members. The super stylish yacht has been designed to be sailed without any crew. Egoist is focused around a fast sailing experience.
According to boatinternational, "The carbon fibre sloop is a fresh take on a classic Eastern Seaboard sailing yacht and can also be used to race with a small number of expert crew with only three sails up."
On-board customisation is key aspect of Egoiste's design.
"The beauty of the project is that it's for short cruising and it is extremely comfortable for a couple," says Philippe Briand, "so there is only one huge owner suite forward of the mast."
Studio's new projects include also Briand 500, Briand 230, P100, PS 46, Catamarn 80, and X2 190.
Philippe Briand's portfolio spans four decades, starting with his first IOR Quarter Ton design at the age of 16. His designs for competition have included eight yachts for six America's Cup campaigns; two of the vessels for the French team that won the Admiral's Cup in 1991; and countless high-performance offshore racing yachts. An accomplished sailor himself, Briand has won the Half-Ton Cup in 1993 and the One-Ton Cup in 1994, in yachts of his own designs.
The Egoiste
CHARACTERISTICS:
LOA (M) : 30.00
LWL (M) : 25.25
BEAM (M) : 5.50
DRAFT (M) : 4.00
DISPLACEMENT (T) : 50
DISPLACEMENT-LIGHTSHIP (T) : 40
SAIL AREA UPWIND (M2) : 490
SAIL AREA DOWNWIND (M2) : 1010.