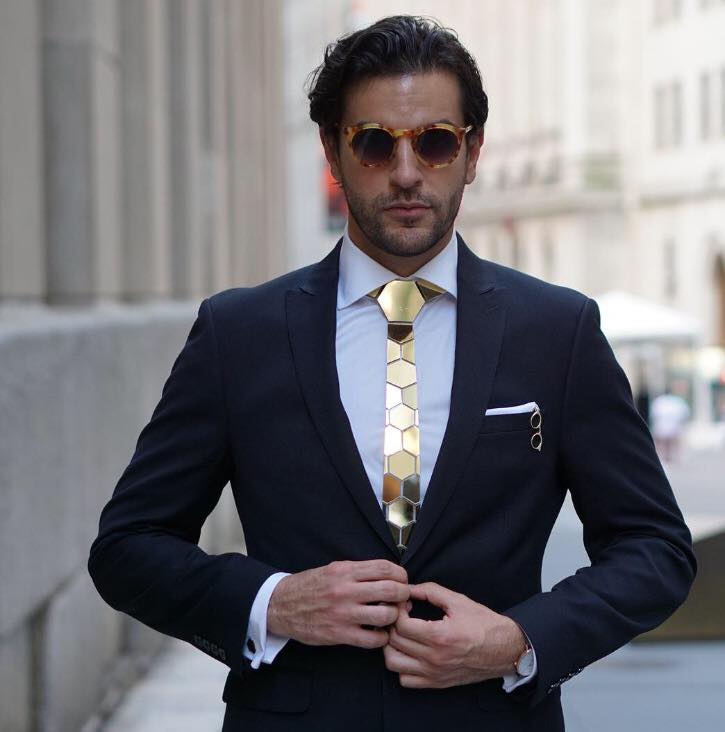 Cloth-based ties are now passe, says Hex Tie, infusing life into the old fashioned "basic tie' with a few eclectic designs, unveiled right in time for NYFW. Headquartered in New York City, Hex Tie's edgy designs are inspired by the high-beat enthusiasm and vivacity of the city. The new Honeycomb Emirates Tie is a special edition tie made up of 84 rigid reflective lightweight gold color polymers, embodying the shape of recurring hexagons. Assembled by hand, each tie reflects a custom setting.
"I created Hex Tie to appeal to my artist soul while also using my passion and drive as an entrepreneur. I had a vision for something different; I was bored with the accessory selection in menswear, and I knew other stylish guys were too. I was born in New York, but raised in Puerto Rico, so I was inspired by the city that dared to be different. I wanted to portray the architectural marvels of New York City through wearable accessories," states Founder and CEO of Hex Tie, Enrique Alejandro Peral. "We successfully launched during 2014 New York Fashion Week, and have since seen immense growth in less than a year. Hex Tie is all about combining elegance and diversity to create designs for the dapper, outspoken individual."
Hex Tie hit the scene in 2014 and was created by Enrique Alejandro Peral, a luxury men's fashion visionary. Various celebrities such as T Pain at the most recent MTV Video Music Awards red carpet, Romeo Santos, Ryan K Potter and Von
Miller have been spotted wearing Hex Ties. Tie's elite clientele currently spans more than 63 countries in less than a
year since launch.
Hex Tie also provides an array of men's sunglasses, fine jewelry, garment clips, and reflective & polymer-based bow
ties.