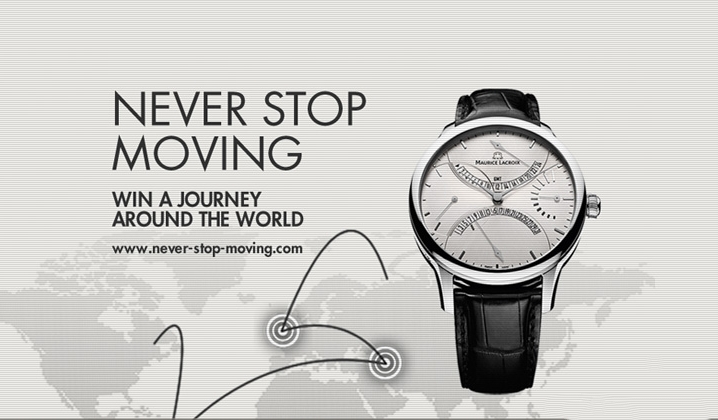 Five global cities, two weeks and one traveller. That's the once-in-a-lifetime prize being offered by Swiss watch manufacturer Maurice Lacroix and the globally-active travel organisation Kuoni. Under the slogan "Never Stop Moving", the idea for the competition was created to help launch Maurice Lacroix's new automatic masterpiece models which are based on the principle of constant movement.
A principle the lucky winner will live to the full in each incredible destination. In addition to exploring each city's most exclusive spots thanks to Kuoni, they might also meet some of Maurice Lacroix's inspirational brand ambassadors – among them, music legend Sir Bob Geldof. It truly is a money-can't-buy experience. And best of all, anyone can apply via Facebook.
It all takes place over 14 unforgettable days this June. The winner will traverse the globe, experience the best of five world-famous cities with Kuoni's unique travel tips and might meet the likes of Maurice Lacroix's brand ambassadors such as British golf star Justin Rose, Wikipedia founder Jimmy Wales and music legend Sir Bob Geldof. "We wanted to give away an experience that cannot be purchased with money," says Martin Bachmann, CEO of Maurice Lacroix and the competition's initiator.
And to reflect both Maurice Lacroix and Kuoni's progressive approach to business, the entire competition is co-ordinated through Facebook. Not only are all applications and user votes taken via the popular social networking site, but it's also where fans can follow the winner's daily travel report.
The journey starts at the production site of Maurice Lacroix in Swiss Saignelégier. But that's where the travel plans end. Why? Because each global destination will be voted on by the Facebook community. The only details that are already confirmed, is that the journey will span the continents of Asia, America and Europe.
Each city will offer insider experiences provided by travel experts Kuoni, not to mention experiences connected to the history of Maurice Lacroix. For example, Maurice Lacroix brand ambassador and pro golfer, Justin Rose, may be waiting at a London golf course. Or perhaps the winner will be flown to an exclusive Kuoni island in the Indian Ocean.
This unique expedition is open to men and women around the world aged 25 years or older, who hold a valid passport. A professional jury will choose the winner out of the ten candidates with the highest votes. For more information and registration, see www.facebook.com/mauricelacroixwatches and www.facebook.com/KuoniGroup.