The special modular deck system of the new Naucrates support vessel allows different possible configurations.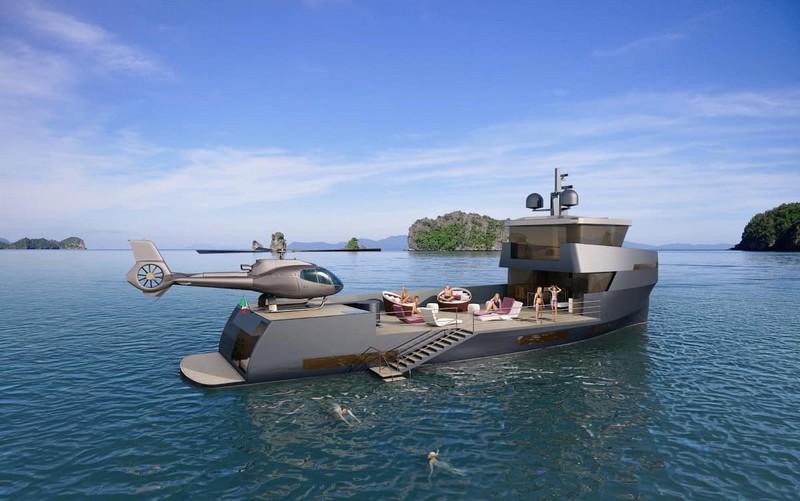 All the specialized media outlets are talking about Naucrates 85′, the most versatile support vessel. Designed by Italian yacht design studio Green Yachts and Chantier Naval Chioggia, the 26.6-meter Naucrates 85 is considered to be one of the best Shadow Yachts on the market.
An original name that reflects an equally original similarity with those who always in the sea, plays a similar activity; travel as escort, as a pilot of the biggest units. Naucrates Ductor in nature is in fact a special type of fish, known to be pilot for other larger fishes. As well as the pilot fish also Naucrates 85' is a unit of escort and support for larger yachts.
But not only, thanks to its large outside deck, completely free, is able to host any kind of tender, dinghy, jet skis and even cars, which can be easily managed and operated thanks to a powerful crane, positioned amid ship. The large decked area can also be used as a beach set-up with tables and sun loungers, all with sea view, thanks to the gunwale folding on both sides that allows it to achieve the horizon.
Naucrates 85' is not, however, only a support vessel, it can also be used as main yacht, to sail in great safety and comfort. It is equipped with 2 double cabins and one double cabin with panoramic view aft. On the main deck, with views of the wider area alone, the dining room and the living room, on the first bridge on the other hand, which is accessed through a convenient staircase, there is the large wheelhouse and a seating area with panoramic views.
The design has well-proportioned volumes and taut lines but streamlined, with matches and alignments from bow to stern moldings. A contemporary style, clean and linear with interior made of natural materials free of toxic processes that include the use of solvents and other agents. The interior design follows a modern style, made of wood of first choice matched with lacquering and leather inserts.
Thanks to the EPS system, Naucrates can change its layout and configuration, adding an additional superstructure on main deck. This superstructure will add to yacht space for more guests on 2 decks. The superstructure , have special deck lock and pre plugged systems so can be easily installed or removed based on the needs of cruise. If you need more guests or need more space for toys or simply prefer to have a huge sundeck area.