Meditative Reading Space: Kosha Chair by Claudio D'Amore
"In truth there are only two things that can change a human being: a great love or a great book." [Paul Desalmand]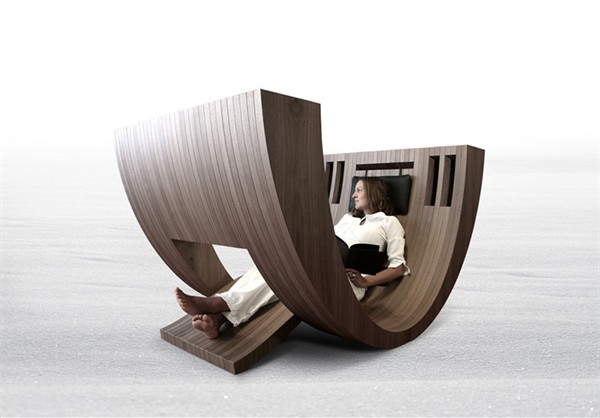 More than a luxury piece of furniture, Kosha is a meditative space, a sort of protective sheath designed by Swiss-Italian designer Claudio D'Amore (cosanova design studio). The arc-shaped sculptural object (186,5 x 115,5 x H:103cm), mid-way between art and design, consists of 33 strips of wood machined one by one then assembled by hand with a watchmaker's precision.
10 niches provide spaces to store one's favourite books, always within easy reach. The ideal place to retire to be alone
or in the company of a book.
Kosha is a Sanskrit term meaning "sheath" or "vehicle of awareness". In Indian philosophy it is used to differentiate the
"five sheaths" that envelop the pure awareness of being or the genuine Self, in contrast to the ego.
Tag Heuer, Montblanc, Van Cleef & Arpels, Parmigiani, Hautlence and Concord are just some of the 15 prestigious brands which the cosanova studio and its four designers count among its clientele.