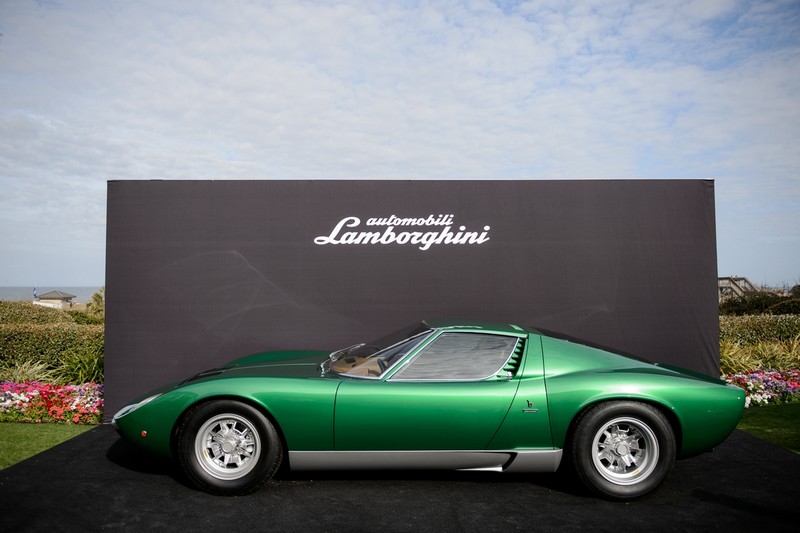 2016 is the year in which the famous Lamborghini Miura model celebrates its fiftieth anniversary. This car illustrates the iconic appeal of the Miura, widely acknowledged as the forerunner of modern super sports models.
At the 2016 Amelia Island Concours d'Elegance weekend on March 12-13, Lamborghini unveiled the first original Miura SV of the 1971 Geneva Motor Show as the premiere restoration Project of its Heritage vehicle department, PoloStorico. In addition to this debut, six Miuras, spanning from 1968 to 1972, appeared in a special 50th Anniversary tribute display. Lamborghini's participation at Amelia Island was the premiere event of a series of celebrations to commemorate the Miura's 50th anniversary in 2016.
Shown in metallic green Verde Metallizata with tan leather, the restoration of #4846 by PoloStorico has included a complete restrip of the chassis and engine. Using photos and other archived historic documentation, every panel on the Miura has been returned to its original lines and angles and, following the original production sheet and records held by Automobili Lamborghini, every component restored or replaced. Expert Lamborghini craftsmanship and original Lamborghini parts have been used throughout, from bodywork to repainting the car in its original color, refurbishing the interior and overhauling the engine.
"This is a very important car, not only for its place in history as the Geneva show car and the forerunner of future Miura SV models built, but as the first completed project of Lamborghini PoloStorico," said Enrico Maffeo, Head of PoloStorico. "We are delighted to be able, with the consent of the owner, to show this car for the first time in its perfectly restored state, at the important Amelia Island event.
Lamborghini PoloStorico officially opened in spring 2015, supporting historic models and Lamborghini's heritage through four main areas: restoration of historic Lamborghini models; archive management; original Lamborghini spare parts for which around 70% of the historic car parc is covered; and official certification of Lamborghini historic cars.