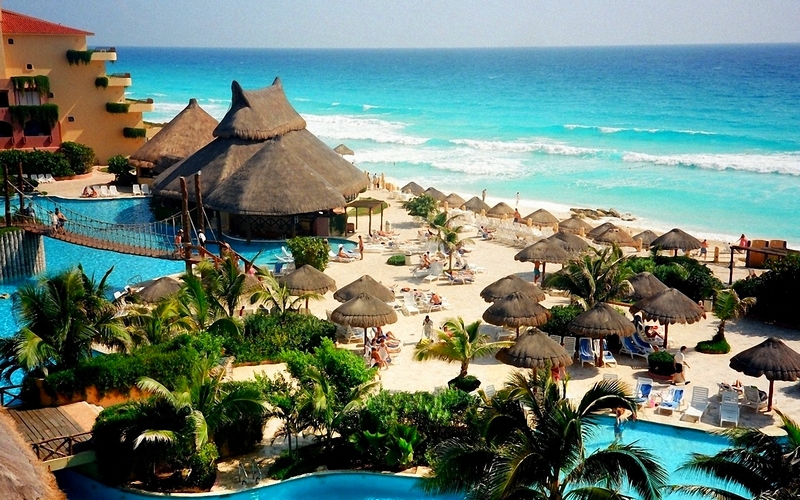 The wedding may be over but the adventure is just beginning. After you've said "I do", head down Mexico way and book a romantic holiday to Cancun. An indulgent honeymoon here is just what you'll need after the whirlwind of your big day, and here are some great ideas to make the most of your post-wedding getaway on the Mexican coast.
Start your Mexican honeymoon by checking into the Riu Palace Las Americas. This is five-star all-inclusive and the perfect place to chill after the stress of the wedding and the many months leading up to it. Remember to tell them you're on your honeymoon and the chances are you'll find a free bottle of Tequila magically appear in your room. There are five restaurants to try, all the leisure activities you could wish for and you're right on the beach.
Even if you're staying all-inclusive, you'll want to dine out at least once on your honeymoon and in Cancun, it has to be Harry's Prime Steakhouse and Raw Bar. Make sure you book ahead and reserve a table on the terrace. This place serves top quality meat, no doubt about it, and they'll even let you inspect it before they cook it. It may be fine dining but you can still get a hotdog, albeit a foot-long hotdog made of top quality Kobe beef. Have the lobster if you like or maybe save that for your sunset lobster dinner cruise.
Speaking of which, it's your honeymoon so you have to tick off some clichés and in Cancun that means a romantic dinner cruise at sunset. The Columbus Lobster Dinner Cruise operates every evening from the pier at Blvd. Kukulcan in the Hotel Zone. Expect to dine on surf and turf as the sun sets and the live saxophone music plays softly in the background. Clichéd? Yes. Worth it? Definitely.
You can't come to Cancun without getting in the water and the best way to experience this is on a snorkelling tour. Although you can snorkel near the hotel area, you're better booking a tour with a company like Cancun Mermaid who will take you to more exclusive waters 23 miles south of Cancun at Puerto Morelos, where the snorkelling is impressive. The water's shallow and it's ideal for all levels of ability. Away from the bustle of the tourist centre, it's also the perfect romantic day out.
It should be all about you on your honeymoon but you want to be in the right place and Cancun offers the perfect base for a relaxing holiday, with good food and activities that bring out your romantic side.