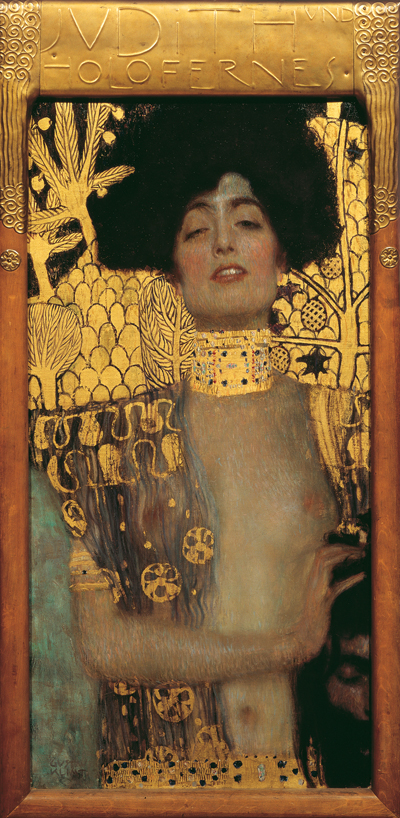 In 2012, the world celebrates Gustav Klimt (1862-1918). He was the speaker and organizer of the Jugendstil art movement and promoter of young, up-and-coming talent. He created some of the most famous Art Nouveau paintings worldwide and gave Vienna plenty of reasons to celebrate his 150th Birthday in 2012.
The magnificent baroque palace complex of Belvedere Museum in Vienna owns the world's largest collection of paintings by Gustav Klimt. At the heart of the collections at the Belvedere are Klimt's golden paintings "The Kiss" and "Judith".
Klimt was a founder and organizer of the Secession Wiener Sezession (Vienna Secession) art shows in 1908 and 1909, and was largely responsible for the breakdown of the international avant-garde in Vienna. The Belvedere exhibition presents the artist's development from the first clashes with the historicism and the Secession to the late works – the influence of the Fauves and the younger generation of Austrian artists such as Egon Schiele.
Vienna marks the year by honouring the painter with several special exhibitions on his life, work and the Jugendstil movement.
»Whoever wants to know something about me … ought to look carefully at my pictures.« Gustav Klimt
Austrian Gallery in Belvedere Palace
Exhibition: "Gustav Klimt / Josef Hoffmann – Pioneers of Modernism"
25th October 2011 to 4th March 2012
This exhibition focuses on the collaboration between Gustav Klimt and Josef Hoffmann, the architect and co-founder of the Wiener Werkstätte. This partnership resulted in the Beethoven Exhibition at the Vienna Secession in 1902 and the Stoclet House in Brussels (1905-1909), works that set new standards in Europe in terms of the concept of the Gesamtkunstwerk. The exhibition also explores Hoffmann's influence on Klimt's paintings.
www.belvedere.at
Kunsthistorisches Museum (Museum of Fine Arts)
Exhibition: "Gustav Klimt at the Kunsthistorisches Museum"
14th February to 6th May 2012
The thirteen paintings and their preliminary sketches for Klimt's 1890 decoration of the grand staircase of the Kunsthistorisches Museum will be on display, providing visitors with insights into the creation of these works.
www.khm.at
Wien Museum
Exhibition: "KLIMT – The Collection of the Wien Museum"
16th May to 16th September 2012
The Historical Museum of the City of Vienna will present a wealth of Klimt-related objects from its own holdings, including the painter's Portrait of Emilie Flöge (1902), posters, publications, the artist's painting smock, his death mask, and Egon Schiele's drawing of the dead Gustav Klimt. The centrepiece of the exhibition, however, will be the 400 Klimt drawings, the largest collection of its kind in the world, which will be shown here for the first time in its entirety.
www.wienmuseum.at
Albertina
Exhibition: "Klimt – Drawings"
13th March to 17th June 2012
For this exhibition the Albertina will display the majority of the 170 Klimt drawings from its own collection, as well as numerous items on loan. A wonderful comprehensive overview of the unique drawing talent of Gustav Klimt.
www.albertina.at
Leopold Museum
Exhibition: "Gustav Klimt – Journeys"
24th February to 11th June 2012
This exhibition will present, among other things, items from Emilie Flöge's estate, including her correspondence with Gustav Klimt. The museum's holdings contain major paintings by Klimt, as well as works by other Secession artists, including one of the world's most important Egon Schiele collections.
www.leopoldmuseum.org
Austrian Theatre Museum
Exhibition: "Against Klimt – The Nuda Veritas and its Defender Hermann Bahr"
10th May to 29th October 2012
Before it came into the possession of the Austrian Theatre Museum, Gustav Klimt's 1898 painting Nuda Veritas was owned by the writer Hermann Bahr who in his book "Against Klimt" defended the artist against hostile critics. The exhibition also examines the creative output of Bahr.
www.theatermuseum.at
Künstlerhaus
Exhibition: "Klimt and the Künstlerhaus"
6th July to 2nd September 2012
This show documents the works Gustav Klimt created in association with the Künstlerhaus, of which he was a member from 1891 to 1897.
www.k-haus.at
Volkskundemuseum – Austrian Museum of Folk Life and Folk Art
Exhibition: "Object in Focus – The Textile-Design Collection of Emilie Flöge"
24th May to 14th October 2012
For the first time the extant textile designs of Emilie Flöge, Gustav Klimt's lifelong partner, will be on display here. In turn-of-the-century Vienna she operated a fashion salon, for which she designed models' clothing.
www.volkskundemuseum.at
Klimt Villa
Gustav Klimt's last and only surviving studio, located in Vienna's Hietzing neighbourhood, offers insights into the artist's work and life environment. It will be reopening in the late summer of 2012 after extensive renovation.
www.klimt.at
Austrian Museum for Applied Arts/Contemporary Art – MAK
The museum shows the nine work drawings Gustav Klimt created between 1905 and 1909 for the Stoclet House in Brussels. The MAK also possesses the estate of the Wiener Werkstätte, with works by Josef Hoffmann, Kolo Moser, and other designers of this legendary workshop.
www.mak.at