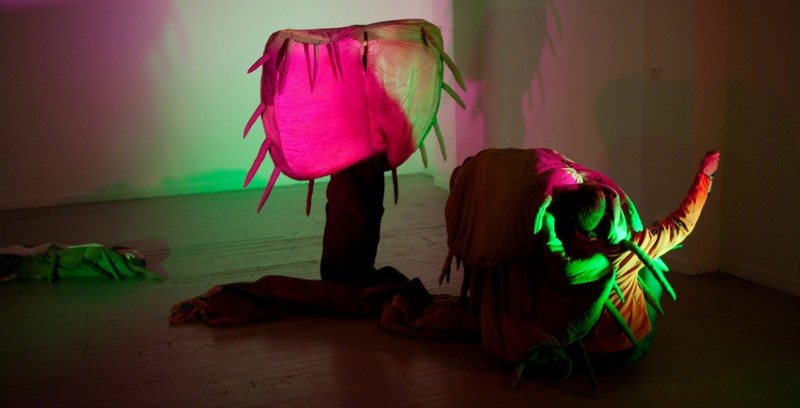 ---
This article titled "Glasgow International review – irrepressible vitality everywhere" was written by Laura Cumming, for The Observer on Sunday 10th April 2016 07.00 UTC
If you want to see the world-famous Glasgow art scene in action right now, a painter told me last week, look no further than the city's hardware shops. There you will find artists of all ages hurrying in for masking tape, screws and picture wire. Some have been known to converge on the last sheet of plywood to partition an exhibition space in Trongate or Garnethill; indeed I saw a bit of MDF chalked with a skull and crossbones and the warning "Reserved and jealously guarded!"
This isn't just a fleeting portrait of Glasgow International before it opens to the public, however; it is in some deep sense a reflection of this year's biennial itself. The figures are impressive – 78 shows, more than 50 live performances, 220 artists from 33 countries – but what strikes everywhere you go is the feeling of irrepressible vitality. If you want to see the very latest in international art – highly original and so new it was only finished last night – this is the place to go.
In one venue, a film was still being shot to take in the spreading stain of the Panama Papers. In another, artists with drumsticks were improvising polyrhythms on porcelain mushrooms dangling from the roof like some figment from Lewis Carroll, outlandish as the music itself. At the Modern Institute, Tom O'Sullivan and Joanne Tatham had just finished a bewildering creation somewhere between an improbably serpentine desk and a vast question mark, an object emitting a long and comic chain of art-world banalities. Mounted behind it were photographs of Glasgow artists, appearing like some satirical chorus.
And this year the focus is very much on Glasgow itself. Much of the work is in and of this great metropolis. The redundant tramlines at the Tramway have been softened and stuffed with bright wool, echoing their silence. The derelict spaces of Kelvin Hall have been revived. A lyrical film by Lawrence Lek imagines the Mackintosh building at Glasgow School of Art, consumed by flames in 2014, coming back to life as a kind of permanent monument while the QE2, built in the Clyde shipyards, is transformed into a new home for the art school.
Tessa Lynch, not long out of that very art school but a great talent to watch, has a beautifully pensive show at GoMA (Gallery of Modern Art) which transforms her daily commute across Glasgow into a sequence of delicate and singular works. The city's famous red bricks are woven into an exquisite tapestry that draws attention to the amazing spectrum of hues; Glasgow's sandstone, washed by centuries of rain, is praised in a sequence of pink-tinged tablets laid out with a nod to US minimalism but so gorgeous they might be made of the city's ice-cream.
Look out for Lynch's wonderful little aluminium pieces, halfway between painting and sculpture, in which the artist makes tiny apertures and flaps along perforated lines. The result is a quirky architectural landscape that might have delighted Paul Klee.
Claire Barclay's enormous installation takes on the inhospitable function room at the top of Kelvin Hall: a canyon of peeling walls, stained glass and desolate parquet in which Barclay has planted an assembly of strange, semi-abstract forms. Red canvas inflatables in cages might be body organs – a soot-black tongue lolls from one of them; another resembles a lung – or might equally be tented shapes from the circus Barclay saw at Kelvin Hall as a child.
On the floor is a lake of coal tar in which the civic chandelier glitters darkly, and in the corner red and black banners rise high, while also tumbling low. Barclay is remembering the hall's participation in the 1951 Festival of Britain when steel and coal were celebrated in this building with a miniature working mine. Miners, coal and steel are all long gone. The work feels both triumphant and tragic.
The city itself is revived in GI. The creepy old hairdressers' shop on Renfield Lane becomes Fantom Cinema, with artists' documentaries and performances. The Avant Garde music bar doubles as a cinema for a section of Henry Coombes's latest film, unfurling from the mind of a fictional psychotherapist obsessed with the Australian painter Sidney Nolan. All lizards, eyeballs, trees and parched outback, it is a brilliant parade of strange morphology.
Glasgow has what the Edinburgh art festival long ago lost, a feeling of both fringe freedom and official festival. There are many community projects this year – Coombes is working with prisoners; Mandy McIntosh, who took it upon herself to rev up a whole tenement block in 1990 with local women and artists, is doing something similar in Easterhouse. The artists at New Glasgow Society, preoccupied with pokey hats – Glasgow slang for ice-cream cones – are presenting a political history of the city through its ice-cream wars.
But this also feels like a strongly continental biennial, with a special bias to the north. I specially liked the wild, photo-based self-portraits of the Finnish artist Mari Hokkanen, who appears in many guises and in the most disastrous scenarios, like some Nordic Cindy Sherman. And GoMA has not just Tessa Lynch but a full-scale show by the German artist Cosima von Bonin.
Bonin has created a carnival of fish out of water – a stuffed shark presiding menacingly over the office; velvet lobsters colonising the sun loungers at the resort. This late-flowering surrealism turns nasty with a grey tweed octopus whose tendrils end with sharpened glass, and a large quilted screen out of which an appliqued fist punches its way, the plump fabric giving the shock of it even greater force.
This is Bonin's modus operandi: the bodying forth of images. She may even have invented a new form in quilted, stuffed and appliqued paintings. But her pièce de résistance is a full-scale missile upon which sits a plump dicky bird on its way to Armageddon. What saves this from sentiment – and Bonin is a mordant artist – is the sharpness of contrast; her technique is superb.
The official festival has its apogee at the Tramway with films by Lek and the Buenos Aires-born Mika Rottenberg, including her Swiftian satire on a Chinese pearl factory shown to huge acclaim at Venice in 2015. But best of all, in a biennial dominated by women, is a superlative film by the American artist Amie Siegel, its unlikely subject the stocky wooden chairs made – and still used – in Chandigarh. Provenance begins in Mayfair, where these cheap chairs appear reupholstered in white linen; it moves to Paris, and fur; New York and velvet, etc. Long tracking shots of expensive interiors allow each turn-up to mount into a lovely running gag. And just as you're wondering how such humble objects could have become collector's items, so Siegel takes you to an auction where oligarchs are desperately bidding for a couple of seats from a Chandigarh courthouse.
Siegel has much to say about value, and does so with great subtlety. Above all, she tells her story backwards so that the provenance of these objects comes with the force of revelation. With its slow and mesmerising rhythms, its exquisite photography and marvellously intelligent edits, the film builds like a modern masterpiece. I could not tear myself away.
• Glasgow International runs until 25 April
guardian.co.uk © Guardian News & Media Limited 2010
Published via the Guardian News Feed plugin for WordPress.