Rarely do you find a waterfront estate that truly embodies the coastal lifestyle. Highest Priced Oceanfront Estate in La Jolla Lists for $26,588,000.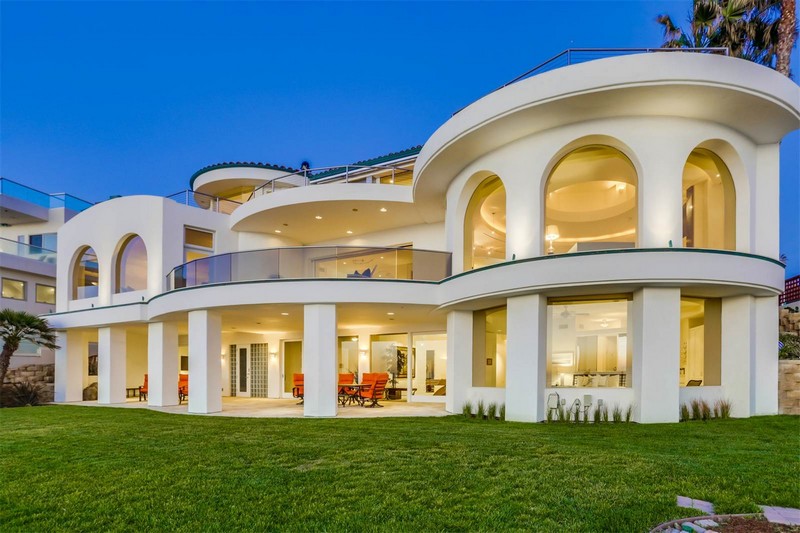 This symbolic estate rests comfortably on a quarter acre lot, with nearly 100 feet of ocean frontage at Marine Street beach. Few homes in La Jolla truly achieve the elegance and luxury of Vista Del Mar. The impressive design concept was created by award winning local architect Don Edson, whose projects can be seen as far away as Dubai. An inspired three level design reminiscent of old Santorini, the floor plan takes advantage of the Pacific Ocean, allowing it to serve as the natural focal point. The 8,328 square foot 7 bedroom, 10 bath estate features lavish custom finishes throughout. Awe inspiring spiral staircases, floor ceiling sliding glass doors, radiant heating, multi-zone air conditioning, roof top spa, pizza oven, domed skylights, media room, elevator and a gourmet kitchen with every imaginable luxury available. The property is powered by Savant Smart Home technology, where nearly every function can be controlled remotely by iPhone or iPad.
"Rarely do you find a waterfront estate that truly embodies the coastal lifestyle," said Amber Anderson of Pacific Sotheby's International Realty. "When you're in the home, you feel the connection to the Pacific. It's one of only 28 homes on the sand in La Jolla; it's truly a special property." This prestigious beach location is so special, that former Presidential candidate Mitt Romney purchased a home here in 2008. The $12,000,000 tear down is slated for completion later this year. Romney has said that he sought the property so he could live in a place where he could hear the sound of the ocean. Completion of the 11,000 sq ft estate will undoubtedly add tremendous value to this prominent beach community.
Vista Del Mar was the West coast home to larger than life figure Jack Londen. Mr. Londen headed Phoenix- based Lincoln Heritage Life Insurance Company as well as the Phoenix television station AZTV 7, which Ms. Londen now leads. Jack Londen is also known for running against Evan Mecham in the 1978 Republican Arizona gubernatorial primary.