New Monte Carlo 6o is a direct heir of Monte Carlo Yachts.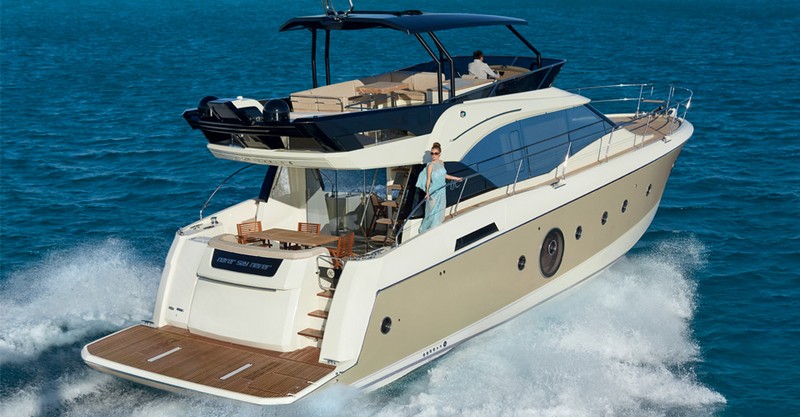 When the universally recognised expertise of the Beneteau Group meets the talent of the greatest names in Italian design, the motor cruiser moves up a whole new level – and luxury is no longer defined exclusively in terms of size.
In a record development time and guided by the talented Nuvolari and Lenard duo, the boatyard has successfully renewed the luxury codes of this segment of motor cruisers completely, while adding technologically innovative solutions. The new sport version of the MC6 yacht will be ready to sail in Spring 2016 and will bring the choice of models available to owners to six. Elegant from every angle and marrying with customary refinement the inimitable Monte Carlo style with the pleasure of an opening roof, this hard top version of the MC6 luxury yacht features an open-air lounge of staggering proportions.
The Flybridge on the new Monte Carlo 6 (MC6) vessel gives a whole new meaning to the art enjoying new heights. Designed to be a vast terrace facing the open seas, it offers a huge sundeck, a spacious saloon that can accommodate up to ten people, and a fully-equipped galley. The helmsman will appreciate the extremely comfortable seat and the nearby presence of a wide bench for the crew. A T-Top or a hydraulic bimini will provide the necessary protection.
A further ground-breaking innovation: the teak deck terrace features two sun-loungers and flush lighting. The interior choices for the MC6 reflect all of the range's strong points in more generous proportions: numerous panoramic views, extremely open living areas, ease of movement between different areas, sophisticated materials and quality finishes.
The MC6 yacht offers innovative solutions for the more private quarters of the boat, with an owner suite in the stern featuring an open- plan ensuite bathroom and an inventive way of organizing the beds in the VIP and guest cabins. And to cater for different types of use, a specific version of the MC6 are available for Asia.