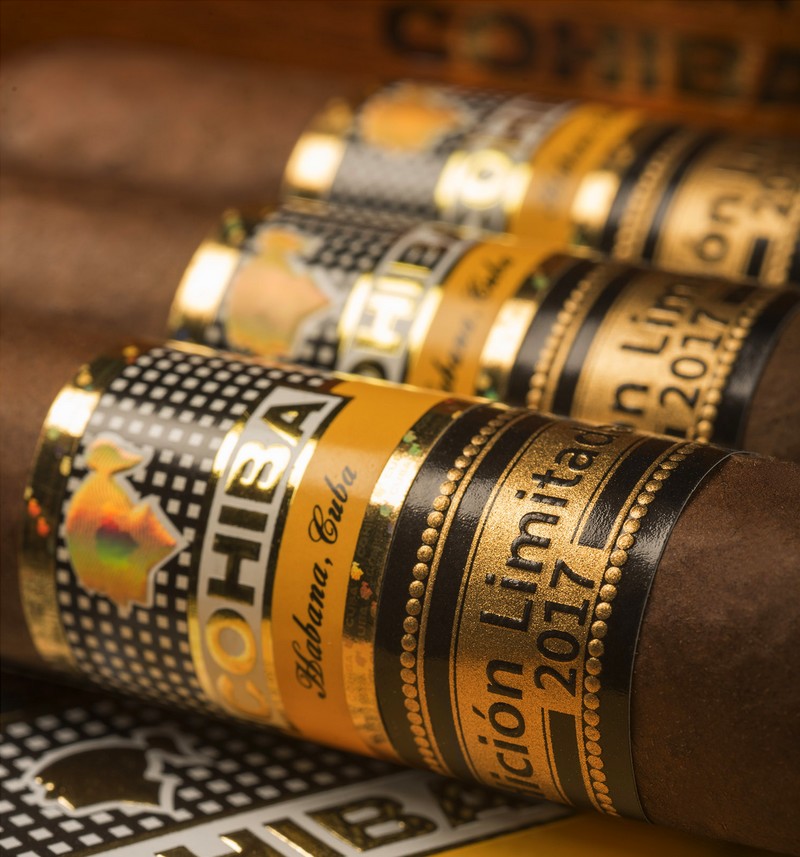 Cohiba is the most prestigious brand of tobacco. Initially produced in very limited quantities, its products can be found on all Habanos stores around the world. To commemorate its 50th anniversary, Habanos, presented its special edition Cohiba 50 Aniversario, one of the most exclusive and luxurious releases in the history of Habanos, Cohiba Majestuosos 1966 , with a totally innovative vitola addition to the Habanos portfolio and the Cohiba Medio Siglo, with its new vitola in line with current trends and which joins the regular portfolio as part of the Línea 1492. For 2017, Habanos introduces The Cohiba Talismán 2017 Limited Edition.
Cohiba Talismán (54 ring gauge x 154 mm length) is a heavy ring gauge Habano, in line with the brand's latest launches and has a medium to full strength flavour, characteristic of the Línea Clásica blend and which stands out for its elegant and charismatic "pigtail" finish. This Limited Edition's leaves have been aged for over two years, awarding a complex and highly aromatic character.
For the global launch of Cohiba Talismán 2017 Limited Edition Hunters & Frankau, the exclusive distributor for Habanos, S.A. in the United Kingdom, Republic of Ireland, Gibraltar and the Channel Islands, have chosen the Garden Lounge venue at the Corinthia Hotel, renowned for its iconic Cigar Terrace that specialises in Habanos.
All the Habanos of this Edición Limitada – Limited Edition- have been made ??"Totalmente a Mano con Tripa Larga" – Totally by Hand with Long Filler – and their leaves are specially selected from the Vuelta Abajo* region in Pinar del Río*, Cuba*, the best land in the world for growing tobacco. This product is produced and developed following meticulous manufacturing processes at the legendary El Laguito factory, in Havana.
The Cohiba name comes from the first original inhabitants of the island of Cuba, the Taíno Indians, who used this ancient word to define the rolled tobacco leaves. The Talismán name, mysterious, evocative and easily-recognizable in many languages as something that is quintessentially extraordinary and amazing and that brings good luck to mankind and protects them, couples up perfectly with tobacco's magical and ritualistic origin, whose first-ever moniker was, incidentally, Cohiba.