"Reincarnation," the new short film by Karl Lagerfeld, featuring Pharrell Williams, Cara Delevingne and Géraldine Chaplin.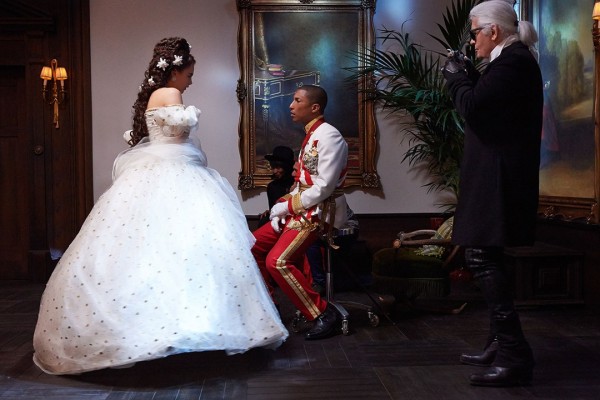 Intensely criticized, Karl Lagerfeld's latest Chanel short film revealed ahead of Chanel's Metiers d'Art show in Salzburg (Austria), uses cinematic language to tell the history of Chanel cardigan-style jacket trimmed and decorated with black embroidery and gold-coloured buttons. The fans and critics are between agony and ecstasy, while Karl seems to have reached its goal with this widely publicized film.
"Chanel Reincarnation" is a seven-minute film, featuring CARA DELEVINGNE and PHARRELL WILLIAMS. Pharrell plays the young lift-boy whose jacket would later inspire the iconic Chanel jacket. Coco Chanel focused on this simple piece of fashion while holidaying in the suburbs of Salzburg in 1954. The film reincarnates a piece of clothing and made eternal.
"It was time to show the origins of the Chanel jacket, inspired by the one worn by the lift attendant in a hotel near Salzburg in the 1950s (…) "Reincarnation" is the story of a lift attendant's jacket being reincarnated as a timeless piece of women's wear," explained Karl Lagerfeld.