A subtle way of emphasising the finite nature of our time and a philosophical invitation to seize the day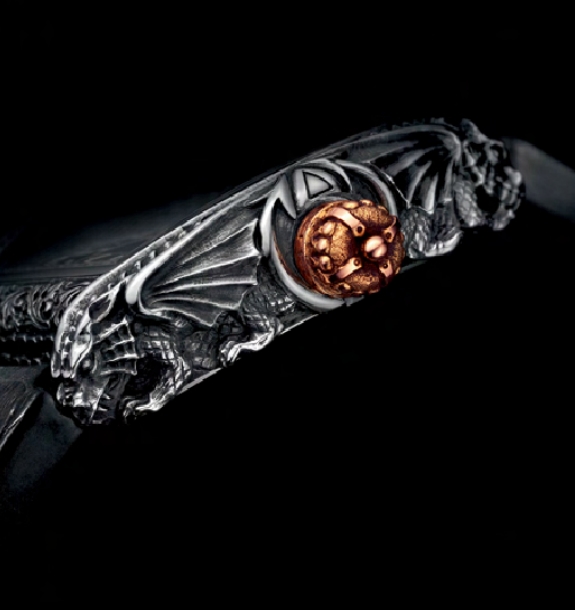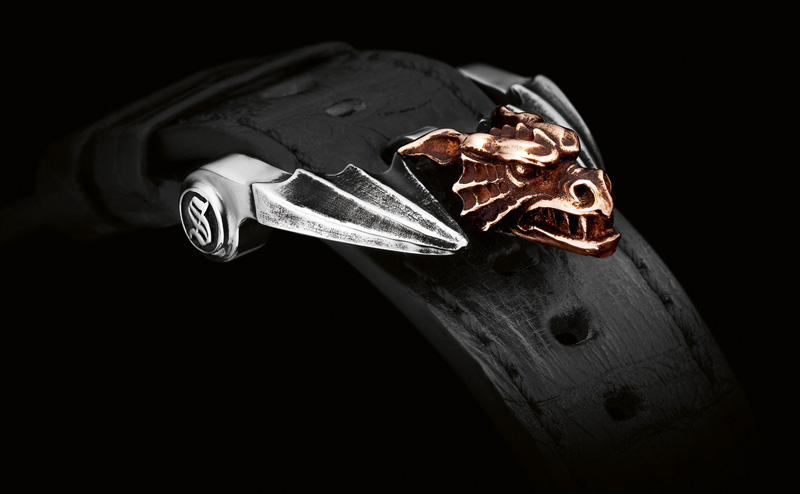 Designer, watchmaker and philosopher Daniel Strom unveiled its new AGONIUM Collection of symbolic watches that are sculpted by a working artist. Strom's watches are a reflection of the march of time and the finite nature of life. The skulls are used instead of horns, crown and buckle. The authentic hardcore spirit and the Gothic dream are enhanced by the dragons on the new Agonium Draco watch. Draco and its dragons are the bearers of a message, a mistery and a symbol.
Draco watch is intended above all a a metaphor. It is a symbolic jewel first, a timepiece second. Noble gold, silver, platinum and palladium lend their force and their qualities, allowing themselves to be wrought by the artist's talent. First skulls, then dragons and soon angles embody the myths which this watch designer most values. The sculptural case protects the more delicate one that surrounds the movement, an ETA 2824 calibre. The "bone white" or black dial with a craquelure effect completes the picture, protected by a curved anti-reflective sapphire crystal. Time flows from twelve Arabic numerals, swept by polished hands.
"To design a watch that does more than give time. A watch that also has us think about our very existence. Dragons and skulls thus become charged with positive emotions and shed any morbid connotations. This is art for wirst, each unique and outside the grip of aesthetic convention," explained Daniel Strom.
"Birth and death – coming into being and passing away – are two events directly connected with one another. What lies in between is called life. And the medium for life is called time. So time is not a static unit of measurement, it is rather life energy. Time allows you to achieve your aims, to harmonize your material, mental and emotional well-being and to create something long-lasting that you can be proud of. However, because time is our constant companion, it is also our greatest critic – especially for those who try to run away from it…"
http://www.youtube.com/watch?v=M619C5jJCDA