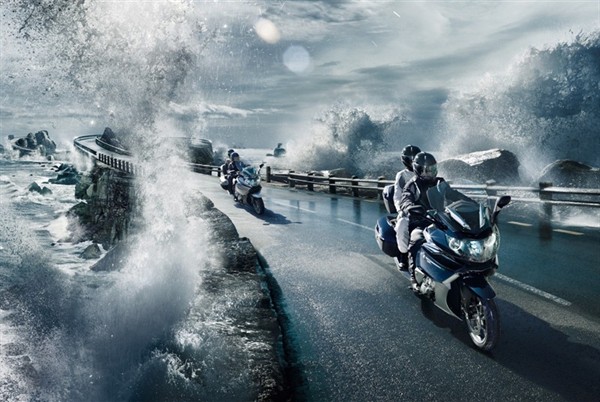 BMW's all-new luxury tourer – the K 1600 GTL – was named "2012 Motorcycle of the Year" by the editors of the Rider magazine. During a special visit to BMW headquarters, Rider's Road Test Editor Greg Drevenstedt and Eastern Sales Manager Joe Salluzzo presented the coveted award to BMW Motorrad USA Vice President Hans Blesse and members of the Motorrad USA staff.
"More than 30 new motorcycle models were introduced in the U.S. for 2012, but any way you look at it, this is the year of the K 1600," write the editors of Rider.
Since their international debut last year, the BMW K 1600 GTL and the sporty K 1600 GT have earned superlative awards from motorcycle journalists around the world. Both bikes were named "Motorcycles of the Year" by RoadRUNNER magazine. Cycle World named the K 1600 GTL the "Best Touring Bike of 2011" and the K 1600 GT the "Best Sport-Touring Bike of 2011." Motorcyclist editors chose the BMW K 1600 GT as the "Best Touring Bike," while BMW's adaptive headlight technology – an option on the K 1600 GTL and GT tourers – earned "Best New Technology" kudos. In its "Best of 2011 Awards," Motorcycle.com not only named the BMW K 1600 GT/GTL "Motorcycle of the Year," but also proclaimed the K 1600 GTL as the "Best Touring" motorcycle and the K 1600 GT "Best Sport Tourer." Earlier this year, it was announced that the K 1600 GT was named International Bike of the Year for 2011.
Both the BMW K 1600 GT and K 1600 GTL have set new benchmarks for grand touring motorcycles by offering the world's most advanced technology available on two wheels. These innovations include:
– The world's lightest and most compact six-cylinder engine on a production motorcycle. At 226 lbs (including clutch, gearbox and alternator) and less than 22 inches wide, the six-cylinder engine in the K 1600 models is comparable in size to four-cylinder power plants.
– The world's first Xenon adaptive headlight on a motorcycle. Innovative electronics automatically compensate for the lean angle around corners and ensure the beam of the headlight is always directed at the road ahead.The world's most advanced audio and communications system on a motorcycle.Bluetooth for wireless communication, Sirius satellite radio with a complimentary 12-month subscription, integration for iPod, USB stick and auxiliary input, AM/FM tuner,pre-wired for Navigator 4.
– A multi-controller on the left-hand grip, which allows riders to operate the motorcycle's systems and adjust its settings without taking their hands off the bars.